Introduction
Anyone in the market for a high-end gaming PC will have been monitoring the launch of Intel's sixth-generation Skylake architecture. The company's new Core i5 and Core i7 processors, along with an updated Z170 chipset, have laid the foundations for a modern-day enthusiast platform, and with little in the form of competition from rival AMD, Intel Skylake is by default the premier destination for most performance users.
Opportunity beckons and every system integrator is looking to the ride the Skylake bandwagon with an array of performance machines. We've already looked at PC Specialist's Mortis (£999) and Scan's 3XS Z170 Vengeance (£1,500) but today we're upping the ante with the Vibox Rapture Chaos MX1, priced at £1,599.95 for an introductory period.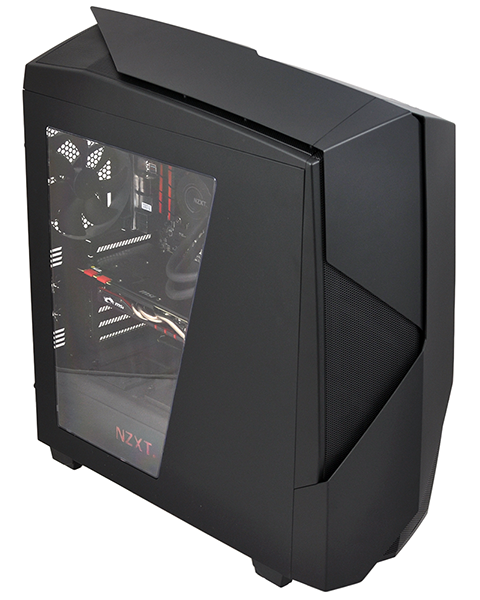 Vibox is another system builder taking advantage of NZXT's Noctis 450 chassis, and the bullish enclosure will continue to divide the crowd. Said frame is a little too ostentatious for our own tastes, though we suspect the target gaming audience will appreciate the showy exterior and, of course, the red LED illumination.
We're more interested by what's inside, as perusing system-integrator builds gives us a good idea of what's hot and what's not, as well as insight into which manufacturers are finding success in this channel. For Vibox, MSI and NZXT appear to be key partners, with both brands claiming clear prominence in this premium machine.
The motherboard of choice is an MSI Z170A Gaming Pro and it comes equipped with a Core i5-6600K and 16GB of DDR4 memory. It's an interesting configuration - you would be forgiven for expecting a top-of-the-range Core i7 at this price point - but Vibox appears to favour the i5 for a gaming machine. The chip is overclocked to 4.5GHz as standard (a fraction slower than the 4.6GHz we've seen on rival systems) and is cooled by an NZXT Kraken X61 liquid cooler.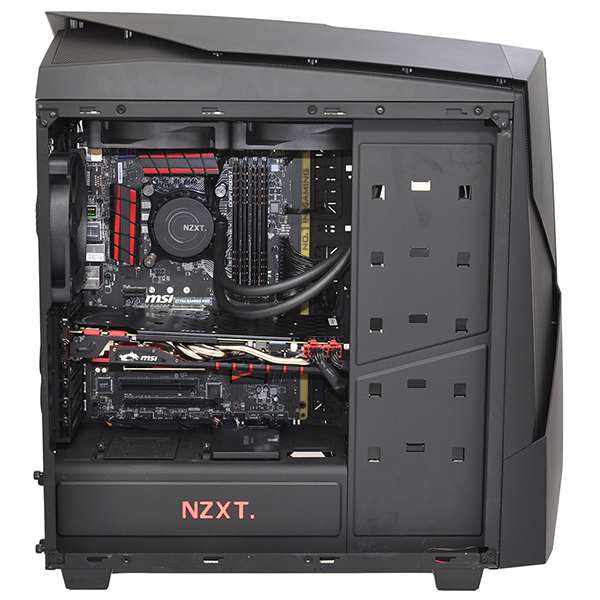 The quartet of 4GB DDR4 modules come from Patriot's Viper Xtreme stable and are rated to run at a swift 2,800MHz, however we'd have prefer a 2x8GB configuration for the sake of future expansion. Vibox's CPU and memory configuration is adequate, but the Rapture Chaos MX1 undoubtedly prioritises gaming above all else by employing a powerful MSI GeForce GTX 980 Ti Gaming 6G graphics card.
Rounding off the spec sheet, a 250GB Samsung 850 SSD is at hand for primary storage needs, with a 2TB WD Black providing secondary capacity. Power, meanwhile, is sourced from a quality 750W Super Flower Leadex Gold power supply, and a clean 64-bit install of Windows 10 acts as the finishing touch.
A factory-overclocked GTX 980 Ti guarantees the Rapture Chaos MX1's gaming credentials, but there is a sense that Vibox may need to do more in order to make its gaming rig stand out alongside established competitors. The graphics card in our review system, for example, is showing visible signs of sagging, and the droop may have been magnified by the sample being sent out without any padding or air pockets to protect the system's interior during transport.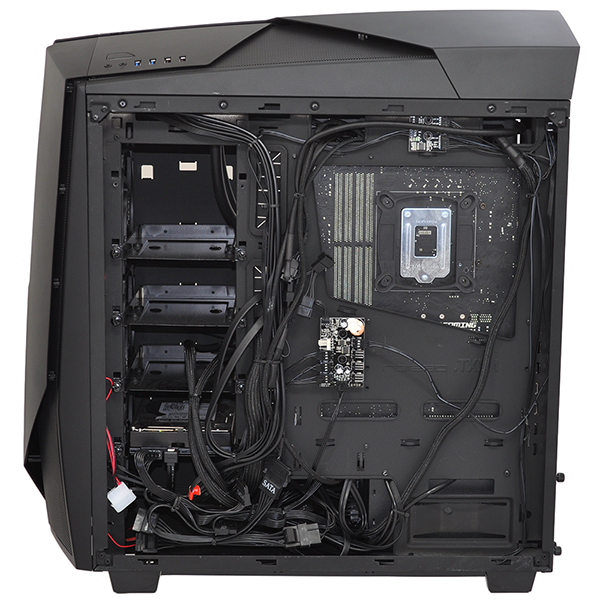 Cable management is, we feel, another area in which Vibox could improve. The clutter behind the motherboard tray can be difficult to manage, particularly in a chassis that has four fans and a central hub as standard, but we've seen others demonstrate noticeably tidier Noctis 450 builds.
And then there's the question of price. A quick scout around various retailers suggests that knowledgeable readers could buy the Rapture Chaos MX1's individual components at a cost of roughly £1,600. Surprisingly, Vibox has the RRP of its pre-built machine listed as £2,615, with the long-term £1,855 price tag giving customers a £760 saving. These figures serve as justification for those who believe it's better value to build your own, though Vibox will attempt to dampen that debate - for a limited period (one month following the publication of this review) the Rapture Chaos MX1 will be reduced to £1,600 as an introductory offer.
That's a far more palatable fee, and Vibox offers an extra incentive in the form of a 'Lifetime Evolution Warranty' that promises a 90-day collect and return period, parts cover for the first two years, followed by labour and technical support for life.