Introduction
The arrival of Intel's sixth-generation 'Skylake' processors - Core i7-6700K and Core i5-6600K - has given system integrators new impetus to create cutting-edge gaming rigs.
We had expected a deluge of systems to come our way, but it has been slim pickings, albeit not through a lack of trying. A good number of SIs have struggled to implement overclocks and high-speed DDR4 memory due to immature BIOSes on the latest Z170 motherboards. Confident that such problems have been overcome, PC Specialist is now showcasing its wares with a high-end £999 system dubbed Mortis.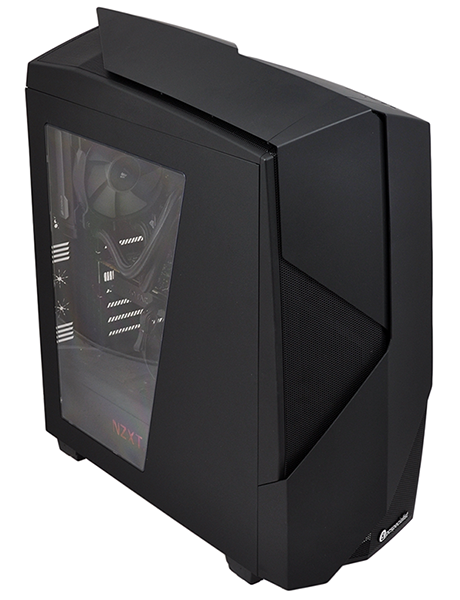 This is, without a doubt, a traditional gaming rig, and yep, you're either going to like the way it looks or you're not. The chosen NZXT Noctis 450 chassis' aggressive stance and red LEDs aren't really our cup of tea, but we accept the fact that the enclosure will divide the crowd, and there will be plenty of gamers who love the way it looks.
We'd have preferred the more staid NZXT H440, but looking past the garish (or beautiful) chassis, PC Specialist's component selection is by-and-large in line with our expectations of a gaming rig costing a grand. The foundation is laid with an Asus Z170 Pro Gaming motherboard, and on top sits a quad-core Core i5-6600K processor that's overclocked to 4.6GHz and chilled by a Corsair H80i GT liquid cooler. Accompanying the CPU is 16GB (2x8GB) of Kingston HyperX Fury DDR4-2666 memory in a dual-channel configuration, leaving two slots for future expansion.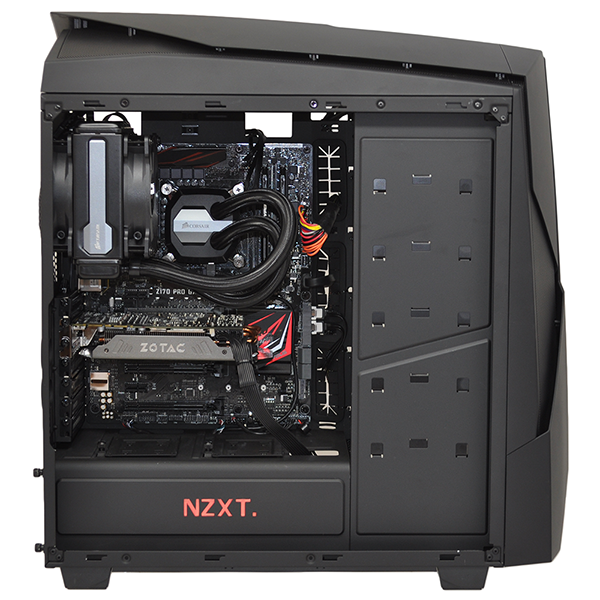 Build quality and implementation is very tidy - particularly when you consider that NZXT's matte-black finish has a tendency to scuff very easily - and PC Specialist covers most bases with a logical supporting array of components. On the GPU front, there's a good amount of power on offer from a Zotac GeForce GTX 970. It's arguably the GPU we'd choose for a sub-£1,000 system, though the Zotac model on offer here isn't the best. The card, model number ZT-90101-10P, is only mildly overclocked to a 1,216MHz boost, up from the default 1,178MHz, and the relatively compact size isn't in keeping with the rest of the build. It's a shrinking violet alongside the hulking Corsair radiator.
Elsewhere, power is provided by a 650W Corsair CS Series modular supply and storage takes a two-pronged approach. A 240GB Kingston HyperX Savage SSD is installed as the system drive, with a 1TB Seagate Barracuda hard disk providing additional room. Nothing out of the ordinary and for the most part sensible, though it's interesting to observe the way in which PC Specialist overclocks the CPU. Rather than apply a 46x multiplier, the experienced system integrator seems to prefer a 23x multiplier and a 200MHz base clock, along with a manual overvolt of 1.35V.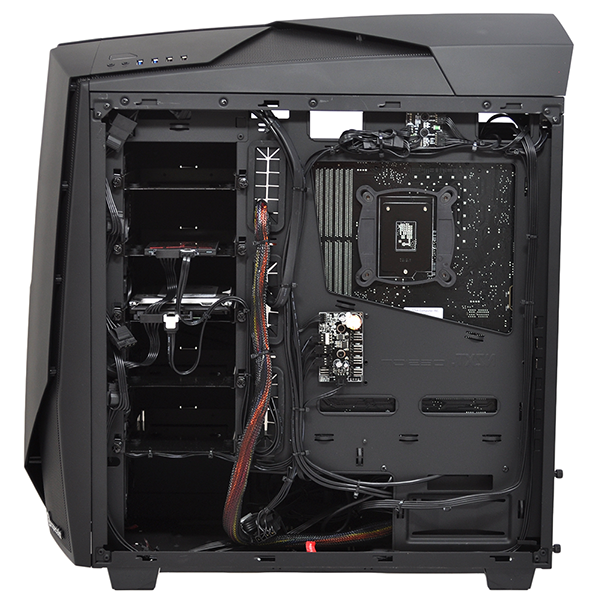 Now we've a good idea what you might be thinking - if there's nothing particularly fancy about the build, why wouldn't you put it together yourself and potentially save a few bob? Well, we can think of a couple of genuine reasons. Firstly, price. PC Specialist's buying power enables it to offer this particular pre-configured system at a keen £999. Shopping around for all the various parts reveals that it would cost somewhere in the region of £1,070 to put together the same rig yourself.
Secondly, and perhaps more importantly, the whole system is backed by a three-year warranty that includes parts cover for the first year and labour for the subsequent two, giving you extra peace of mind when your Skylake chip is flying at 4.6GHz. £999 is still a significant chunk of change, but high-end PC gaming doesn't come cheap and if you have the budget, PC Specialist's Mortis is a prime candidate. Let's see how performance stacks up.