Introduction
Looking for a reason to upgrade your PC? Right now there are two that may have you reaching for your credit card: the launch of Intel's sixth-generation 'Skylake' processors, and the arrival of Microsoft's Windows 10 operating system.
Said developments serve as much-needed ammunition for system integrators looking to revitalise their portfolio, and UK-based Scan Computers is racing out of the gate with the 3XS Z170 Vengeance. Priced at £1,499.99, this isn't a PC for the faint-hearted, but rather a gaming rig for those who prefer to live close to the cutting edge.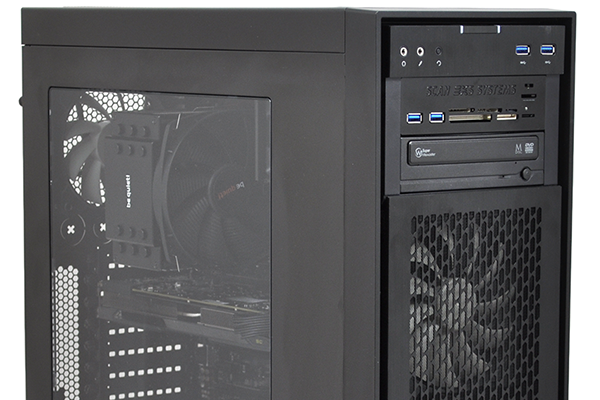 Incorporating known quantities with something that's new, Scan has selected Corsair's Obsidian Series 450D as the default enclosure. A fine choice that offers a sleek exterior, a large side windows and plenty of scope for expandability, though the optical bays still look awkward in use.
Both 5.25in bays are pre-configured, the upper with a multi-card reader and the lower with a DVD writer, and we like the fact that Scan has kept the exterior free of unnecessary clutter - the only branding is the backlit Scan logo on the card reader, and if illuminations are your thing, it can be configured in a choice of colours.
Of course, it's what inside the chassis that will tickle the fancy of prospective buyers. On the software side, the 3XS Z170 Vengeance is shipped with a clean, bloatware-free, 64-bit install of Windows 10 Home. On the hardware front, the foundation is laid by a smart-looking Asus Z170 Pro Gaming motherboard whose new LGA1151 socket is outfitted with a top-of-the-range Core i7-6700K processor.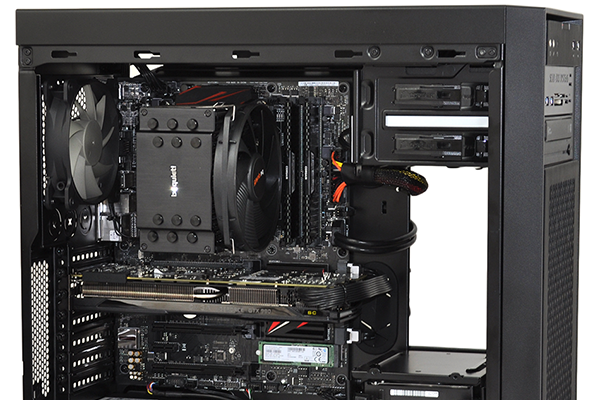 The quad-core, hyper-threaded Intel 'Skylake' chip is shipped with a guaranteed 4.6GHz overclock and is tamed by a be quiet! Dark Rock 3 cooler that suits the Obsidian chassis to a tee. Some enthusiasts will be perplexed as to why liquid-cooling isn't employed as standard, but we're pleasantly surprised to see Scan opt for an air cooler - the pumps associated with liquid-based solutions tend to be one of the loudest parts in modern builds, making air coolers preferable for quiet-running machines.
A £1,500 asking price suggests a strong supporting cast and there are highlights scattered throughout. In the memory department, there's 8GB (2x4GB) of Corsair Vengeance LPX DDR4 memory running at a swift 3,000MHz. The amount of RAM seems conservative at first glance - 16GB tends to be the norm for systems at this price point - but Scan states that "16GB still makes almost no difference in games and simply inflates the price." There's some truth to that argument.
Powerful graphics are a must for a system of this ilk so we're not surprised to see an EVGA GeForce GTX 980 Superclocked ACX at the helm. That's a non-Ti card, in case you were wondering, but Scan elevates the second-running Nvidia GPU by applying a custom overclock on top of EVGA's existing factory overclock. The card's boost clock is increased from 1,367MHz to 1,467MHz, while memory gets notched-up to an effective 7,412MHz.
These are serious components geared toward enthusiast users, and Scan keeps the high-end approach going with regards to storage. The 3XS Z170 Vengeance has a 256GB Samsung SM951 PCIe SSD installed as its primary storage device as well as a 2TB WD hard disk for secondary data needs. Making use of the extra PCIe lanes available to Intel's Z170 chipset, the SSD can run at speeds of up to 2,150MB/s - the same drive on Z97 would have been limited to slower speeds on most boards.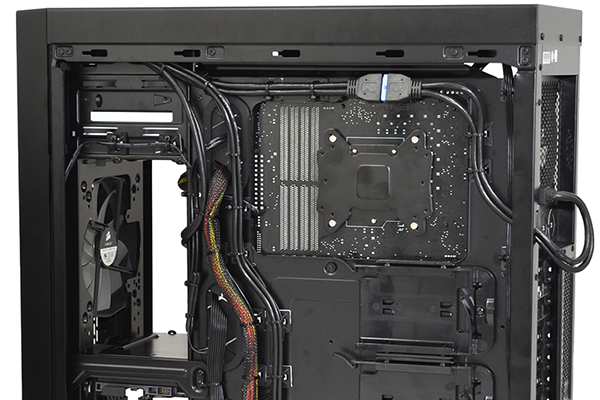 A Corsair CS550 power supply can be considered basic alongside the other hardware components, but this is nonetheless an impressive ensemble and a key attraction is Scan's commitment to quality. Cable management is very neat, you can see that some thought has gone into component selection, and the whole system is backed by a three-year warranty from a reputable firm promising on-site cover for the first year, followed by return-to-base cover including parts and labour for years two and three.
The warranty covers both the CPU and GPU overclock, and should you need support it's good to know that Scan's customer advisers are easily accessible online, on the phone or in person at the company's Bolton showroom. Looking beyond the scope of delivery, an 8GB USB stick pre-loaded with various diagnostics tools is also bundled with each system and can be used to help identify and resolve any potential problems.
Are there any immediate drawbacks? We can think of maybe two. Firstly, the £1,500 price tag is bordering on X99 territory, and we doubt four-core Skylake will be able to oust six-core Haswell in the performance stakes. Secondly, there's the issue of Skylake being in its infancy. Our own experiences with various motherboards reveals that manufacturers are still tweaking BIOS implementations at this late stage and there are niggling bugs to be aware of. Scan's review sample came in with a beta BIOS that doesn't POST when the system is restarted (you have to switch off and back on) and we're told a manual voltage of 1.375 had to be applied to the CPU due to the BIOS overcompensating with additional voltage when offset settings are used.
Scan states that Asus is aware of the issues and fixes will be applied to production systems, but all signs suggest that early adopters will have to live with the occasional quirk or two. Can Skylake offer a performance incentive to overshadow any such teething issues? Let's find out.