Introduction
The folks over at Chillblast seem to recognise the fact that we here at HEXUS HQ have a penchant for ultra-quiet performance PCs. The Dorset-based system integrator has sent in a range of low-noise gaming rigs over the years, most of which have been well received, and is looking to follow-up with a 2015 model dubbed the Fusion Silencio.
Priced at £949, this new addition to Chillblast's Silent Systems range claims to have been "manufactured and designed in conjunction with the experts at Cooler Master." and is aimed squarely at those individuals "expecting near-silent operation with formidable performance." Sounds right up our street, so let's dive in.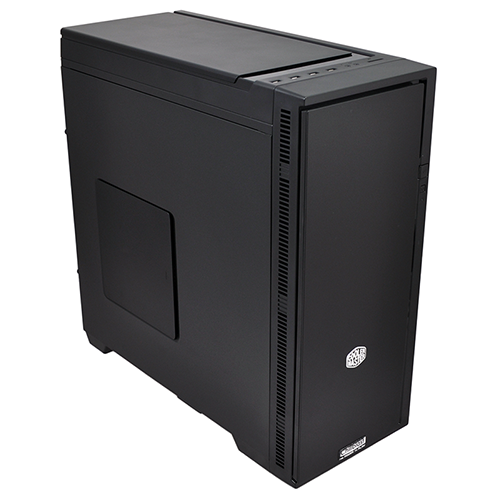 Arriving securely packaged with Instapak Quick foam supporting the internal components, there's little chance of damage during transport and the rig emerges looking spick and span. The Cooler Master partnership is apparent right from the get-go, with the mid-tower Silencio 652S being Chillblast's chassis of choice, and it's a reasonably good-looking enclosure.
There isn't a lot of wow factor, and users seeking bright lights and flashy side windows should look elsewhere, but for those who appreciate a sleek-looking rig, the Fusion Silencio fits the bill. There's little to disrupt the all-black aesthetic, the front, top and side fan mounts are all neatly covered, and there's noise-cancelling material lining both the side panels and the front door.
Dimensions of 220mm x 507mm x 509mm suggest that the base unit will need to live beneath a desk, but do be mindful of positioning as the front door can only open in one orientation (to the left), and the power button is a short way down the chassis' front face, rather than up top alongside the four USB ports, audio jacks and SD card reader.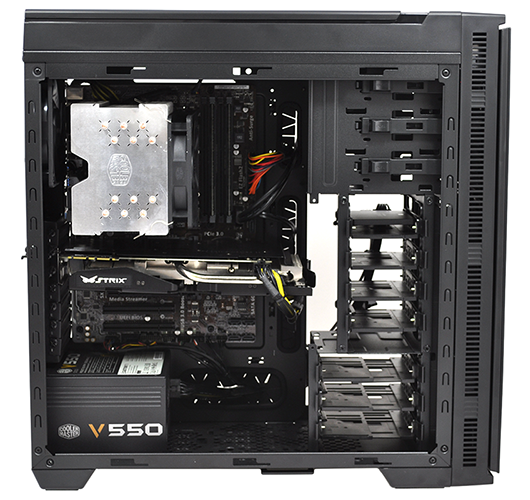 There are thousands of different ways of putting together a £949 gaming rig, so we're intrigued to see what Chillblast has chosen in its quest to marry performance and quiet operation.
Running through the core component list, we have an Intel Core i5-4690K processor overclocked to 4.3GHz, 8GB of Crucial Ballistix Sport DDR3-1600 memory, and dedicated graphics courtesy of an Asus GeForce GTX 970 Strix. This all sits atop an Asus Z97-K motherboard, while power is supplied by a semi-modular Cooler Master V550 power supply.
A couple of interesting observations. Firstly, Chillblast has equipped the CPU with a Cooler Master Hyper 612 V2 air cooler. A liquid cooler tends to be the norm at this price point, and we suspect the firm has reverted to air in order to keep noise levels down to a minimum - a good call, we feel, as there's no pesky pump noise to contend with.
Secondly, storage is provided by a single 250GB Samsung 850 Evo SSD; there's no hard disk or indeed optical drive anywhere to be seen. A bold but understandable decision for a modern-day rig, and take a look at all those free bays - there's ample room to add said drives if you feel the need.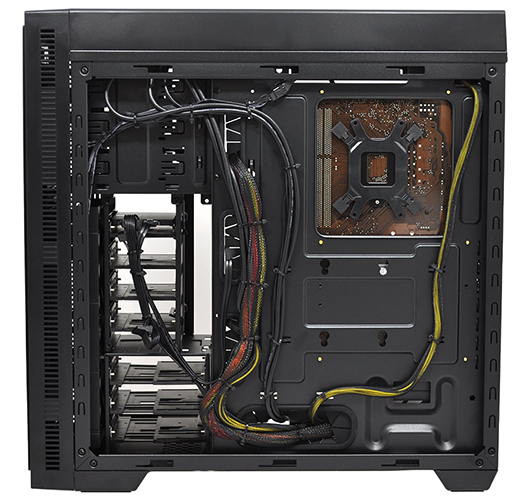 Cable management is good and it's hard to fault the specification. There are multiple customisation options on Chillblast's online configurator, but at this price point, there's not a lot we'd change. We haven't yet been able to single out an obvious weak link, and buying all the components yourself would cost somewhere in the region of £930, so for an extra £20 you're getting a pre-built rig, a guaranteed 4.3GHz overclock and a generous five-year warranty that includes collect-and-return cover for the first two years.
But the Fusion Silencio's primary selling point is near-silent computing, so just how peaceful is it? Well, it is quiet - impressively so for an overclocked gaming rig - but it isn't quite as close to silent as we were anticipating. Even though the GTX 970's fans switch off at low load, you can hear the system's other fans when the PC is idling.
Chillblast has the CPU and three case fans set to a 'silent' profile in the Asus BIOS, this sets fan speed between 600 and 800rpm, but we've found that noise can be lowered another notch by configuring a manual profile that further reduces rotational speed. In doing so, we uncovered an unexpected culprit: the PSU fan doesn't switch off when idle, making it one of the more noticeable components in the PC. We'd encourage Chillblast to look at a PSU that's silent at low load, but this is a minor criticism - Fusion Silencio is ultimately a very quiet system, and if you're accustomed to rigs that sound like jet engines when gaming, Fusion Silencio will be a breath of fresh air.