Introduction
Still awaiting a fifth-generation Intel Core processor for your next self-built PC? The new range of chips, codenamed 'Broadwell,' are said to be just around the corner, but technology enthusiasts needn't wait as a desktop interpretation of Intel's latest architecture is already available as part of a new-and-improved Next Unit of Computing (NUC).
High-performance advocates will be turning their backs as we speak, but in many ways, you could argue that the NUC is the best interpretation of a modern Intel PC. The drive for efficiency and on-chip consolidation has led to single processors that are more capable than ever before, making today's mini PCs a match for the desktop towers of years gone by.
Intel's presentation for the latest Core i5 NUC Kit (model NUC5i5RYH) hasn't changed all that much; the compact black-on-silver box looks and feels familiar and measures just 115mm x 111mm x 49mm in size. If your intention is to go to as small as possible, an alternative model dubbed the NUC5i5RYK eschews support for a 2.5in drive and reduces overall height to a mere 33mm.
NUCs have been around for a few years now, as have the various third-party derivatives, yet there's something about the system's size that still feels remarkable. This is a powerful PC, capable of handling everything from office workloads to HTPC multimedia, yet it's small enough to go unnoticed on a shelf, or it could be attached to the back of a TV/monitor using the bundled VESA-compliant mount.
The I/O ports located on the front and rear look familiar, too, but there are some subtle changes. An audio jack and dual USB 3.0 ports line the front of the device, with one of the USB inputs coloured yellow to indicate a dedicated charging port, and there's a Kensington lock tucked away on the side.
Around back, we have a further two USB 3.0 ports, mini HDMI and DisplayPort outputs, Gigabit Ethernet and a connector for the small, external 65W power supply. There's also an infra-red sensor for controlling the NUC from your couch, and both Wireless AC and Bluetooth connectivity are included as standard.
Much the same as previous-generation models, you might say, but there are some nifty upgrades. Firstly, the enhancements made to the underlying Broadwell IGP allow the DisplayPort 1.2 output to offer full support for a 4K resolution at 60Hz. Handy to know, though if we're nitpicking, it's a shame the HDMI output is stuck at v1.4a - the newer 2.0 standard has been around for a while and also supports 4K60.
Perhaps the most intriguing external change is the plastic lid. Now designed to pop-off with a gentle pull, Intel envisages this as a unique area of customisation, and even goes as far as to provide mechanical drawings for anyone wanting to 3D print their own. Neat trick, and one that opens up the NUC to new possibilities. Surely it won't be long before someone creates a lid with NFC functionality, or maybe even a Qi wireless charger?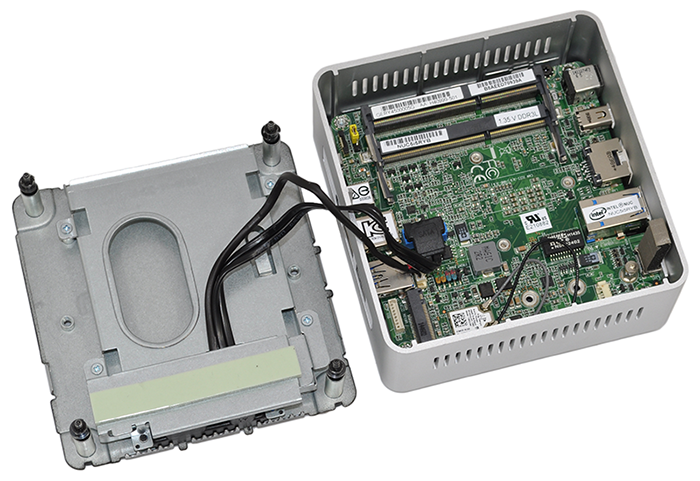 As has always been the case, the NUC Kit is sold as a barebone solution that requires the end user to add three required elements: memory, storage and an operating system. The hardware additions are added by unscrewing the NUC's bottom cover, revealing access to the small 4in x 4in motherboard.
Dual LPDDR3 SODIMM memory slots are available, supporting up to 16GB of RAM at speeds of up to 1,866MHz, and storage is catered for by a SATA 6Gbps header and an M.2 slot. The SATA connection provides compatibility with any 2.5in drive, while the M.2 supports either PCIe or SATA drives in 22x42, 22x60 or 22x80 form factors. Remember the thinner NUC5i5RYH model loses out on the 2.5in drive mount, leaving a single M.2 port as the only storage option.
Getting the hardware in place is simple and straightforward, though do bear in mind the bundled WiFi adapter - an Intel 7265D2 - is now soldered to the board and can't be easily upgraded.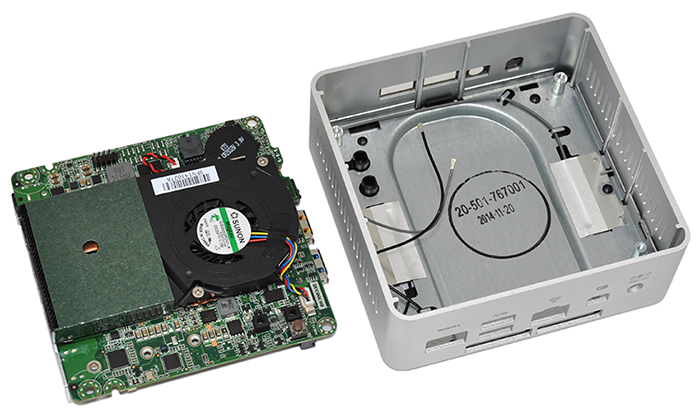 Removing the motherboard provides a look at the cooling assembly attached to the Broadwell chip, in this case a Core i5-5250U. It's a miniscule fan that vents out the side of the chassis, and it's been received with mixed feelings. This is the quietest NUC we've used to date, and nowhere near as boisterous as some of the industry's other mini PCs, however it's still not silent, either. You can hear it if you're sat nearby, and that for some will mean it's just not quiet enough.
As for the CPU, that too is evolutionary rather than revolutionary. Built on a 14nm process, the i5-5250U carries two, hyper-threaded Broadwell x86 cores clocked at 1.6GHz and able to Turbo up to a maximum speed of 2.7GHz. Intel's Smart Cache is sized at 3MB and the accompanying IGP is an Intel HD Graphics 6000 clocked at up to 950MHz. We're expecting a minor uplift in terms of CPU performance when compared to last-generation parts, but GPU performance should fare better given the HD 6000's 48 execution units.
We have the makings of a very competent mini PC, but as with previous NUC devices, pricing remains an issue. The barebone NUC Kit NUC5i5RYH currently retails at around £315, and remember that doesn't include memory, storage or operating system. Add, say, 8GB of DDR3, a 250GB SSD plus Windows 8.1, and you'd quickly see total cost rise beyond the £500 mark.