Introduction
System integrators are always keen to send in high-performance Intel PCs for review, but we tend to see less enthusiasm surrounding AMD machines. It's a common problem and arguably AMD's biggest challenge: the company's engineering is sound, and it routinely delivers capable hardware, but convincing partners to use, say, an APU as opposed to an Intel Core processor is easier said than done.
Still, there's no reason for system integrators not to stock both, and PC Specialist is eager to promote that fact by putting forth its new Magma A10, a £469 base unit that has a latest-generation AMD 'Kaveri' APU at the helm.
AMD APUs are, in our estimation, best suited to small-form-factor PCs, where the chip's combination of Steamroller processor cores and Radeon R7 graphics can deliver a potent multimedia experience in a convenient single-chip solution.
But it can be more than that and PC Specialist is banking on the APU's upgrade potential by using an Aerocool DS Cube chassis that measures a modest 411mm x 265mm x 381mm in size. The chassis is available at retail in an array of colours - though PC Specialist understandably opts for Radeon Red - and our first impressions of the case are good. The rubberised finish of the top, bottom and front panels feels great and resists fingerprints, and the side-panel window is large enough to show off all the hardware.
Removable mesh filters make the mid-sized case easy to clean, and we like the positioning of the I/O ports on top, where you'll find power and reset buttons, a pair of audio jacks and four USB ports (two of which are 3.0). Getting into the chassis can be a bit of bother, though, as neither the top nor side panels have flaps to grip onto, making it needlessly difficult to remove either cover.
Once inside you're met by an interesting layout. The chassis is designed to lay flat a micro-ATX motherboard, with the power supply and drives stored in a compartment underneath. PC Specialist's motherboard of choice for the £469 base specification is an Asus A88XM-Plus and it is outfitted with an AMD A10-7850K APU that operates at up to 4GHz and 8GB (2x4GB) of Kingston Hyper-X Beast DDR3-2133 memory.
The use of high-speed, dual-channel RAM should assist the performance of the APU's integrated Radeon R7 graphics, which incorporates a full 512 GPU cores clocked at 720MHz. Although this is a multiplier-unlocked K-Series chip, PC Specialist chooses not to overclock the APU by default, and has it shipped with the basic AMD reference cooler.
Elsewhere in the system, storage is provided by a 1TB Seagate Solid State Hybrid Drive - well done to PC Specialist for not just choosing a basic hard disk - and a Samsung DVD Writer is on hand for optical duties. Power, meanwhile, is provided by a Corsair VS350 power supply that, despite not having modular cables, doesn't create too much cable clutter thanks to the chassis' dedicated bottom section.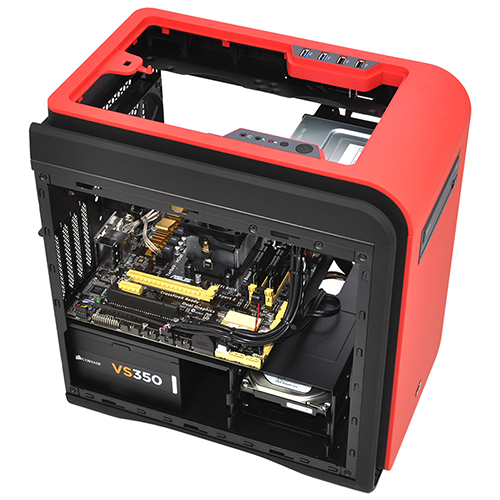 Build quality and implementation is good for what's a relatively simple PC, and the Magma A10 clearly has a good amount of upgrade potential. Motherboard orientation is such that there's a huge amount of room for a larger CPU cooler, it'd be very easy to install a discrete graphics card and, of course, adding a suitable Radeon opens up the possibility of CrossFire-enabled Dual Graphics.
Going by past findings, the combination of the A10-7850K and a Radeon R7 250 would deliver reasonable 1080p gaming performance for minimal additional outlay and the 350W PSU will still be plenty sufficient.
Pricing up all of the individual components, as well as the pre-loaded Windows 8.1 operating system, suggests that it would cost an end user roughly £500 to build the machine from scratch. PC Specialist's £469 price tag is aggressive and it includes a three-year warranty, though do be aware that this is a promotional price that's only applicable if the system is purchased exactly as specified. Choose from the various configuration options and you lose out on the price promotion - our advice would be to pick up the Magma A10 as is and then add your own upgrades later.