Introduction
Smart TVs have become the norm in many UK households, but that level of web-connected possibility hasn't yet penetrated the PC monitor market, at least not without a third-party device.
Philips, who has a long history of innovation in this space, is hoping to shake things up with a 23in solution dubbed the Smart All-in-One S231C4AFD.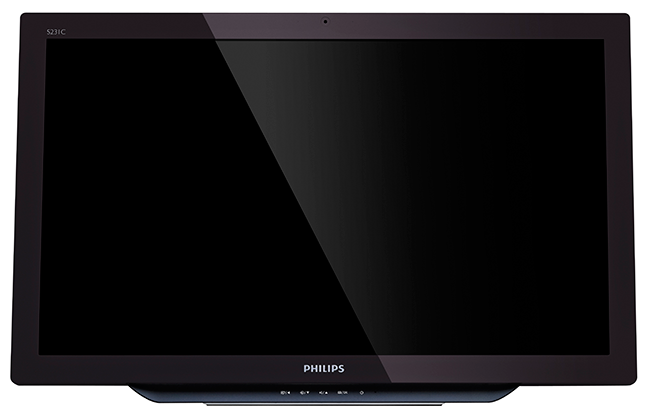 Priced at £350 and described by the manufacturer as "smart, connected and portable," this 23in panel is part Android tablet and part PC display. From the outside, it looks like a fairly generic monitor with a standard full-HD resolution, but it's on the inside that the Smart All-in-One sets itself apart.
Mainstream hardware
Within the confines of its 50mm-thick chassis, Philips has shoehorned a previous-generation ARM-based Nvidia Tegra T33 quad-core processor running at 1.6GHz, along with 2GB of DDR3 memory and a small 8GB pool of Flash storage. Nvidia's Tegra system on a chip (SoC) has featured regularly in tablet devices over the course of the past few years, and it alone is the driving force behind Philips' all-in-one functionality.
The low-power, quad-core processor enables the All-in-One to run Google's Android operating system, with Philips pre-loading version 4.2, aka Jelly Bean. The instant-on availability of Android opens-up a world of possibilities on any web-connected device, and we'll discuss that shortly, but is the display panel itself up to scratch?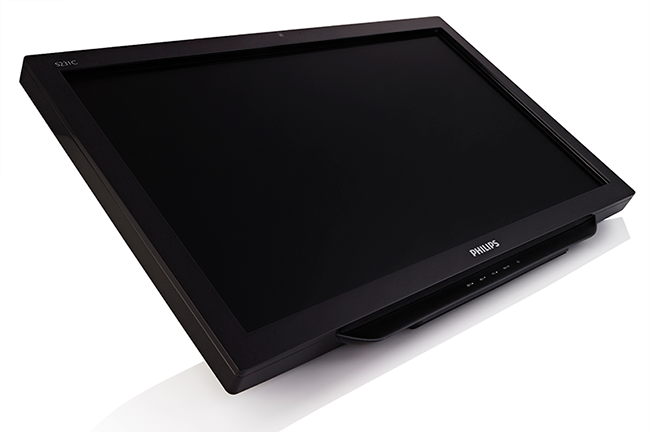 Well, yes and no, as there are areas in which the 23in screen excels and others in which it leaves you wanting more. Philips has employed an IPS panel with WLED backlighting that's well-sized for multimedia use and able to deliver excellent 178º viewing angles combined with reasonable black levels and good colour reproduction.
The 1,920x1,080 resolution is ample on a screen of this size, and what we appreciate most is the built-in kick stand, which tilts between 12 and 57.5 degrees. Increasing the angle is as easy as pushing the display back, and a built-in spring mechanism makes it easy to pull it back to an upright position. It's a simple-but-effective trick and one that makes the All-in-One equally well-suited to a low coffee table as it is to a desk. Better yet, if you prefer to have the system wall-mounted, the stand can be removed to reveal a 75mm x 75mm VESA-compliant mounting interface.
Viewing angles and a clever stand are among the monitor's strong points, however there are a few possible shortcomings elsewhere. First and foremost is a glossy finish that's highly reflective, and secondly, this is an optical touchscreen, meaning sensors are deployed around the edge of the screen to detect touch input. Two-point touch is supported and the system responds quite well, but the optical implementation results in a thick bezel that juts out considerably and gives the effect that the display is set back further than it ought to be. It takes a bit of getting used to, and swiping-in from the edges in certain apps doesn't feel quite right.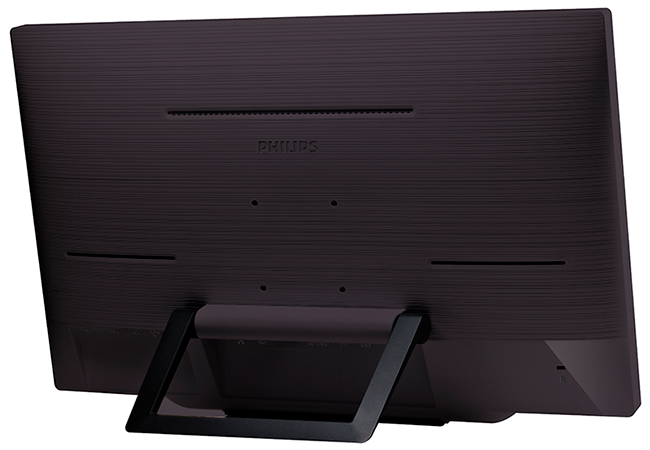 Ensuring the All-in-One doubles as a capable display is an array of connectivity options that include VGA and HDMI inputs, Ethernet, dual USB 2.0 ports and both audio-in and headset-out jacks. Helping expand the overall feature set, Philips includes an SD card slot to help offset the limitations of the built-in 8GB storage, Wi-Fi connectivity (802.11b/g/n), a generic one-megapixel webcam and a set of two-watt stereo speakers.
Everything needed to get the All-in-One up and running as an Android desktop is included - simply attach the bundled power supply and you're good to go - but the usefulness of the panel with third-party devices isn't clear cut. When attached to a Windows 8.1 PC, a USB connection is required to make use of the touchscreen functionality but said cable isn't provided as standard. Windows' side-swipe gestures are again compromised by the thick bezel, and the positioning of the display isn't ideal - it's too low for comfort during prolonged use. One other niggle to be aware of is that switching between Android and external devices isn't as easy as it might have been. Moving between modes requires entering the on-screen display (OSD) using the touch-sensitive buttons on the front of the panel and manually choosing HDMI, VGA or Android input.
As a monitor the S231C4AFD falls short of expectations and £350 is a fair bit of money for a display of this size, so there's a lot depending on the usefulness of Philips' 'Smart' enhancements. Question is, what's it like using Android on a desktop-sized display, and who exactly is it aimed at?