Introduction
There's a lot to be said for the convenience of a modern-day laptop or tablet PC, but if you're looking to make a design statement, nothing quite compares to the wow-factor of an all-in-one.
Apple's popular iMac remains the most obvious example of an all-in-one that oozes style and performance in a clutter-free package, and it stands as the benchmark by which most PC competitors are judged. Taiwanese giant Asus is the latest to step up to the challenge with the 23in ET2321INTH, priced at around £1,200.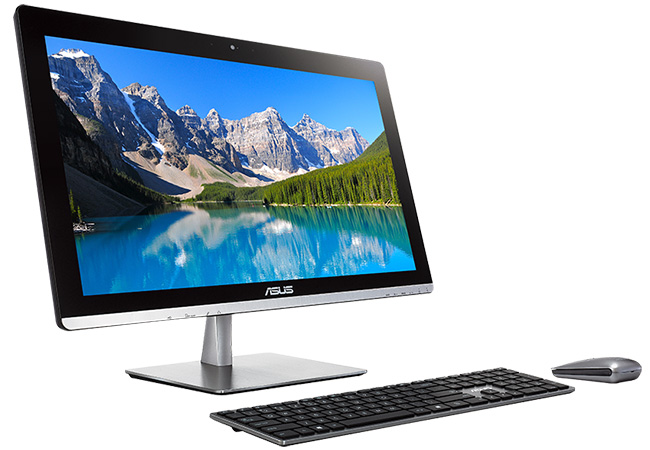 Don't let the clunky name put you off. Asus's machine is extremely easy on the eye and despite standing 570mm wide and 445mm tall, is made to look particularly sleek through a body that tapers down to 50mm and a thin silver stand that curves directly into the back of the screen.
It's an attractive design and the black-on-silver aesthetic should blend well into home or office environments. Keeping wiring to an absolute minimum, a connector for the small external power supply is kept around back and a basic wireless keyboard and mouse bundle is included as standard. If cutting down on cable clutter is a priority, you'll do well to find a PC that's as streamlined as this.
But streamlined needn't mean hamstrung. Making good use of this trim form factor, ASUS retains optical support by integrating a pop-out Blu-ray combo drive on the rear right-hand side, while a well-stocked array of I/O ports are neatly lined-up on the left.
The I/O selection, from left to right, includes an antenna connector for the integrated DVB-T TV tuner, DC in, Gigabit Ethernet, HDMI-in and HDMI-out, three USB 3.0 ports, a further two USB 2.0 ports and a jack for the bundled SonicMaster subwoofer. Plenty of choice, and we're happy to see that Asus has included an HDMI input as standard, allowing for the 23in display to be connected to an external source, such as a games console.
Elsewhere, the ET2321's power button, activity LEDs and monitor controls are squeezed along the bottom edge, where they're joined by another USB 2.0 port, a multi-card reader and headset and microphone jacks. A good choice of options, however the location of these ports makes them awkward to use: we'd much prefer a side-mounted USB jack for easy access. Keeping the cable-free momentum going is built-in Wireless AC and Bluetooth 4.0 connectivity, as well as an integrated two-megapixel webcam.
Build quality is excellent throughout, and a 9kg weight ensures there's little chance of the system toppling over. The sealed chassis certainly looks the part, so is the ET2321 equally as impressive on the performance front? Well, yes and no, as there are areas in which the system excels and others in which it leaves you wanting more.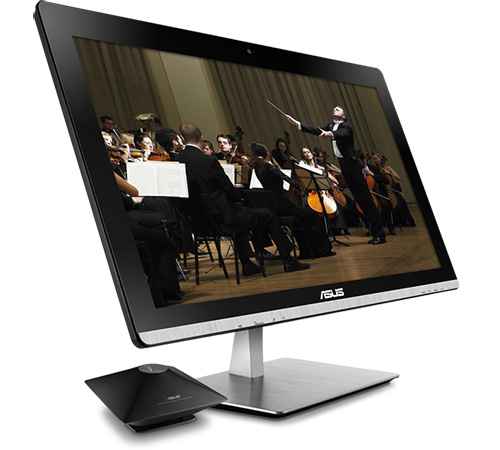 The highlight is a 23in LED-backlit IPS monitor touting a full-HD 1,920x1,080 resolution, a superb 178º viewing angle and 10-point capacitive touch. Whichever way you look at it, the 23in display produces enjoyable visuals. Color reproduction is good, as are black levels, the touchscreen is very responsive, and an ultra-glossy coating gives the image an extra dash of vibrancy. The catch is that reflections are a real concern - you absolutely won't want to keep the display facing a window - and, though the stand allows horizontal tilt, there's no built-in capability for height adjustment or side-to-side swivel.
Joining the eye-catching display is a sound system that is pleasantly competent. Asus has squeezed in two 22mm speakers, an internal 40mm subwoofer and a compact external subwoofer in order to provide crisp vocals, surprisingly powerful output and reasonably rich bass. It's a good thing, too, as there's no rear audio output so you won't be attaching your existing audio equipment anytime soon.
The ET2321 is agreeable from an audio visual perspective, however it's the accompanying hardware that may raise an eyebrow. At the heart of the system there's a low-power Intel Core i7-4500U mobile processor with integrated HD 4400 graphics. This latest-generation chip, capable of running at up to 3GHz and combined with 8GB of DDR3 memory, is a solid foundation for any all-in-one machine, yet Asus doesn't take full advantage with the accompanying components. The partnering discrete GPU is a low-end GeForce GT 740M that arguably isn't befitting a system of this ilk, and storage is provided by a 2TB Seagate Barracuda hard disk, meaning there's no solid-state drive as standard.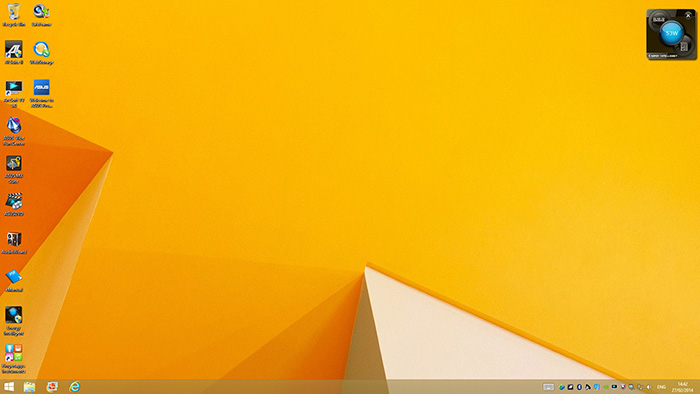 We were hoping for a little more oomph from Asus's top-of-the-range model, and we suspect SSD options will appear further down the line. Right now, the only other alternative is a downgraded model that swaps the CPU to a Core i5-4200U, cuts memory to 6GB, ditches Blu-ray in favour of standard DVD and shuns Nvidia's graphics, bringing the price tag down to a more agreeable £850.
There's room for improvement on the GPU and storage fronts, and though we'll wait for the benchmarks to gauge performance, we suspect the GT 740M featured in Asus's high-end model will offer little over the available IGP. High-quality gaming is likely to be a struggle and, as it stands, the Apple iMac offers more oomph in the GPU department: you don't get to say that very often.
A matte-display option wouldn't go amiss, either, and last but not least, we'd like to see Asus take a tidier approach to pre-loaded software. On top of the Windows 8.1 operating system, the manufacturer installs a nagging trial of McAfee Internet Security, as well as AI Suite II, ArcSoft TV, ASUS Energy Intelligent, ASUS Key Suite, ASUS LifeFrame, ASUS Music Maker, ASUS MX Suite, ASUS Video Easy, ASUS Virtual Camera, ASUS DVD, ASUS Vibe, ASUS... well, you get the point.
One of the pitfalls of being a PC enthusiast is that you tend to look ahead at what is yet to come. The ET2321 is a beautiful machine, however it's a shame Nvidia's mobile Maxwell GPUs aren't quite ready yet. Such a chip may well have given this all-in-one real gaming potential in a low-power design.
Still, you've got to go with the hardware that's available today, so let's see how the Core i7-4500U and GeForce GT 740M combination holds up in our benchmarks.