Squeezing it all in
It used to be a badge of honour to have large PCs belching out performance without a care for energy consumption or noise. Heck, a proper PC, chock-full of big components, was only good if it required a Belorussian weightlifter's strength to heave it into place. My, how times have changed, as companies now extoll virtues that were largely considered undesirables a few years ago.
The drive to energy-efficient computing has been spearheaded by industry giants such as Intel, Nvidia and AMD. Today's PCs provide a performance-per-watt metric that, even accounting for time, is commensurately better than found on machines in the early noughties. As an example, a fully-built PC housing a Core i7-4770K processor and GeForce GTX 780 Ti graphics card chews through about 300W when ramping up to full gas, which is well within the compass of low-end PSUs.
Understanding that a lot of performance can be packed into an energy-efficient footprint, modern components require less cooling than ever before, thus bringing small-form-factor PCs and pint-sized boxes very much to the fore. This SFF revolution may turn out to be a much-needed balm for the ailing PC industry, and competent system integrators should have numerous examples in their arsenal.
In conjunction with Nvidia, the folks over at Scan Computers have shown that great power can be pressganged into relatively small chassis. The 3XS Node Titan is a case in point, integrating, at that time, some of the tastiest components available. But SFF PCs needn't be exorbitantly expensive; capable systems are readily available for less than £1,000.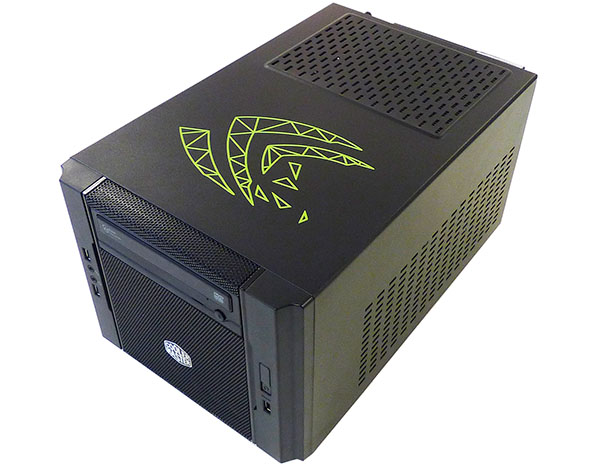 Scan's 3XS Nanu Gamer is a system that looks to woo the gamer who isn't overly impressed with the recent launch of next-gen consoles. Housed inside an all-steel Cooler Master Elite 130 chassis measuring 377mm x 240mm x 205mm (DxWxH), Nvidia's claw graphic - entirely optional with this system - is the only interruption to the black exterior. Packaged separately and a limited-edition extra, the claw kit uses precision-cut, high-quality vinyl graphics that can easily be applied to the outside of your PC, providing, Nvidia says, the ultimate in personal PC design. 
There are no hard-and-fast rules governing the size of SFF PCs - each manufacturer has their own interpretation - and Cooler Master's chassis is a reasonable starting point for a £799 build. Though arguably not as attractive as other small cases, notably the BitFenix Prodigy or Fractal Node 304, the Elite 130's utilitarian approach means focus has been paid to cooling. The large mesh on the front hides an integrated 120mm intake fan while copious venting on the sides and top helps dissipate heat from the confines that hold a Mini-ITX motherboard and a dual-slot graphics card measuring up to 13.5in long.
The Elite 130 is large enough to accommodate a standard optical drive... with a twist. The internal construction is such that an ATX PSU, Corsair's VX450 in this case, protrudes, somewhat ungainly, out of the back. Design decision aside, the chassis provides a couple of USB 3.0 ports on the front, augmented by an old-school USB 2.0, along with the usual audio/mic ports.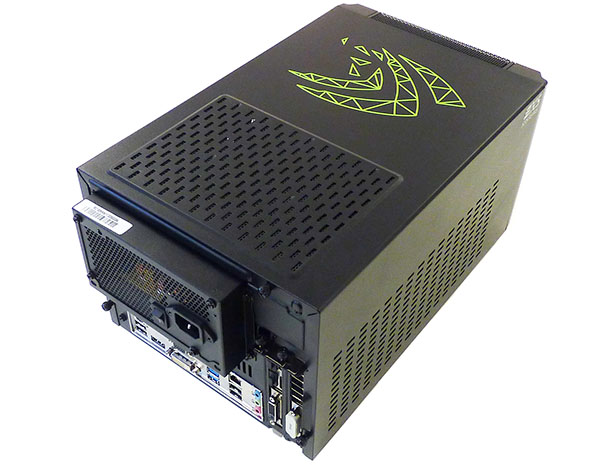 Peeling back the specification onion, Scan's 3XS Nanu Gamer uses an Asus H81I-Plus motherboard with a Core i5-4670 chip on top. Though the chip has integrated graphics, Scan installs an EVGA GeForce GTX 760 graphics card - a smart choice at this price point - and 8GB of dual-channel DDR3-1,600 memory. The one blight with respect to specs is the omission of an SSD drive, which we consider a must-have component, though Scan ameliorates some of the performance damage by installing a 2TB Seagate hybrid hard drive equipped with an 8GB front-end SSD.
Peering inside, let's now take a peek at integration.