Intro



Ever fancied the ultra-small form factor of a Mac mini but been put off by its slow processor and inability to natively run Windows? Well, the mini now uses far faster Intel Core CPUs, instead of IBM/Motorola G4s, and can dual-boot between XP and Mac OS X. So, we checked one out to see if there remains any reason why anyone who likes the idea of the mini shouldn't indulge themselves.



There's been something almost sinfully attractive about the Apple Mac mini from the very first version. This is, after all, a complete computer (well, complete except for keyboard, mouse and monitor) that's small enough to fit in a greatcoat pocket and takes up less desktop real estate than a typical mouse mat.

It measures 6.5in wide and 6.5in deep and stands a mere 2in high (165x165x50mm). Weight is just 2.9lb/1.31kg.

But, for those willing to pay the asking price - and Mac minis, like other Macs, have never been ultra-cheap (though Apple did recently cut mini prices) - the attraction was initially tempered by a few potential drawbacks.

Significantly, the first minis ran on relatively slow IBM and Motorola G4 PowerPC processors. If that wasn't issue enough, there was the knowledge that anyone who bought one would have to learn how to use Apple's Mac OS X operating system.

That might not be a major factor for computer newbies when the alternative is learning Windows XP but for the huge number of people already habituated to The Windows Way, getting your head around a new operating system can be a daunting prospect and a step too far. And that's the case even if, like Mac OS X, it provides a lot of hand-holding and is, arguably, superior in some areas to Windows XP Pro or Home.

We've no intention of getting into the Mac vs Windows debate here, not least because there are people in each camp whose opinions we massively respect and who are able to come up with strong reasons for their preferences.

And, anyway, there's now no need now to bother with such arguments no matter how well (or poorly) they are reasoned. That because the latest Mac minis, like other new-generation Apple computers that contain Intel processors, can run both operating systems - each from its own hard-disk partition - and speedily dual-boot between them.

So, if you like the mini (or, indeed, the form-factor of any new-gen Intel-powered Mac) but prefer Windows to OS X, there's no longer a problem running your favourite OS. And, of course, OS X lovers who want to run Windows for playing games or doing some serious stuff only possible under Microsoft's OS can do that, too, and revert to the Mac operating system for everything else where they feel most at home.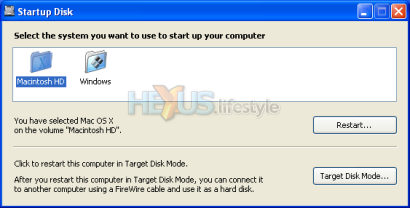 Startup Disk is automatically added to Windows' Control
Panel when using Apple's Boot Camp utility to install XP.
A similar applet for choosing which disk or partition to boot
from has long been standard in Mac OS


Running XP this way on Intel-based Macs, is a very new thing. Until recently, there wasn't even an option to use software emulation of an IBM PC compatible machine in Mac OS and then run Windows on that virtual machine - except on much earlier Mac hardware.

Microsoft's Virtual PC still doesn't support Intel-powered Macs and the final release of Parallels Desktop for Mac does but only arrived last week. However, a fully-working Parallels beta has been available for free download and trial for some time. We ran that successfully on the mini and carried out some benchmarking, too, getting some results that are likely to surprise you.

An unofficial competition was started in January with the aim of finding a way of getting Intel-based Macs to dual-boot between XP and OS X. This took a while to bear fruit but did get a result that meant a substantial prize for the winners. The compo didn't have Apple's blessing but the company soon realised that the game was up (or had been waiting for the right excuse) and swiftly came out with a utility of its own to allow the same thing - but in a rather more elegant and rugged fashion.

We've already carried a detailed review of that utility - Boot Camp Public Beta - being used on a MacBook and that's the place to look if you want to know the ins and outs - though Boot Camp does include full and easy-to-follow instructions. Indeed, it was Boot Camp's relatively bullet-proof nature - despite being a beta - that encouraged us to get in a Mac mini, bung on our own copy of XP and see how the whole thing hung together.

We also wanted to test how performance compared between the two operating systems running on the same hardware and see if the mini had a place as a media-centre PC in the living room. That required us to get hold of an external USB TV tuner - there's no room inside the mini for an internal tuner.

Two companies kindly obliged with digital product for use with Freeview - each bundled with Elgato's very versatile eyetv 2 Mac software and provided with an IR handset and whip aerial.

Miglia sent us the thumb-stick-style TVMini. Elgato itself sent us its eyetv for DTT bundle. This includes Terratec's Cinergy T tuner, which is a bit bigger than two matchboxes and still massively dwarfed by the Apple mini.

We discovered that the Terratec Cinergy T tuner has free-to-download Windows drivers (no such drivers are available from Miglia) and after we'd installed those and CyberLink's PowerCinema 4 front-end software, we had TV under XP, too.

What we didn't do, though, is install what we really wanted to, Windows XP Media Center Edition 2005. Boot Camp's instructions make clear that all that can be installed is XP (Home or Pro) - and from a CD that incorporates Service Pack 2.

As our days (and long nights) with the mini came to an end, we heard that it was in fact possible to install MCE but we'd run out of time to do that. Consequently, everything we write here concerning Windows is about XP - and it was the Pro version that we used.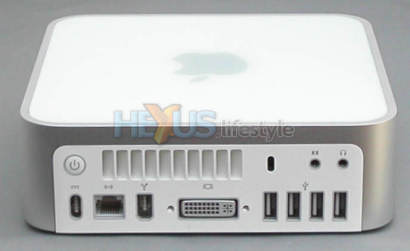 So, what did we find? Well, we'll tell you all about that in the coming pages but feel we have to say beforehand that we were genuinely surprised during the time we spent with the mini just how very well Windows XP ran on it courtesy of the way Boot Camp helped install it and the Windows drivers that Apple provides.

We were rather sorry to see the mini go back to Apple, in part because of some of the good stuff we appreciated using under Mac OS X, not least, the eyetv 2 software and a Mac app we installed for disc-burning, Roxio's Toast 7. This works neatly hand-in-hand with eyetv to create good-looking DVDs of TV programmes you've recorded.

What we should also say here is that we were very struck by how little heat the mini generated and how quietly it ran. The cooling fan is audible, though definitely not loud, but seldom kicked in. Both of these important attributes are largely due to Apple's inclusion of an Intel CPU that uses very little power.

And, having already said that Apple recently cut costs on the mini, what we should also do before getting down and dirty is give chapter and verse about pricing and provide some more detail of the mini's specs - and both are coming up on the next page.