Specifications and thoughts

So what is SCAN packing inside the chassis? Take a gander at the specs below, folks.


| | |
| --- | --- |
| System name | SCAN FX-62 AM2 |
| Processor | AMD Athlon 64 FX-62 (2.8GHz, 2MiB L2 cache, AM2) |
| Motherboard | Foxconn nForce 590 SLI |
| Memory | 2GBytes (2x 1GByte) Corsair EPP PC8500 RAM @ 5-5-5-15 2T @ DDR2-940 |
| Hard Drives | 2x Western Digital 150GB (WD1500ADFD) SATA in RAID0 (striped) |
| Screen | None as standard, optional extra |
| Graphics card | 2 x ASUS GeForce 7900 GTX in SLI |
| Optical drive #1 | Pioneer DVR-111D |
| Optical drive #2 | None |
| Sound | Onboard 7.1-channel High-Definition Audio |
| Modem | None |
| Networking | 2 x Gigabit Ethernet from nForce 590 SLI |
| Ports connectivity | 10x USB2.0 (4x front, 6x rear I/O), 2x FireWire400, 2x RJ45, audio, optical S/PDIF-out, PS/2 |
| Operating system | Windows XP Professional SP2 |
| Case | SilverStone Temjin TJ07 - silver |
| Warranty | 2 years (1st onsite 2nd BTB) |
| Price | £2,924.58 (inc VAT - no monitor) |
| Shipping | £39 + VAT (£45.83 inc VAT) |
| Other notables | AM2, 7900 GTX SLI, nForce 590 SLI, cold cathodes |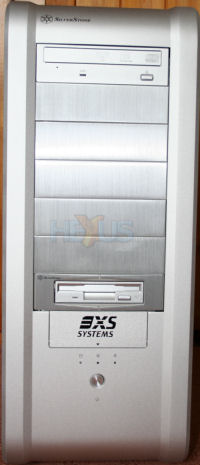 SCAN has chosen the SilverStone Temjim TJ07 to house this impressive array of high-end components. It's a very high-quality aluminium case that ships with four 120mm and two 92mm fans as standard. SCAN's aim is to imbue a feeling of quality from the get-go and the Temjin case is an excellent starting point. There's a drop-down cover that hides four USB2.0 ports and a single six-pin FireWire connection. There are audio and microphone sockets under there, too.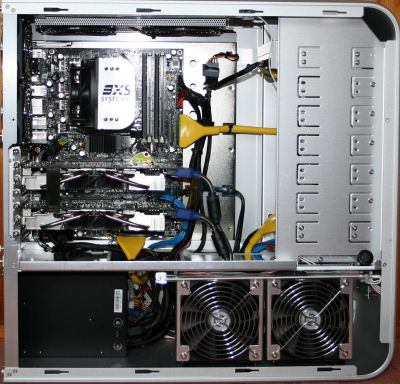 As you can see from the size of the motherboard in relation to the chassis, the TJ07 sits in between regular midi-tower and tower cases. A couple of 120mm intake fans are positioned over the hard-drive bays, and SCAN equips this system with a pair of 150GB Western Digital 10,000rpm Raptors that are pre-configured in RAID0 flavour.

Individually, they're the fastest non-SCSI drives around, so you can appreciate just how potent a striped pair will be. Four further SATA ports are still free, should you wish to increase capacity at a later date, and there are enough bays to hold up to four more drives. There are also seven 5.25-inch bays available, making the TJ07 ideal for users that require planning of disc expansion.

It's interesting to note that the PSU, in this case a Tagan 580W, is located at the very bottom of the chassis. The modular nature of the connectors makes it easy to route the cabling through the chassis and up to the intended sockets/ports. And, being so low down, the power cable won't be getting in the way of any of the other connectors round the back.

Moving on to the very top, there's a pair of 120mm exhaust fans that help remove some of the heat build-up caused by the high-end components. SCAN was confident enough with the system's cooling to leave these two fans unattached to headers.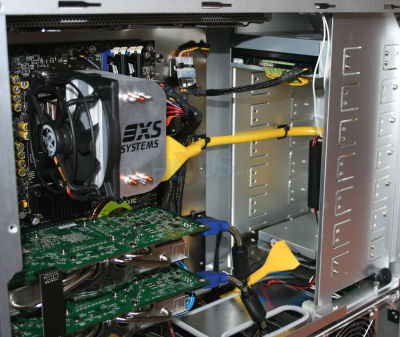 This SCAN SKU has been designed to highlight the power of AMD's new AM2 range of CPUs and NVIDIA's complementing nForce 590 SLI core-logic. To this end, the 3XS is equipped with an AMD Athlon 64 FX-62 AM2 processor that Ryszard took a definitive look at today. Compared to the S939 FX-60, it uses a new socket form-factor (S940) and a new integrated memory controller that's now compatible with DDR2-800 SDRAM.

Savvy readers will know that Corsair recently launched its EPP (Enhanced Performance Profiles) XMS DDR2 memory that, in conjunction with NVIDIA's nForce 590 SLI MCP, makes for simple, automated overclocking. It'll be put forward to JEDEC for ratification soon. The system is equipped with 2GByte of PC8500-rated modules (2 x 1GByte), and we'll show you how EPP works a little later. SCAN chose Foxconn's AM2-supporting nForce 590 SLI motherboard as the beating heart of the system, and we have no complaints with it.

The Athlon 64 FX-60 ticks along at 2.8GHz and still sports 2MiB L2 cache, split over the two cores. Keeping it cool is a SCAN-branded Arctic Cooling Freezer 64 Pro heatsink that ships with a 92mm fan. Helping the fan do its job are a further two 92mm intake fans that blow cooler air over the heatsink. Decent, thoughtful design.

SCAN adds in a Pioneer multi-format DVD rewriter plus a floppy drive mounted in the bottom-most 5.25-inch bay. We reckon a second optical drive would have been a decent idea, and we'd also like to see a multi-card reader as standard, even if it means taking away a couple of USB2.0 ports.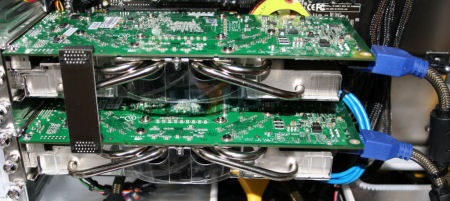 Continuing the high-performance theme - by providing the 3D grunt and complementing the NVIDIA nForce 590 SLI motherboard - are two default-clocked GeForce 7900 GTX 512MB cards that are configured for SLI. These two double-height cards take up enough room to render the bottom PCI slot almost useless (unless you wish to block airflow).

SCAN, however, doesn't take the opportunity to add in a discrete sound card to this package, instead relying on the quality of the high-definition audio from the nForce 590 SLI's MCP. We're surprised to see that, say, a Creative X-Fi Fatal1ty FPS wasn't included in this otherwise high-quality system, especially given the number of 5.25-inch bays that remain unused.

As a nod to the modding community, SCAN installs a couple of blue cold cathodes that lend a 'cool' look to the machine. Funky.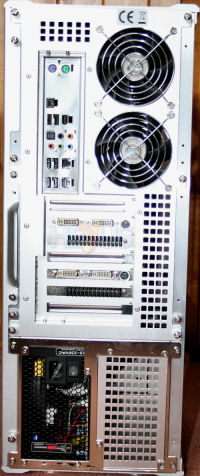 The rear gives you a further idea of just how large the chassis is. It measures 560mm (h) x 565(d) x 220mm (w) and weighs 13kg without additional components installed. Note again, the bottom-mounted PSU.


Thoughts
SCAN has used impressive components throughout this build, right from the chassis to the choice of graphics cards. Build quality is excellent, cable routing is good, and thermal performance is above average. There's also plenty of room should users wish to add in further drives. In fact, we find little fault with any of SCAN's choices, save for the lack of a discrete sound card and the lack of a second optical drive for on-the-fly recording.

What we'd also welcome would be some form of soundproofing for the hard drives. The Raptors' heads make a discernible din when searching and the sound is reflected off the aluminium chassis. They're all the more apparent due to the relative quietness of the system's cooling.

Speaking of which, the intelligent cooling keeps the 125W TDP AMD Athlon 64 FX-62 AM2 processor ticking along at under 45deg C under load. The fans spin at between 1000-1500rpm, avoiding the high-pitched squeal heard on some systems. And, while it's not what we'd call very quiet, the cooling is impressive for the specification. We'd hazard that most users could put up with the slight drone produced by the system when under load - but quieter is always better.

SCAN sent us the system at the 11th hour. Bundling and accessories are being finalised at the moment. We'll update the review once we have confirmation of what software it ships with. However, the asking price of £2,925 is for the base unit only; you must purchase the monitor of your choice separately.

Three grand for a base unit, we hear you say, but adding up the value of the parts gives a self-build price of around £2,550. SCAN provides a two-year warranty with its 3XS machine, the first year on-site, the second back to base. We reckon that any high-end system should ship with a three-year onsite warranty as standard, simply for piece of mind above all else. As for one costing close to £3K, well really. SCAN lets you extend the warranty for an additional cost but, yet again, it's an integrator skimping on the crucial warranty, which we consider to be just as important as any internal component.