Making Core i7 3930K work
Speedy Gonzalez
PC enthusiasts the world over will know that today Intel has launched a a couple of CPUs based on the Sandy Bridge Extreme architecture. Arguably the fastest consumer chips available, playing with Intel's finest technology also means purchasing a supporting X79 chipset motherboard and, maybe, lots of DDR3 memory.
Opt for the cheaper Core i7 3930K - a super-fast six-core, 12-threaded silicon maestro - with a decent board and 16GB of DDR3 memory in tow will cost some £800. With such an obvious outlay on merely getting the platform up and running why not let someone do the hard work for you and build a high-quality system, because it makes little sense to harvest older components for a cutting-edge rig.
Experienced builder Scan is hoping to tempt enthusiasts with its 3XS SNB-E system, which arrives with a retail price of £2,158, including VAT, for a base unit. Take away the aforementioned guts of the system and Scan has about £1,300 to play with, turning a platform into a fully-functioning machine.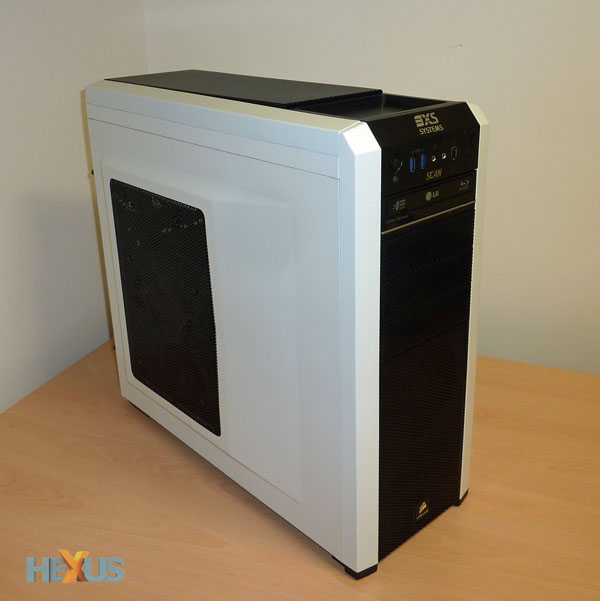 Corsair gets a reasonable chunk of that budget, with the Carbide 500R white chassis, TX850M PSU, Hydro H100 performance liquid cooler, 120GB Force 3 GT SSD and 16GB (4x 4GB) of 'low-profile' Vengeance memory all present. Our only concern is with the chassis, which while more than adequate to provide top-class cooling, can be a touch loud.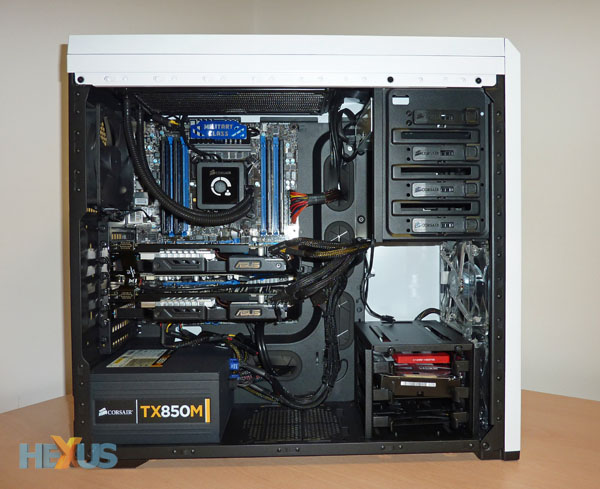 Consummate cooling
There's little point in adding an H100 cooler, pictured, centre, unless the underlying chip is overclocked. Scan pumps up the Core i7 3930K's speed from a native 3.2GHz to 4.5GHz, and makes the most of the CPU horsepower by sensible use of the £350 budget allocated to graphics. We can long argue whether it's better to have a single card or two cards in SLI/CrossFire, but such is NVIDIA's supposed scaling with the Sandy Bridge-E chips, that Scan has opted for two pre-overclocked GTX 560 Tis from ASUS.
Finishing kit is pretty standard for a high-end PC, where the red-coloured GT SSD is supported by a 1TB performance HDD from Western Digital. Sandwiched between the two graphics cards, which are both clocked in at 900MHz core and 4,200MHz memory, is an ASUS Xonar DX/XD soundcard - a step up from the integrated, albeit high-definition, audio found on most systems. We were concerned it might become toasty after prolonged gaming, but good internal airflow keeps it cool.
The board is capable of running a third graphics card, but the GPUs are limited to two cards in SLI. This isn't a machine geared towards, say, triple GTX 580s - the PSU isn't stout enough, for starters - so no major complaints here. Expansion is relatively straightforward, as there are three free bays to add further optical drives below the supplied Blu-ray, though we suspect most users will take up the 5.25in bays with additional hard drives; 'only' two more can be added to the cage at the bottom.
Cooling is high on the build list here. Two 120mm fans pull air in from the front - one blows over the hard-disk area, which is sensible - and two further 120mm fans, added by Scan, push air down on to the top-mounted radiator. A side-positioned 200mm blower adds to the mix, causing significant airflow in the crucial CPU and graphics section, while a solitary 120mm pulls the hotter air out of the system.
General musings
The new Core i7 Sandy Bridge Extreme chips need some real voltage persuasion to run at the 4.5GHz-plus speeds commonplace for the quad-core models. Scan bumps up the Vcore to 1.4V for this Core i7 3930K (1.15-1.2V default), and this is the reason why a regular air cooler simply won't cut it. Indeed, we'd be surprised to see system integrators opt for anything other than liquid cooling for SNB-E chips.
Windows 7 Premium SP1 installation is thankfully free of bloatware that afflicts some machines. All updates are installed and the machine is pre-loaded with Acronis backup for taking a snapshot of the system for imaging purposes. This can then be reloaded if problems arise. Similarly, Scan has a BIOS reload feature that brings it back to factory-shipped specs after you've pushed it too far.
Our rough-and-ready reckoner brings a total build-it-yourself cost to around £1,950, should you purchase these exact components separately and put it together. Appreciating this, a £200 premium for the build, two year return-to-base warranty, and delivery is reasonable.
The real question, we suppose, is whether an overclocked Sandy Bridge-E processor makes sense. Let's find out.
Scan 3XS SNB-E system
Processor
Intel Core i7 3930K @ 4.5GHz
Cooler
Corsair Hydro H100
Motherboard
MSI X79A-GD65-8D
Memory
Corsair Vengeance LP 16GB (4 x 4GB) DDR3
Memory timings and speed
9-9-9-24-2T @ 1,600MHz
Graphics card(s)
2 x ASUS GTX 560 Ti TOP 1GB
Sound card
ASUS Xonar DX 7.1
Disk drive(s)
120GB Corsair Force GT SSD
1TB WD 10002FAEX HDD
Optical drive(s)
LG 10x Blu-ray Reader Blu-ray drive / DVD writer
PSU
Corsair TX850M
Chassis
Corsair Carbide 500R White
Operating system
Windows 7 Home Premium SP1 64-bit
System cost
£2,158