A look inside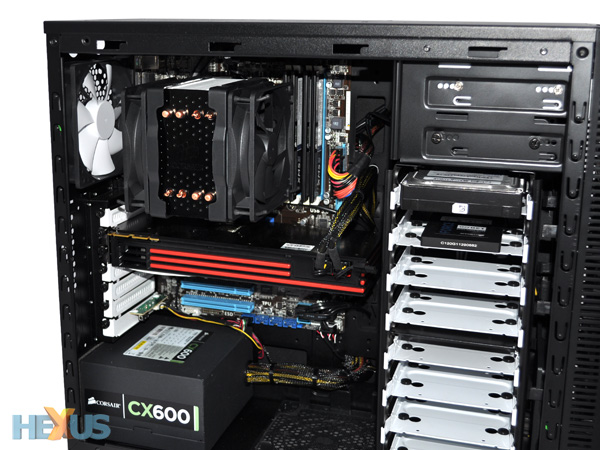 From a self-builder's perspective, getting inside a turnkey system is always interesting - you get to see how somebody else approaches component installation.
In the case of the Fusion Flash, Chillblast's engineers appear to be doing a very decent job. Our review sample arrived in pristine condition, with a good amount of additional foam padding used within the enclosure to ensure minimal component movement during transport.
Taking out all of the safety precautions reveals a clean build with good attention paid to cable management. Not using a modular power supply doesn't appear to have been an inconvenience, and Chillblast has quite easily managed to steer cables around the back of the motherboard tray.
This isn't the most complex build we've ever seen - there's no elaborate water cooling or anything of that sort - but Chillblast gets most of the basics spot on.
Our one criticism would be the positioning the of the Samsung hard-disk drive. By default, it's installed in the topmost 3.5in drive bay, where there's no immediate airflow. Moving the drive to the bottom of the column, adjacent to the front 120mm intake fan, could possibly be better for drive longevity.
Other than that, it's very clean and tidy, and the standard specification leaves a good amount of room for expansion. There are still plenty of spare fan mounts (and you might want to use them for reasons we'll explain later in the review), as well as a spare 5.25in optical bay and a further six unoccupied 3.5in/2.5in storage bays.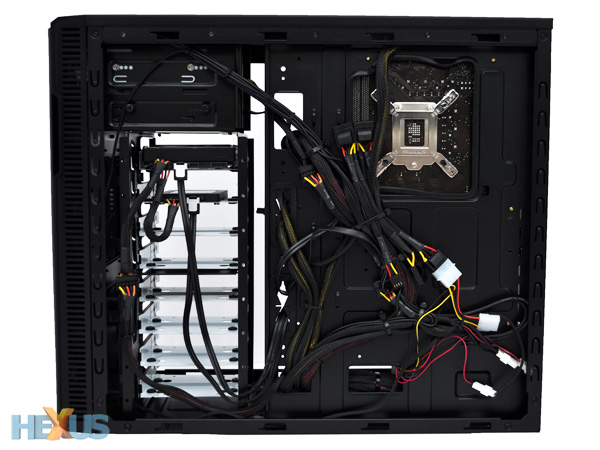 But the expansion options aren't as all-encompassing as we'd hoped. On the graphics front, Chillblast's standard ASUS P8Z68-V LE motherboard offers two PCIe x16 slots capable of running at x16, x4, respectively. Far from ideal for adding a second graphics card, and there's no support for NVIDIA SLI, leaving AMD Radeon CrossFire as the only option.
There are other motherboard considerations worth taking into account, too. The P8Z68-V LE is by all accounts ASUS's trimmed-down Z68 offering and offers no eSATA connectivity, no built-in Bluetooth, and a limited 4+2 phase power design. Chillblast provides the opportunity to upgrade to a P8Z68-V at a cost of £66, and doing so bags eSATA, Bluetooth, a 16-phase power design, SLI support and a greater number of PCIe lanes - allowing for two graphics cards to run at speeds of x8 apiece. Useful to know, if such features are important to you.
Before we dive into our benchmarks, it's worth giving software a brief mention. And it really is brief, as other than a 64-bit install of Windows 7, the Fusion Flash PC arrives with hardly any other pre-installed software.
There's no bloatware in sight, and Chillblast's engineers opt only to pre-load all the latest drivers and all available Windows Updates - leaving the PC ready to use from the get go. There's also no recovery partition, with Chillblast instead opting to bundle in the Windows 7 Home Premium installation disc - allowing you to carry out a clean install if necessary.