Introduction
Scan's range of 3XS systems cover an entire gamut of usage scenarios, but few are as lustworthy as the high-end, liquid-cooled Cyclone Series.
We had the chance to put last year's model to the test, and if you liked that, you're going to love this year's successor; the 3XS Cyclone SLI.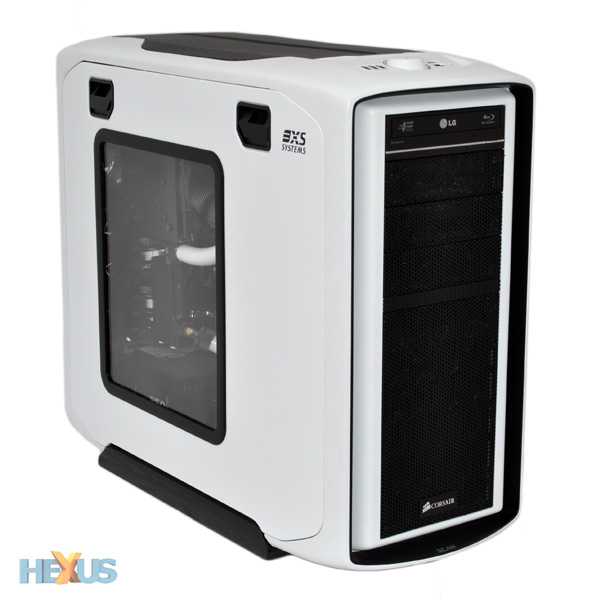 Designed with high-end gaming in mind, this lovely-looking machine carries a wallet-frightening £3,000 price tag and fastidiously marries some of the best hardware components currently available.
£3,000 is a lot of money for what's only a base unit, but Scan's aiming for performance aficionados with money to burn and an insatiable appetite for extreme computing.
If you fall into the latter category, or you're merely contemplating joining the computing elite, get a load of this: the 3XS Cyclone SLI features Intel's fastest Sandy Bridge processor, a pair of NVIDIA's fastest GeForce graphics cards, and a pair of Corsair's fastest SSDs. As you'd expect, the CPU and GPUs are all overclocked for maximum effect, and the already-fast SSDs are joined at the hip in RAID 0 for rip-roaring speeds.
Hey there, good lookin'
The first thing you'll notice when you lay eyes on the 3XS Cyclone SLI is that it's an outwardly attractive machine thanks largely to Corsair's Special Edition White Graphite 600T chassis. Our May review described the enclosure as "the best-looking mid-tower chassis we've ever tested", and that assessment still stands.
The chassis' visual lure makes it an obvious choice for a gaming rig and Scan has managed to maximise the contrasting black-on-white effect through the use of carefully-selected internal components. It's a feast for the eyes, and if you're into case lighting, Scan has also adorned the inside edge of the side opening with a strip of white NZXT LEDs.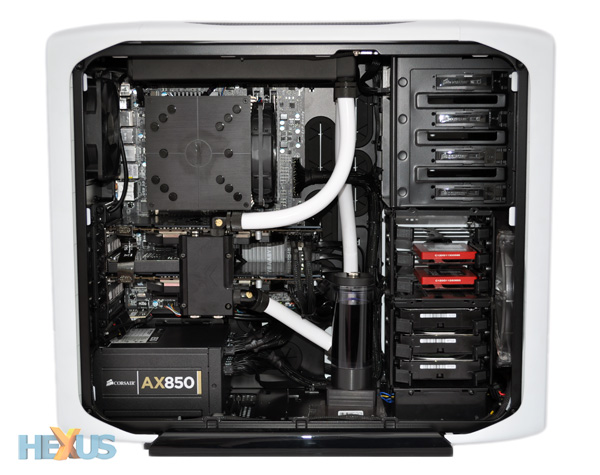 It's a contender for best-looking gaming PC, and pulling away the side panel reveals a couple of obvious truths; this is a serious machine, and one that's been put together with a great deal of thought and care.
Our review sample arrived well packaged and tightly secured, and the system's internal components are installed as tidily as could be. Cable management really doesn't get much better than this, though, for £3,000, we wouldn't expect anything less.
Working our way through the myriad of components, the base of the 3XS Cyclone SLI consists of a Gigabyte GA-Z68XP-UD4 motherboard and an 850W Corsair AX-Series power supply. Scan's configuration options surprisingly don't allow for either of these two core components to be changed, but perhaps there's no need. The modular 80 PLUS Gold Certified power supply provides ample juice for the system, and Gigabyte's Z68 board offers all the goodness of Intel's top-of-the-line Sandy Bridge chipset - including support for Smart Response Technology, switchable LucidLogix Virtu graphics, SATA 6Gbps, USB 3 and a good selection of rear I/O ports.