Small is beautiful, right?
Sapphire Technology is a well-known manufacturer of AMD-based graphics cards and motherboards. Like any good business with an eye on expanding in the future, Sapphire knows that being reliant on a single-source supplier can be problematic if relationships become frayed for some reason.
With a view to being more than just a retail partner for AMD wares, Sapphire's delved with producing mini-projectors and PSUs. But now moving swiftly on from manufacturing components to entire systems in one fell swoop, the company has recently introduced what it terms, rather erroneously, as the smallest PC in the world.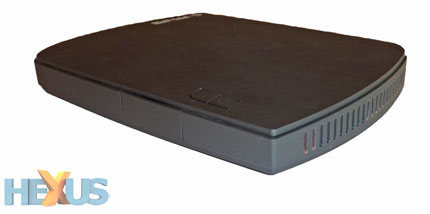 This tiny box of tricks, dubbed EDGE-HD, measures 193mm x 148mm x 22mm (W x D x H) and weighs just 577g on our scales. The tiny dimensions, which equate to little more than a Blu-ray film case, means Sapphire has to forego a few ports: the multi-card-reader slot is the first to get the chop.
Beneath the matte-plastic casing - which is rather nice to the touch, by the way - Sapphire includes a dual-core, quad-threaded Intel Atom D510 chip that's supported by 2GB of DDR3 RAM. A 2.5in, 250GB spindle-based hard-drive provides storage while graphics come by way of NVIDIA's DX10.1-totin' ION 2, as found in decent netbooks, meaning the EDGE-HD is wholly without any AMD hardware: go figure.
What's more, Sapphire doesn't bother with any new-fangled NVIDIA Optimus technology, useful for switching between the Atom chip's onboard video and the discrete ION 2 GPU, because there's little need to care about non-existent battery life on a mains-powered machine.
Atom and ION usually combine to form either a netbook or nettop, but Sapphire makes a point of not following convention laid down by Intel. However you describe it, it's small, well-built, and pleasing on the eye.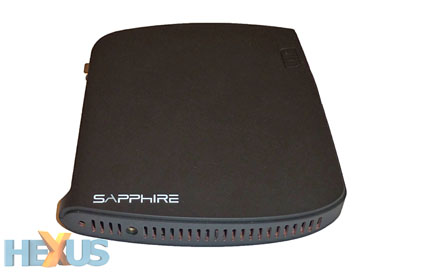 At home in either horizontal or vertical states, the latter made possible by a supplied stand, the EDGE-HD is suitable for a number of environments, Sapphire says. Keeping costs down to around £265 by bundling in the FreeDOS operating system, the company sees widescale deployment in education and small-business segments being particularly suited to the mini PC, though we imagine most of our readers will look upon it as a living-room or backup system.
Don't fancy dipping your toe into the geeky world of non-Windows operating systems? Sapphire obliges by providing Windows XP, Vista and 7 drivers on a bundled USB stick. A lack of an optical drive means a little know-how will be needed to install one of Redmond's OSes from, presumably, a flash drive.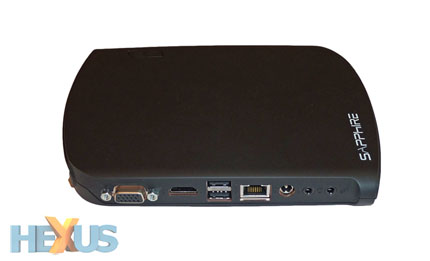 Plumbed out of the rear with VGA, the ever-useful HDMI, twin USB 2.0, Gigabit LAN and audio/mic ports, there are a further two USB ports on the front - upside down if the EDGE-HD is laid flat - situated below the power and hard-drive activity lights. 802.11n WiFi, which is an absolute must for a system this size, is supplied by an AzureWave chip.
Inside, the real heat-producing components - Atom chip and ION GPU - are lined up on the left-hand side, just by the VGA port. Sapphire has vents on both sides of the EDGE-HD PC, but, understandably, it's the CPU-and-GPU side that becomes warmest. Both are cooled by a heatpipe-based heatsink that's outfitted with a 40mm fan.
There's not enough room inside to house the power supply, so, much like other portable systems, the mini PC includes an external adapter - a 65W model here.
Maximising the HDMI port from the get-go, Sapphire throws in an HDMI cable and, ensuring that folk with DVI-equipped monitors aren't left wanting, an HDMI-to-DVI adapter is included, as well. You'll have to invest in input devices and provide a screen - monitor or TV - to get it up and running, though.
Sapphire clearly isn't going to break any benchmark records with the EDGE-HD PC, but that's not the point. Rather, its forte lies with taking the best low-power hardware from Intel and NVIDIA and rolling it into a tidy package.