A good look inside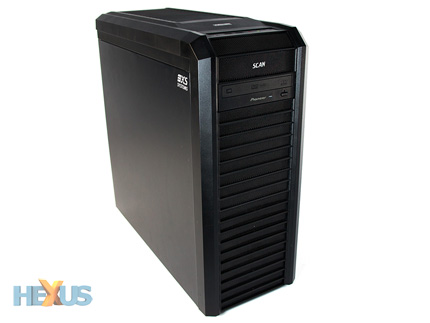 The Lancool PC-K58, hewn from industrial SECC and plastic, is a general workhorse chassis that misses out on some of the high-end features found in mid-tower cases costing £100-plus. But equipped with five 5.25in and four 3.5in bays - with easy access to each - it's more form over function.
A top-mounted I/O section sits in front of a series of vents that provide a natural outlet for the warm air generated by the system.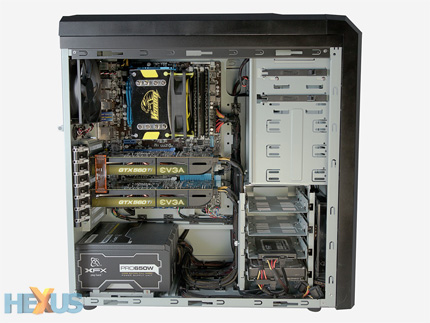 Jump inside and the budget origins of the chassis become evident, though Scan has done an admirable job of constructing a neat-looking base unit. Airflow is provided by a front-installed 140mm fan and rear 120mm exhaust, both of whose fan speeds can be controlled through the ASUS board's flashy EFI BIOS.
Scan uses the trio of mechanical x16 PCIe slots to good effect, leaving a space in the middle of the two reference-style EVGA GeForce Ti 560 FPB cards. Looking upwards, while a close fit to the chunky Venom cooler, there's room to add another two DIMM modules without having to meddle with the upper graphics card.
High-bandwidth ports are taken care of by FireWire and a quartet of USB 3.0 - two on the rear and two mid-board - though Scan doesn't include the fly-bracket out of the rear, as provided in the ASUS bundle.
The addition of two further SATA 6Gbps ports, by way of a Marvell controller, helps Scan skirt around the Intel-identified problem that we alluded to on the previous page.
Outfitted with Windows 7 Home Premium and backed by a two-year insured warranty, through a specification that's hugely flexible via an online configurator, the component integration matches the choices: sensible, with an eye on keeping costs in check by not using esoteric parts.
Lots of overclocking on the CPU and GPUs makes for an interesting performance proposition, and it would have been rude not to subject the GTK SLI system to our battery of benchmarks.