Introduction
Back in August, we pondered the question "can an AMD Ryzen base unit command top dollar?" Fast forward to today and the answer couldn't be clearer; not only can AMD compete at the high-end of the market, it is arguably the only destination for enthusiasts wanting to experience benchmark-busting performance.
Such credentials have been bolstered by the arrival of 3rd Gen Threadripper and the world's first 16-core mainstream processor, the Ryzen 9 3950X. The latter is, in our estimation, shaping up to become the stand-out chip of the current generation, and system integrators view it as an opportunity to really turn on the style.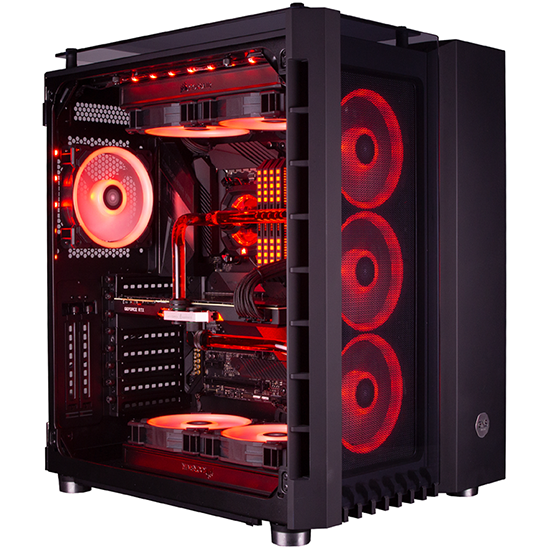 Take, for example, the Scan 3XS Vengeance RTX Fluid Extreme. The name's a mouthful, yet it shrinks into insignificance alongside the £6,999.99 price tag. Digging into the memory banks, can anyone even remember the last time an AMD base unit was able to command that sort of premium? Heck, this isn't even a Threadripper solution, but for those who prefer not to take the HEDT route, the 3950X is the prime choice, and there will be deep-walleted enthusiasts who want the premier Ryzen turned up to 11. Scan Computers obliges.
The stage was set with the 3XS Vengeance RTX Ti Fluid reviewed back in August, but for this Extreme variant there are a handful of premium upgrades that are designed to showcase what Ryzen can do when you throw caution to the wind. The erstwhile 12-core 3900X has been swapped out for a 16-core 3950X, the motherboard has been upgraded from an Asus RoG Strix X570-F Gaming to a RoG Crosshair VIII Hero, and because, well why not, the amount of Corsair Dominator Platinum memory has been doubled to 64GB (4x16GB) of DDR4-3200.
Scan has opted for tighter CL14 latencies this time around, as opposed to sheer memory speed, and there are upgrades in the storage department, too. A 2TB Corsair MP600 M.2 SSD continues to serve as a spacious and blistering-fast system disk, but there's now also a 2TB Samsung 860 QVO 2.5in SSD for secondary storage. There's no hard drive in sight, and rightly so; SSDs are better suited to base units as extravagant as this.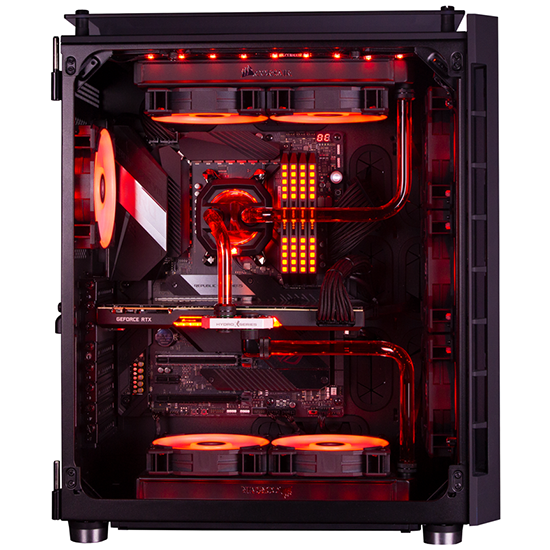 What else can Scan do to hyperbolise the specification sheet? Upgrade the graphics card of course. Rather than an RTX 2080 Ti, the Fluid Extreme goes the whole hog with a hugely expensive Titan RTX. Do an extra 256 shaders and a colossal 24GB frame buffer warrant such a lofty premium? For most gamers certainly not, yet for those niche enthusiasts who want the very best, well that's a different question entirely.
Fortunately, Scan's design team appreciates that there are customers who want to go nuts without venturing into the insane. For those folk, a variant of this very base unit is being made available with an EVGA GeForce RTX 2080 Ti in place of the Titan, and 32GB of system memory instead of 64. Those two seemingly small tweaks help bring the price down by 35 per cent, to just £4,499.99. That's still a whole lot of cash, but such is the attraction of AMD's 16-core part that we don't imagine Scan will have much difficulty shifting at least a few of these rigs.
And the Fluid Extreme sure does look pretty. Perhaps it's the fact that the Christmas season is almost here, but for whatever reason, we quite like the sheer amount of RGB on show. There are some neat effects, and Scan goes the extra yard by swapping the chassis' stock rear exhaust for an LL120 RGB fan, though if we're nitpicking, we might have preferred a more neutral liquid coolant; the red looks great when all the lighting is matched, but can clash when other colours are used.
As expected, Corsair Hydro X continues to provide all the cooling gear, which includes an XC7 CPU block, an XG7 RGB GPU block and an XD5 RGB pump/reservoir installed in the chassis' rear cavern alongside the Corsair RM850X power supply. 14mm XT Hardline tubing ties the processors to dual 240mm XR5 radiators - one in the roof, another on the floor - and a total of eight fans provide the airflow. With this amount of cooling overclocks are practically mandatory; Scan ships the AMD chip at 4.3GHz across all 16 cores, while the Titan is bumped-up by 75MHz on core and 350MHz on memory.
Could you manually build a similar system for less? Of course, but at this end of the market, and with a custom cooling loop, there's added peace of mind when buying from a reputable retailer. Scan's build quality and implementation is tidy throughout, with excellent cabling and a clean, fully-updated installation of Windows 10, and the base unit is backed by a three-year warranty that includes onsite repairs for the first 12 months. Let's fire her up and see what she can do, shall we?