Introduction
AMD's 3rd Gen Ryzen CPUs have been warmly received by critics and end users alike. The new crop of efficient 7nm chips offer a decent IPC uplift over the previous generation, and multi-threaded performance continues to impress at price points that are typically more welcoming than what's on offer from rival Intel.
Plenty of encouragement for a new PC, but system integrators appear to have been relatively slow in introducing 3rd Gen Ryzen base units. This could be due to poor supply at launch, or it may be attributed to SIs being reluctant to disrupt any close ties to Intel, but either way, AMD needs to work harder to ensure its best CPUs to date get the limelight they deserve.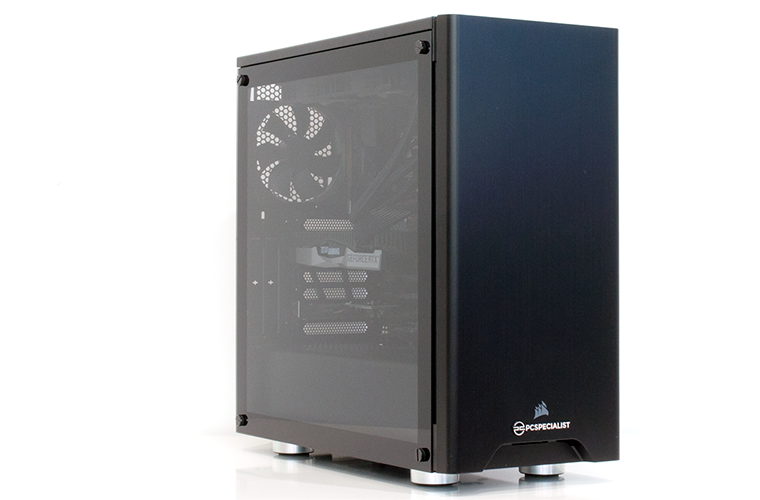 Stock levels appear to have improved in the weeks following launch, and a bunch of PC builders are now beginning to seed review units. One of the first to land at HEXUS HQ is PC Specialist's Inferno R2. Priced at £1,399, this here rig employs a 65W Ryzen 7 3700X processor and demonstrates that eight-core, 16-thread computing need not cost the Earth. It is a pleasant surprise to see a sub-£1,500 solution offering an impressive amount of firepower.
In order to hit the attractive price point, PC Specialist has made a few interesting choices along the way. Chief among these is the decision to shun AMD's premium X570 chipset in favour of readily available X470. Not a bad compromise in our book, as while it's fun to see the ludicrous performance numbers derived from PCIe 4.0 SSDs on X570, regular PCIe 3.0 storage on X470 is hardly slow, and the amount saved is arguably better invested elsewhere. In this case, the Asus TUF X470-Plus Gaming fetches £140 at retail, representing a £75 saving over the X570 equivalent.
The motherboard and CPU combination is sound, and PC Specialist rounds out the build with 16GB of DDR4-2933 memory in a dual-channel configuration, a 500GB Samsung 970 Evo Plus M.2 SSD and a Zotac Gaming GeForce RTX 2060 Super Mini 8GB graphics card. There's secondary storage in the form of a 2TB Seagate hard disk, power is provided by a semi-modular Corsair TX550M supply, and the stock-clocked CPU is looked after by a Corsair Hydro Series H100x liquid cooler.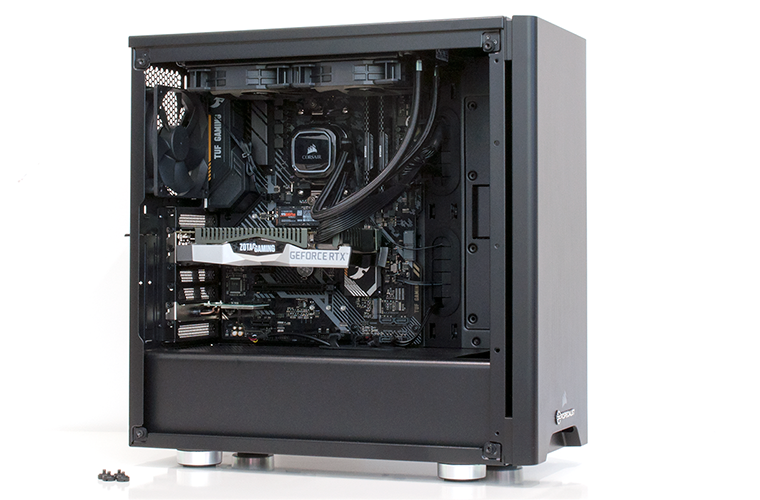 A couple of RGB strips add a bit of jazz, while a basic Tenda W322E Wireless N300 PCIe adapter provides wireless connectivity, and everything is wrapped in a relatively simplistic Corsair Carbide Series 275R chassis. There's not a lot of bling, but at this price point it's hard to argue with the specification sheet. Inferno R2 should fly through creative workloads with ease and the RTX 2060 Super graphics card bodes well for gaming at either a full-HD or QHD resolution, making this a highly-capable build for both work and play.
PC Specialist's implementation is tidy throughout, however there are a couple of small tweaks that could enhance the user experience. Firstly, the fans are by default configured to speeds that are higher than necessary, resulting in more noise at the expense of lower temps. A better balance can be achieved with a few simple tweaks in BIOS, but we'd prefer PC Specialist to adopt a less aggressive cooling profile by default. Secondly, while the Corsair chassis looks reasonably smart with its glass side window, its top I/O panel is equipped with just the two USB 3.0 ports alongside a pair of audio jacks; we're of the opinion £1,000+ base units need to include Type-C as standard.
For a lot of enthusiasts out there, a pre-built system such as this only really makes sense if pricing is ultra-keen. This is one area in which PC Specialist usually comes up trumps, though do be aware that the £1,399 price tag applies to this specific configuration and is only applicable via the buy link at the end of this review. Other SIs deem this to be an underhand method of lowering price and are quick to decry the lack of configuration options - Inferno R2 must be purchased as is - but if the system suits, you'll find that pricing is indeed extremely competitive.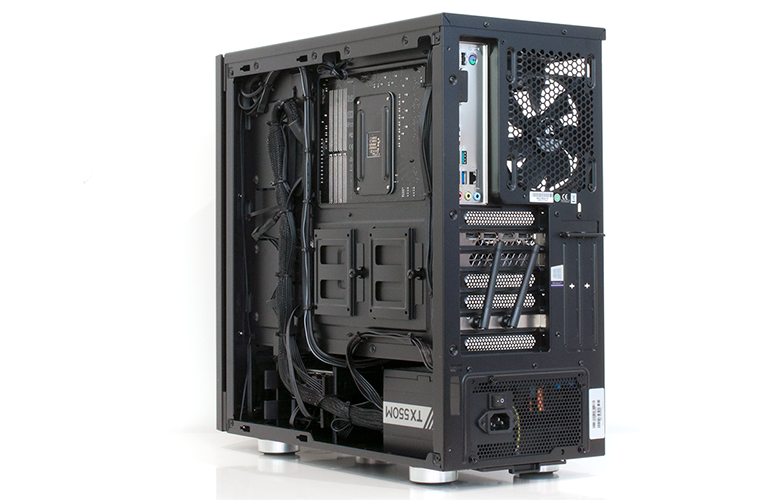 Even after scouring a handful of different outlets, the lowest total component cost we've managed to achieve is £1,350, meaning a less-than five per cent premium for a pre-built setup with tidy cabling, a clean install of Windows 10 and the peace of mind that comes with a three-year warranty from a well-known UK retailer. At these prices, there's good reason to buy pre-built.
Want to see exactly what a £1,399 AMD Ryzen PC can do in mid-2019? Let's roll the benchmarks.