Introduction
The arrival of Nvidia's latest mid-range graphics cards can be viewed as a good opportunity to upgrade an ageing rig without breaking the bank. GeForce GTX 1660, GTX 1660 Ti and RTX 2060 have all emerged since the turn of the year, offering latest-generation Turing goodness in the more agreeable £200 to £350 window.
Such parts are vital for system integrators hoping to ship mainstream base units in high volume. Scan Computers has already impressed with the 3XS Gamer 1660 Ti, priced at £970, and now PC Specialist's Vortex S1 is hoping to go one better by offering RTX credentials for just £899.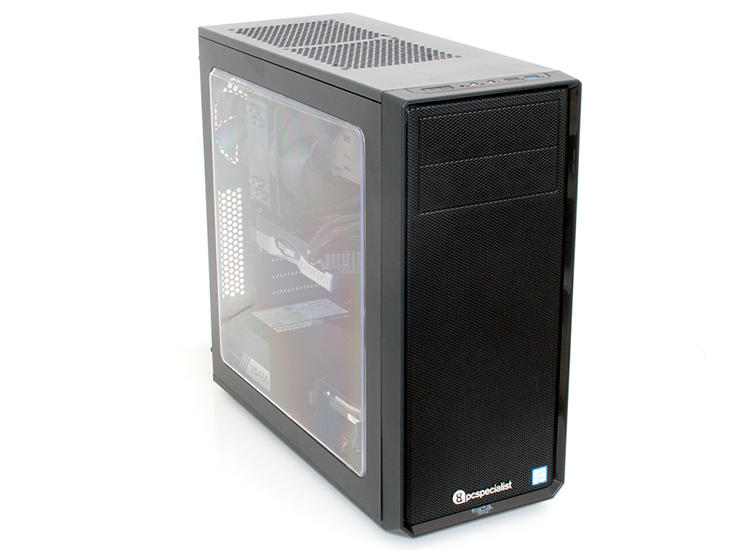 An entire GeForce RTX gaming rig for less than the cost of a single GeForce RTX 2080 Ti graphics card? Sounds rather handy, and our initial examination suggests that PC Specialist is being particularly aggressive when it comes to pricing. Putting together a near-identical machine by sourcing components from various retailers would set you back somewhere in the region of £950, so not only is the Vortex S1 cheaper to buy as a whole, it also benefits from a three-year warranty from one the UK's biggest PC suppliers.
The price is a major attraction, but do be aware it is applicable only to this exact specification; those wanting to alter any individual parts can expect to see the premium rise significantly. So what, exactly, do you get for the £899 fee? Well, it starts with a Fractal Design Focus G mid-tower chassis that doesn't make the best first impression. As fans of various other Fractal enclosures, we're surprised at how cheap the Focus G feels in person.
Granted, you don't expect top-notch construction on a case retailing for £45, yet the side panel tends to rattle as opposed to fit snug, the bulbous-looking plastic side window isn't particularly elegant, and given that there's no PSU shroud, we're not sure a window is warranted on a build of this ilk. PC Specialist adds a couple of white LED strips in an attempt to jazz the chassis up, albeit to no avail, and though the case is perfectly functional, it's eye-opening to see how basic the enclosures at this end of the market really are. Finding a well-rounded chassis for less than £50 is easier said than done.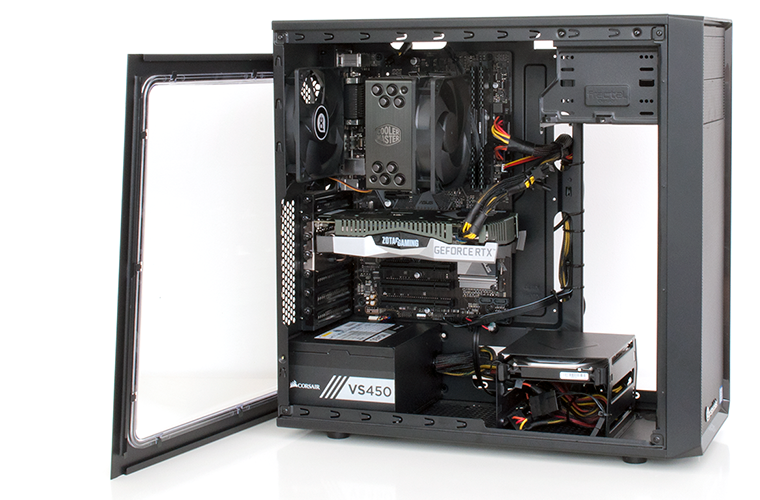 It's on the inside that we expect better things, and the first question for an £899 base unit is whether to go Intel or AMD. Vortex S1 opts for former, choosing a Core i5-9400F sat atop an Asus Prime H310-Plus motherboard. An interesting combination, and our first look at an 'F-Series' Core processor that goes without onboard graphics. From a consumer point of view, the i5-9400F seems a strange chip, as aside from the lack of integrated graphics, it is otherwise identical to the existing i5-9400, and Intel keeps unit pricing the same at $182. We can only assume that the buy-in price is far more favourable for system integrators, and that may well have contributed to the competitive positioning of the Vortex S1.
Either way, the six-core, six-thread Coffee Lake chip seems a fine choice for a sub-£1,000 build. The 65W TDP isn't any lower for the graphics-less part, and the 4.1GHz Turbo speed goes unchanged, yet we expect strong single-thread performance, decent multi-threaded credentials, and cool operation courtesy of a Cooler Master Hyper 212 Black Edition heatsink. What's perhaps more pressing in the Core vs. Ryzen conundrum is the supporting chipset. Intel has developed a habit of ensuring its entry-level platforms are hamstrung significantly, and H310 is a good example.
It is no surprise to find that the Asus board lacks support for RAID, Intel Optane memory or multiple graphics cards, however it also lacks USB 3.1 Gen 2 and the M.2 slot is limited to PCIe 2.0 x2, making it impossible to get the most from modern SSDs. We'd much prefer B360 for a mainstream Intel build, but everything else in the Vortex S1 seems a safe bet. Latest-gen graphics are provided by a Zotac Gaming GeForce RTX 2060 Twin Fan 6GB card, storage includes a 256GB Intel 760p M.2 SSD plus a 2TB Seagate HDD, and power is sourced from a 450W Corsair VS-Series supply.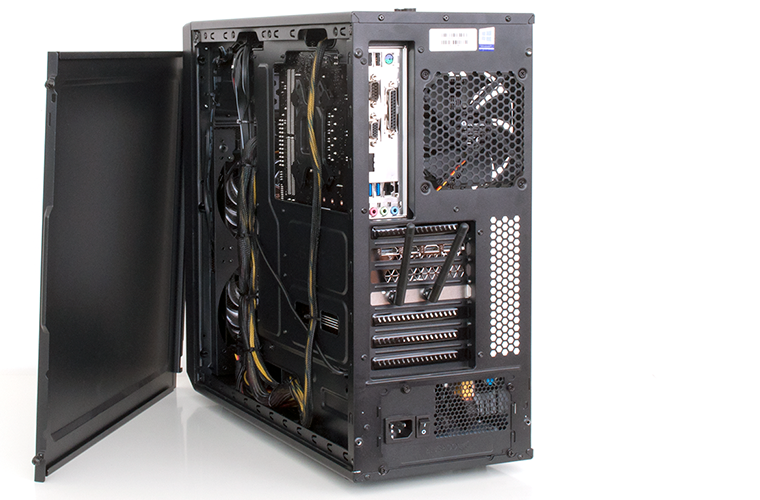 Cable management is about as tidy as you're going to get with a non-modular PSU, but the multi-coloured cabling reaffirms our belief that a windowed side panel isn't necessary. Still, integration is generally tidy, and we like the fact that PC Specialist adds a rear exhaust fan to work in unison with the two intakes pre-installed in the Fractal chassis. There's also a Tenda W322E Wireless N300 PCIe adapter installed beneath the graphics card, making it easy for casual gamers to get online with a minimum of fuss.
PC Specialist's install of Windows 10 is clean, up to date and free of bloatware, however we did identify the motherboard BIOS as outdated, with two newer releases available at the time of writing. Mainstream base units such as this evidently aren't given quite the same level of care and attention as premium alternatives, as is to be expected, yet Vortex S1 still has the makings of a good value proposition. Let's see what it can do in our benchmarks, and, more importantly, in a slew of modern games.