Introduction
Whether or not the cost of gaming is getting out of hand is debatable, but one thing's for certain, PC gamers with deep wallets have had plenty to get excited about in recent months. Nvidia's £1,100 GeForce RTX 2080 Ti has raised the bar for desktop graphics, and Intel has followed-up with its best mainstream processor to date, the £600 Core i9-9900K.
On paper, it's a perfect match, and though stock availability of both parts is proving to be a cause for concern, system integrators are going to be using this particular duo as the headline act for base units in late 2018.
Scan Computers is first out of the gate with the 3XS Vengeance RTX Ti, priced at a mere £3,400. What's interesting is that even one of the UK's biggest system integrators is struggling to get hold of the Core i9-9900K; availability in the weeks following launch has been scarce to say the least.
Specification
In terms of presentation, the 3XS Vengeance RTX Ti looks rather mundane. The soaring cost of CPUs and GPUs is such that even a £3,400 rig can end up looking basic. You might expect a case mod or a custom cooling loop at this price point, but it's a sign of the times that such lofty sums aren't considered particularly high-end; modded base units with latest-generation components now tend to fetch over £5,000.
Might Scan have done more to showcase these particular components? Perhaps, but we get the feeling the manufacturer was in too much of a hurry to be first to the review table. The end result is no doubt going to be quick in the benchmarks, but from a visual standpoint the Vengeance RTX Ti is lacking in wow factor.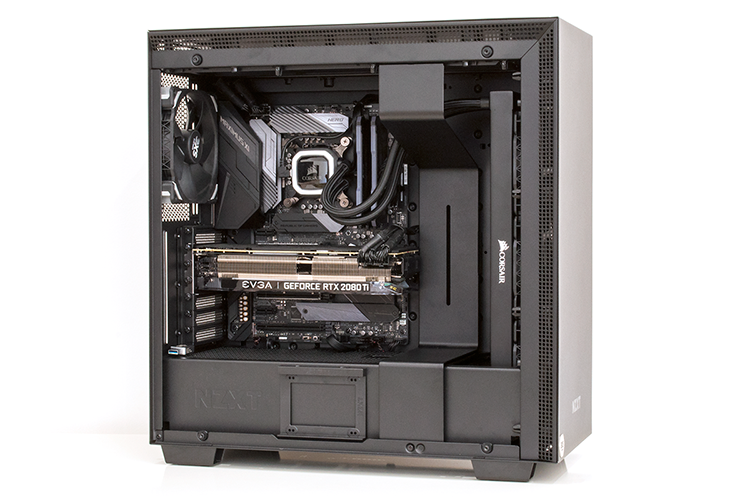 Using an NZXT H700 chassis is a safe but uninspired choice. The all-black enclosure is sleek enough, but lacks front-facing USB Type-C, doesn't have a reset button, and wouldn't be our first choice for a build of this ilk. Thankfully, things get better on the inside, where Scan outfits an Asus RoG Maximum XI Hero motherboard with the aforementioned Intel Core i9-9900K processor, an EVGA GeForce RTX 2080 Ti XC Ultra Gaming 11GB graphics card and 32GB (2x16GB) of Corsair Vengeance Pro RGB DDR4-3200 memory.
CPU cooling comes courtesy of a 360mm Corsair Hydro Series H150i Pro all-in-one liquid cooler, power is supplied by a high-quality Corsair RM750x supply, while storage takes a two-pronged approach. A 1TB Samsung 970 Evo M.2 SSD serves as an ultra-fast system drive and a 2TB Seagate Barracuda hard disk is at hand for secondary storage duties. Given the spacious SSD, we'd be tempted to drop the noisy mechanical drive altogether, but in terms of core components, there isn't a great deal we'd change; this is about as good as it gets for a current gaming PC.
Integration
Enthusiasts seeking a base unit that will turn heads should look elsewhere, but if you prefer to keep things sleek, there are some subtle details that elevate the 3XS Vengeance RTX Ti experience. Firstly, and as expected, Scan overclocks both the CPU and GPU as standard. The Intel chip is guaranteed at 5GHz across all eight cores (using 1.285V in this case), and boost clock on the RTX 2080 Ti has been bumped up from 1,650MHz to 1,770MHz.
We've been eager to learn how far system integrators would push the Core i9-9900K, and it seems as though 5GHz is going to be a common ceiling. Any higher tends to require more robust cooling, and as we'll demonstrate a little later in the review, even a 360mm Corsair Hydro Series can struggle when all eight cores are zipping along at 5GHz.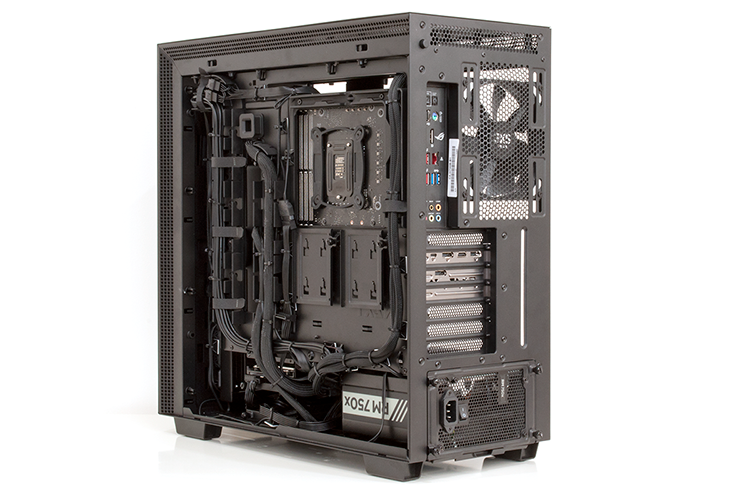 Cable management is nice and tidy - we tend to find 3XS systems to be among the best when it comes to keeping things neat - and further attention has been paid to noise levels. The chassis' default rear exhaust has been swapped in favour of a Corsair ML140 Pro, and the Hydro Series cooler operates with a custom profile designed to keep the decibel meter from registering so much as a peep. We can barely hear the system when it's powered on, but if you do need to know it's there, a token RGB lighting strip has been added to augment the effects on offer from the various components.
Last but not least, pricing is in line with expectations. Putting together a similar system on your tod would set you back somewhere in the region of £3,250. Scan's charging less than a five per cent premium for guaranteed overclocks on both CPU and GPU, as well as the peace of mind that comes with a three-year warranty from a reputable retailer. Heck, given the current state of availability, a base unit such as the 3XS Vengeance RTX Ti may well be the quickest method of acquiring both a Core i9-9900K and an RTX 2080 Ti in one fell swoop.