Introduction
Today's PCs have raised the bar for performance, energy efficiency and overall design, but one area of improvement that can often be overlooked is noise. The latest machines, be they desktop or laptop, are typically quieter than ever before, and the most innovative systems aim for virtual silence by banishing mechanical fans in favour of passive cooling throughout.
We've seen it work in the mobile space - Microsoft's fanless Surface Pro being a good example - but passive cooling requires more thought on the desktop, where higher-power components come into play. Attempting to tame, say, a 95W Core i7-8700K processor without any active airflow isn't for the faint hearted, but it can be done and boutique system integrators are now presenting their wares.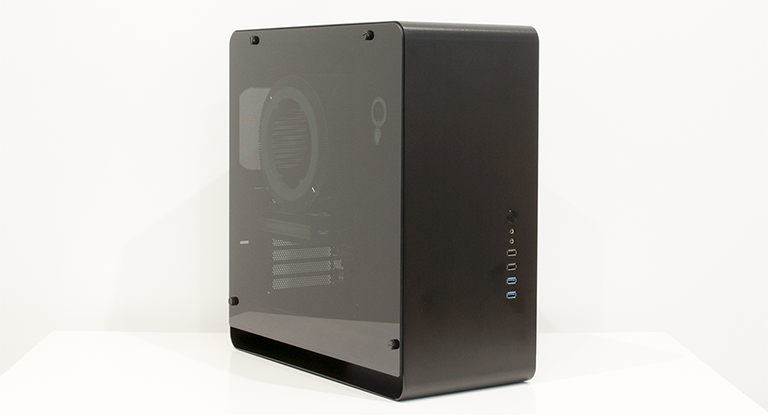 Yorkshire-based Quiet PC is one of the first names to spring to mind when contemplating such a niche build, and the firm has quickly updated its portfolio of 'Speciality' PCs to include a model outfitted with an 8th Gen Intel Core processor. Dubbed the Nofan A890S Silent Desktop and priced from £1,115, this sleek-looking base unit promises up to a six-core, 12-thread Core i7-8700K processor and dedicated GeForce graphics with zero fan noise.
Complete silence is the name of the game, and the absence of fans has Quiet PC claiming "no noise, no dust, no moving parts and no maintenance." Cleanliness is a key selling point and the Jonsbo UMX4 chassis delivers a favourable first impression. The aluminium enclosure is relatively petite for a mid-tower, feels solid throughout and the tinted glass side panel adds that extra layer of luxury.
We like the backlit Quiet PC logo tucked inside the side panel - it provides a nice glow but isn't distracting - and a 'Clean Build' promise ensures no bloatware on top of the Windows 10 operating system. This is a neat and tidy machine, though do be careful with the glass panel - it floats atop the aluminium chassis so needs to be held in place before undoing the four thumb screws.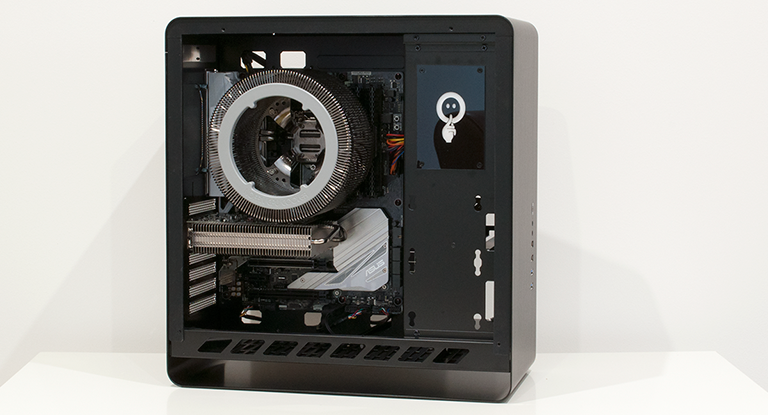 What makes the Nofan A890S stand out from the crowd is its fanless approach to cooling. Our review configuration, priced at £1,770, includes an Intel Core i7-8700K processor, 16GB of Corsair Vengeance DDR4 memory and a Palit GeForce GTX 1050 Ti KalmX graphics card installed on an Asus Prime Z370-A motherboard. Storage is provided by a 250GB Samsung 960 Evo SSD, while power is sourced from a fanless 500W Nofan P-500A supply, and such a build would traditionally be cooled by a simple CPU heatsink and a chassis fan or two.
Quiet PC takes the intriguing route by employing a CR-95C Black Pearl IcePipe cooler from Korean manufacturer Nofan. HEXUS reviewed an earlier model back in 2011 and the blueprint doesn't appear to have changed; this remains a massive circular heatsink measuring 180mm (D) x 148mm (H) and tipping the scales at 730g. The nickel-plated finish looks quite smart behind the tinted side panel, a vent lining the top of the chassis helps aid natural convection, and the cooler's 95W rating is just enough for Intel's latest Core i7 processor.
The size of the passive CPU cooler is to be expected, yet it does introduce trade-offs in terms of accessibility. Memory with extra-tall heatsinks is a no-go, and even regular modules can be tricky to remove once the cooler is in place. Continuing the passive theme, Quiet PC's graphics card of choice is a 4GB GTX 1050 Ti KalmX from Palit that eschews fans in favour of a card-encompassing heatsink.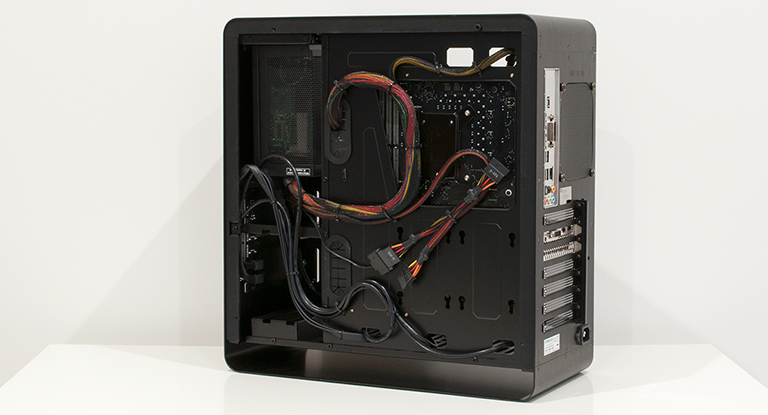 Given the unorthodox approach to cooling, there are question marks over how hard the system can be pushed. Quiet PC tells us the rig will happily run at 100 per cent load, but adds that "it has not been designed to do so for very long periods of time." Similarly, the entry-level GTX 1050 Ti offers light gaming potential, but this isn't designed to be mainstream a gaming PC. Nofan A890S is ultimately targeting that niche customer demanding a no-noise solution for, say, the home cinema, music studio, or office.
Our review sample is geared to showcase the best of Intel 8th Gen processing power, however we like the fact that Quiet PC's online configurator offers plenty of choice. Core i3 and Core i5 options are available, as are a range of TV tuner cards, and if you're willing to put up with some instances of noise, the system can be configured with a semi-fanless graphics card and mechanical hard disk. All machines are backed by a two-year collect-and-return warranty as standard, with three-year cover available for an additional £56.