Introduction
When we reviewed the Cubi 2 back in April, we came away feeling as though MSI was close to creating a near-perfect ultra-small PC. The itty-bitty machine came fully loaded with memory, storage and Windows 10, taking away any of the guesswork associated with barebone rivals, and it had plenty of ports, including USB 3.1 Type-C.
All that was needed, we felt, was for the HDMI port to be upgraded from 1.4 to 2.0, in order to enable 4K60 on the big screen, and the price to drop to a more reasonable level. £450 was about as much as a fully-fledged laptop, complete with screen, keyboard and mouse, making the standalone PC a tough sell.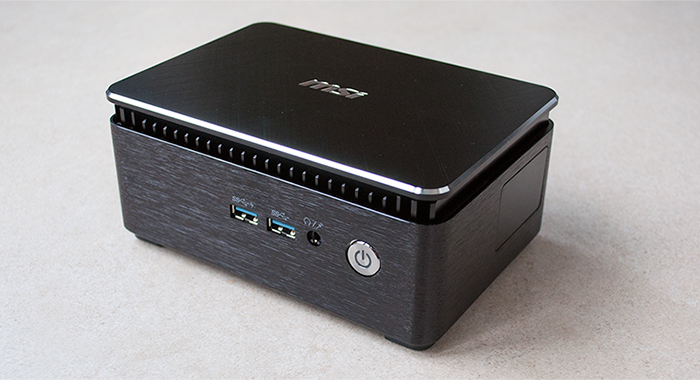 We've been eager to see if MSI can iron out those kinks, so when the opportunity arose to review the new-and-improved Cubi 3 Silent, we jumped at the chance.
A Fanless NUC
As the name suggests, the biggest change this time around is that MSI has jettisoned the internal fan and created a passively cooled unit. This fundamental change makes the Cubi 3 Silent an entirely different proposition.
One of the first things you'll notice is that the chassis has grown in size to 160mm (W) x 70mm (H) x 110mm (D) while weight has increased to 1.3kg. It is still an extremely small PC, mind, but it's not quite as petite as the 115mm x 33mm x 112mm Cubi 2. The size growth isn't hugely detrimental - Cubi 3 still takes up little space on your desk - however there's likely to be an inflated price.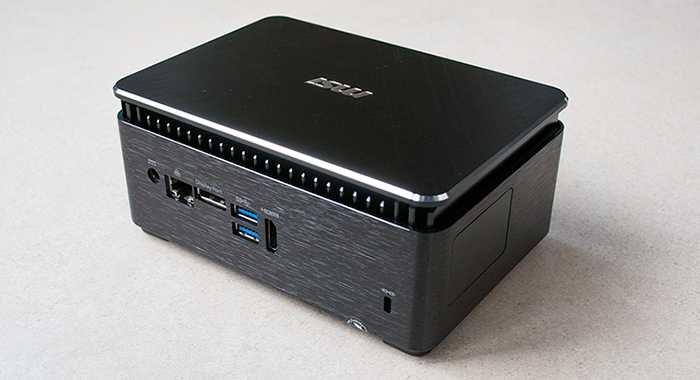 MSI hasn't yet confirmed exactly how much the Cubi 3 Silent will fetch at retail, but we imagine there will be a premium attached to a mini PC promising a zero-noise experience in a compact and tidy chassis. If we had to guess, we'd put retail pricing for the Core i5 model somewhere between £500 and £600, but we'll update the editorial as soon as an official figure comes our way.
Build quality is good with the all-metal chassis offering excellent rigidity, and the brushed-effect finish is quite easy on the eye. Our review unit comes in black with silver trim but we're told an all-silver model will also be made available. It's a good-looking piece of kit, though it's a shame MSI couldn't find a more seamless method of WiFi integration. Those rectangular cutouts you see on either side serve as boosters for the Intel Wireless-AC 3168 and detract from an otherwise cleanly-cut unit.
Ports and Specification
Given the larger footprint, connectivity is one area in which we expect the Cubi 3 Silent to be a marked upgrade over the Cubi 2. Unfortunately, that isn't the case. The front of the system is home to dual USB 3.1 Gen 1 Type-A, an audio jack and a backlit power button. On the rear you'll find a connector for the external, 65W PSU, Gigabit Ethernet, DisplayPort 1.2, two further USB 3.1 Gen 1 Type-A and HDMI 1.4.
That's almost the same configuration as the Cubi 2, but Cubi 3 Silent takes an unexpected step backward by omitting USB Type-C and favouring one combined audio connector instead of two dedicated. Last but not least, if you're hoping to drive ultra-high-res multimedia on your TV, you'll be disappointed to hear that HDMI 2.0 still isn't available as standard; DisplayPort remains the only option for 4K60. Curiously, an alternative model dubbed the Cubi 3 Silent S will feature HDMI 2.0, as well as two additional USB 2.0 ports and a second Ethernet, but said SKU will be aimed squarely at business customers.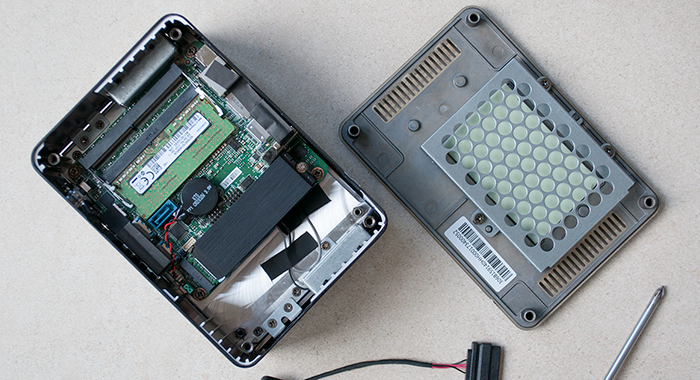 It is ambitious of MSI to offer a completely fanless design, yet in other areas the Cubi 3 Silent is somewhat conservative. The choice of processors will continue to be sourced from Intel's last-generation stable, rather than the current eighth-generation crop, with users having a choice of Celeron 3865U, Pentium 4415U, Core i7-7100U, Core i5-7200U or Core i7-7500U.
Our review sample is outfitted with the Core i5 chip (complete with HD 620 graphics) on a standard NUC-sized motherboard along with a single 4GB stick of DDR4-2133 memory and a 128GB Intel 600p M.2 SSD. Upgrades are catered for, with the bottom panel coming undone via four simple screws. Remove the cover and you have quick access to the two available Dimm slots, an M.2 2280 slot and a spare Sata port for use when installing a 2.5in storage device in the available tray. Windows 10, as expected, is the operating system of choice, though do be aware that a few elements of bloatware are pre-loaded out of the box, including Norton Security and Photo Director 8.
Keeping Cool
The launch of Cubi 3 seemed an opportune moment to migrate from a dual-core Core i5-7200U to a quad-core Core i5-8250U, but MSI has played it safe by using a tried-and-trusted formula in a new chassis. This is, for the most part, a Cubi 2 in a larger frame designed for passive cooling.
In order to cope with the demands of the 15W chip, MSI has the SoC located on the underside of the motherboard where it makes contact with a large heatsink that lines the entire upper section of the case. You can see the heatsink's fins standing in formation beneath the top cover, which does become quite warm to the touch during use.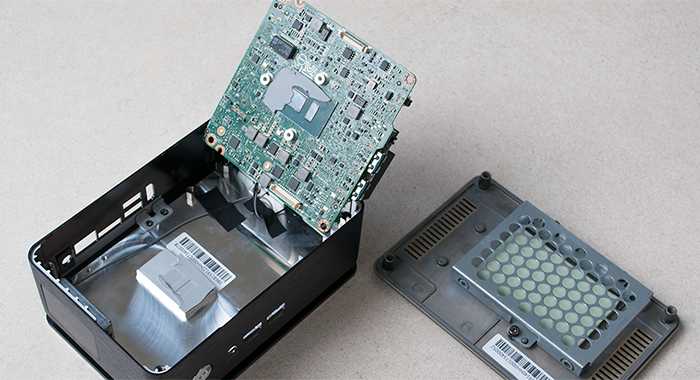 Cooling the low-power processor shouldn't be too difficult, and we like the fact that MSI also lines the M.2 SSD with a small, dedicated heatsink, however the way in which the Intel SoC makes contact with the heatsink leaves room for improvement. Sure, the thermal pad will do a job, but we had hoped to see a heatpipe or two to guarantee optimal heat transfer.
Despite being advocates of quiet PCs, we're also left wondering if the inclusion of a fan would make more sense. Why not give the user the option to turn the fan on or off, or provide a fail-safe to ensure the fan only triggers when absolutely essential? Going completely fanless could be considered an unnecessary risk, although MSI does back Cubi 3 Silent with a two-year warranty. But there must be a caveat with regards to performance, mustn't there?