Introduction
AMD may have re-established itself as a competitive force in CPUs, but the launch of a potent processor is just one part of the puzzle. Ryzen has its advantages - massive multi-core performance being one of them - but AMD now needs system integrators to adopt its latest chips in exciting PCs that consumers want to buy.
You could argue that designing the Zen architecture was the easy bit, as breaking the Intel-Nvidia stranglehold is going to be far more challenging. Manufacturers have in the past positioned non-Intel systems as second-class citizens, but if Ryzen is to succeed in disrupting the status quo, AMD needs aspirational Ryzen PCs and lots of them.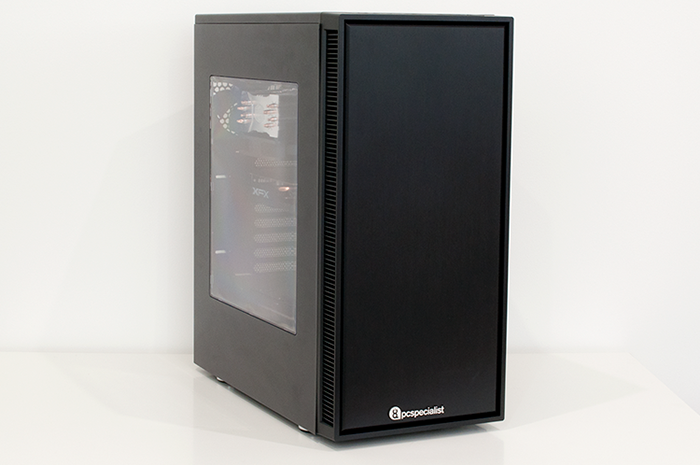 Such a shift won't happen overnight, but we are beginning to see big-name players take a bite of the Ryzen apple. Asus has a Ryzen laptop, Qnap is using the new chips in NAS units, and Alienware is toying with upcoming Ryzen Threadripper. Closer to home, PC Specialist, one of the UK's best-known system integrators, is the first to send in a Ryzen PC for review.
Dubbed Apollo Zen and priced at £950, this here system's claim to fame is its ability to offer six cores and 12 threads for under a grand. Such ingredients offer genuine appeal, but creating sexy PCs is an expensive business, and as a more mainstream solution Apollo Zen isn't going to turn heads. If anything, it looks a little banal.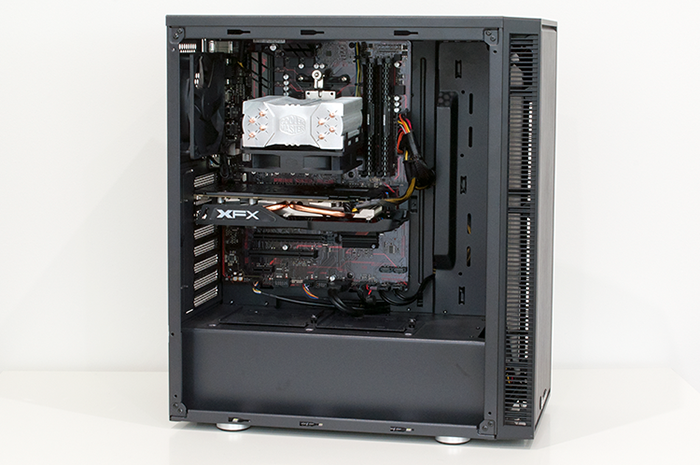 PC Specialist is using a Solleron SR-620 mid-tower chassis that measures 220mm x 470mm x 416mm in size and shares aesthetic similarities with Fractal Design's Define C. It's a staid affair, but the internal layout works well and there's ample room for future upgrades. The side window offers a good view of the core components, but while some may appreciate the opening we'd prefer a solid case with more in the way of sound dampening.
Talking of core components, how does a system integrator approach an all-AMD build? PC Specialist opts for an Asus Prime B350-Plus motherboard outfitted with a AMD Ryzen 5 1600X processor, Cooler Master Hyper 212X cooler and 16GB (2x8GB) of Corsair DDR4-2133 memory. An XFX Radeon RX 570 graphics card completes the AMD picture, and aside from the unusual CPU cooler orientation, we can think of three missed opportunities; the CPU is stock-clocked; the motherboard lacks USB Type-C; and while 16GB of memory is ample, we'd like to have seen something faster than 2,133MHz.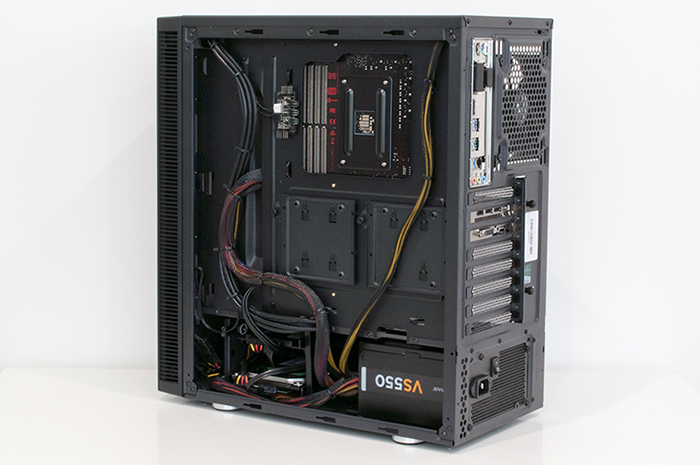 Storage ticks the right boxes, with Apollo Zen employing a 250GB WD Blue SSD as the system drive with a 1TB Seagate hard disk on hand for secondary storage. Power is provided by a 550W Corsair VS Series PSU, and while build quality isn't anything to write home about, everything is reasonably neat and tidy and there's no bloatware on the clean install of Windows 10.
Readers should note that the £949 price tag only applies if the Apollo Zen is purchased as configured for this review, and though an array of configuration options will be available, making changes will void any promotional discount. How good is the price? Our calculations suggest that building a similar rig using off-the-shelf components would cost around £960, so for effectively the same money you're getting a pre-built base unit backed by a three-year warranty.