Introduction
Want to know what's hot and what's not in the world of high-end PCs? Then take a look at the components system integrators are employing in their latest builds. With the goal of selling as many PCs as possible, the best boutique builders keep their finger on the pulse and utilise hardware that is favoured by many and easy to work with.
Cyberpower has been around long enough to identify current trends. Originally founded in the US and now serving UK customers from a Gateshead HQ, Cyberpower promises "the most up to date hardware for your needs" and has sent in the £1,999 Infinity X77 Titanium for evaluation.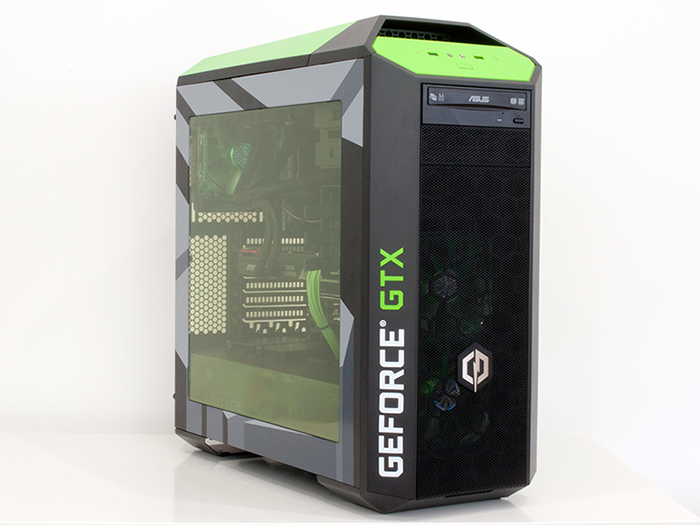 Designed with gaming in mind, this enthusiast base unit immediately catches the eye courtesy of a Cooler Master MasterCase Pro 5 Nvidia Edition chassis. We're quite fond of the MasterCase aesthetic, and the GeForce makeover works surprisingly well as the green-and-grey accents add extra interest without overstepping the mark.
Build quality is good throughout, with Cyberpower doing a decent job of cable management and overall tidiness, but what's telling is that Intel and Nvidia's stranglehold on high-end PCs appears unbreakable. AMD ought to be back in the race with its competitive Ryzen CPUs, yet Core i7 and GeForce GTX continue to rule the roost - we've yet to hear from a single vendor who is eager to send in a Ryzen PC for review.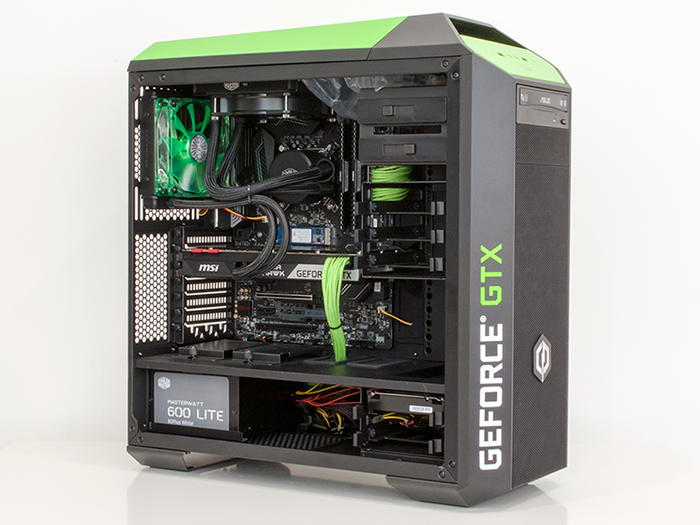 Multi-threaded goodness obviously isn't a high priority for gaming machines, and Intel's lead in IPC keeps the latest-generation Core i7 'Kaby Lake' at the top of most users' wish list. Sticking with the tried-and-trusted, Cyberpower straps a Core i7-7700K to a Cooler Master MasterLiquid 120 cooler and overclocks the chip to 4.7GHz across all cores.
Accompanying the CPU is 16GB (2x8GB) of Corsair Vengeance LPX DDR4-3000 memory on an MSI Z270 Gaming Pro Carbon motherboard outfitted with a liquid-cooled MSI GeForce GTX 1080 Ti Sea Hawk graphics card. No major surprises thus far, though Cyberpower does try something different with regards to storage. Rather than adopt the usual SSD primary, HDD secondary configuration, the Infinity X77 Titanium comes equipped with a 3TB Seagate Barracuda hard disk and a speed injection courtesy of a 16GB Intel Optane M.2 accelerator.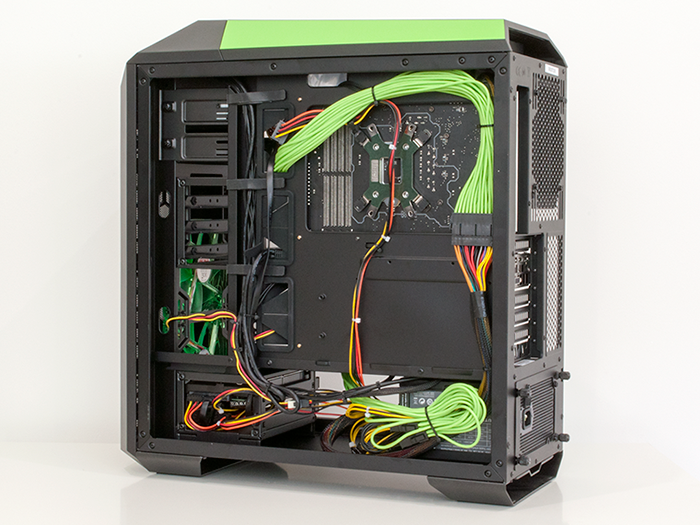 A 600W Cooler Master MasterWatt Lite PSU is par for the course at this price point, as is a DVD writer and a clean 64-bit install of Windows 10, though it's nice to see Cyberpower employ a sleeved set of green Phanteks extension cables to maintain the overall theme. The default component selection makes sense, and though there's plenty of choice for customisation using the online configurator, we don't see any obvious reason to make changes at first glance.
The question for enthusiasts is why buy a pre-built machine when you can buy all of the aforementioned components for roughly £1,850? Well, for an additional £150 premium, Cyberpower takes away the guesswork, guarantees a 4.7GHz overclock and backs the machine with a three-year warranty that includes two years of parts cover as standard. Tempted? Then let's see what the benchmarks have to say.