Introduction
Remember the Intel NUC? Heralded as the 'Next Unit of Computing,' the ultra-small form factor was designed to revolutionise the traditional PC with a footprint and performance level that appealed to the masses. Fast forward half-a-decade and the NUC hasn't really taken off, with price serving as the most obvious obstacle. The majority of NUC-like machines are today sold as barebone solutions, so when you add the memory, storage and operating system, cost tends to exceed that of a modern laptop.
Can a fully-equipped model breathe new life into the flagging form factor? MSI reckons so, and is hoping to score a hit with its latest-generation mini-PC, the Cubi 2. Priced at £450 and designed to work right out of the box with no additional hardware, this itty-bitty machine requires no configuration and seems ideal for anyone needing a quick and easy replacement for a traditional tower.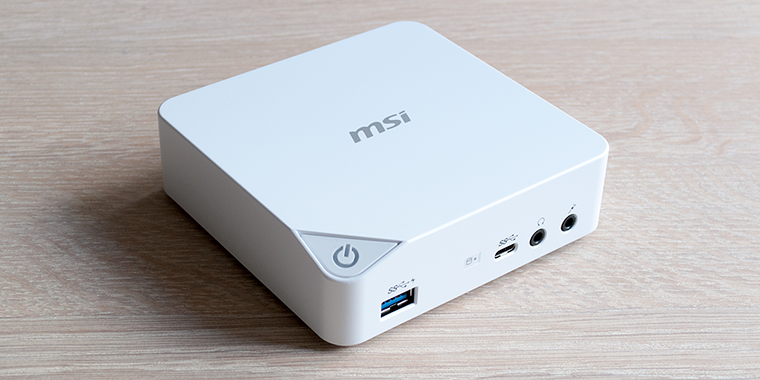 First impressions are positive. The size of Intel's original NUC was wonderfully cute, and the Cubi 2 is no exception. Dimensions of just 115.2mm x 112.2mm x 32.6mm allow it live happily on top of a desk or bookshelf, and MSI's matte-white finish is sleek and modern. In person it's a good-looking piece of kit and, despite its size, there are ample connectivity options.
The front of the unit is lined with USB 3.1, USB 3.1 Type-C and a pair of audio jacks. There's a neat backlit power button lining the top edge, then around back you'll find a connector for the small, external 65W power supply, HDMI and mini-DisplayPort outputs, Gigabit Ethernet and two USB 3.0 ports.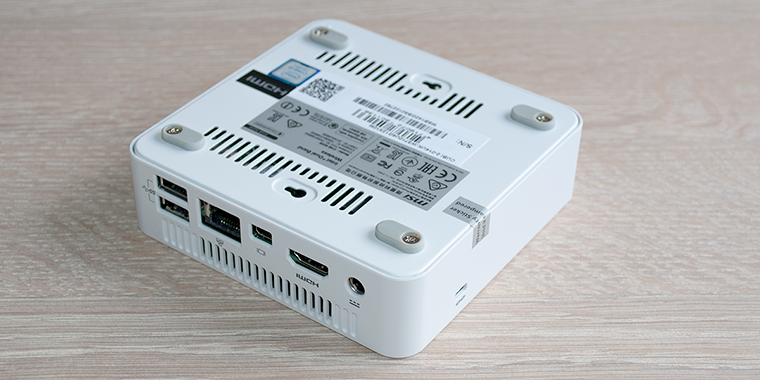 Everything a mini PC needs? Well, not quite, as the HDMI output is of the 1.4 variety, and without support for the newer 2.0 standard, the Cubi 2 can't drive a 4K60 resolution without relying on DisplayPort. An unfortunate limitation, as the size of the machine makes it an ideal companion for a big-screen TV.
What Cubi 2 does well is take the guesswork out of buying a NUC-like PC. These systems have traditionally been sold as barebone solutions, and usually in a choice of sizes depending on storage requirements. Taking a different tack, MSI's unit includes a hard-disk-compatible baseplate as part of the bundle - if you do want to add a 2.5in drive, simply unscrew the existing cover and swap it for the cover lined with a drive tray. Doing so will increase the height of the PC from 32.6mm to 42.7mm, but it's a handy option to have.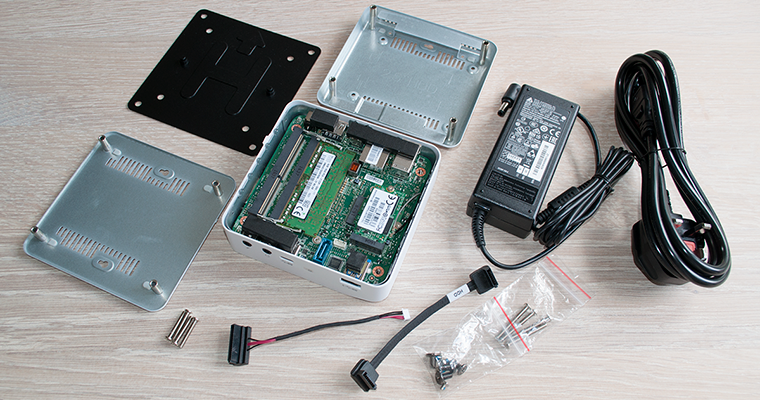 All of the SATA cables and screws required to add a 2.5in drive are included, as is a VESA mounting bracket, should you choose to attach the PC to the rear of a compatible display. Those of you who are already planning modifications should note that the M.2 slot is limited to 2242 - MSI hasn't made room for the more common 2280 standard - and, while the system is clearly designed with upgrades in mind, opening the Cubi 2 will break a sticker that claims to void the warranty.
If that all sounds too complicated, fear not, the Cubi 2 doesn't need to be opened at all and can be used straight out of the box. By default, the £450 model comes equipped with an Intel Core i3-7100U processor, 4GB (1x4GB) of DDR4 memory and a 128GB M.2 SSD loaded with Windows 10 and a small amount of unwanted bloatware. We aren't talking ground-breaking stuff here, yet while the memory and storage can be upgraded, out-the-box performance should be sufficient for everyday computing.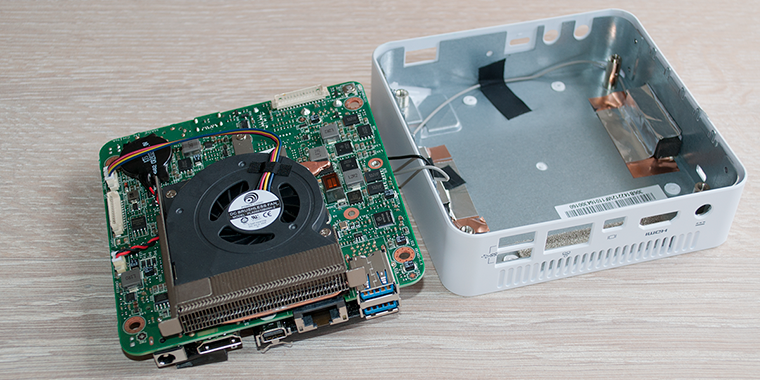 Browsing the rest of the miniscule motherboard doesn't reveal any major surprises. Underneath the SSD there's a basic 1x1 Intel Wireless-AC 3168 WiFi adapter, and if you flip the motherboard over you'll find a small fan tasked with cooling the 15W CPU and venting hot air out the back of the chassis.
Intel's latest-generation Core i3 processor is ultimately what shapes this PC. The ultra-low-power part offers two cores, hyper-threading and integrated HD 620 graphics, but frequency is limited to a modest 2.4GHz. It should, you would think, be a low-cost solution, but Intel's recommended customer price is a whopping $281. Yes, that is more than a six-core, 12-thread AMD Ryzen 5 1600X, and CPU pricing alone will prevent Cubi 2 from offering genuine mainstream appeal. Eager to see exactly how the seventh-gen Core i3 performs? Let's move on to some benchmarks.