Introduction
2017 is shaping up to be a great year for small-form-factor PCs and we get the feeling this perennially niche segment of the market is on the verge of breaking into the mainstream. The likes of the Corsair One, Asus ROG GR8 II and HP Pavilion Wave have already shown us what modern hardware can do when shoehorned into compact chassis, and MSI is redoubling its efforts with the new Trident 3 Arctic.
Priced at £1,800 and introduced as a more powerful revision of the original Trident, the third-generation Arctic ups the ante by pairing an Intel Core i7-7700 processor with Nvidia GeForce GTX 1070 graphics. A potent mix for any PC, so it's all the more impressive to see that MSI has squeezed said hardware into a games-console-like chassis measuring 346mm x 72mm x 233mm.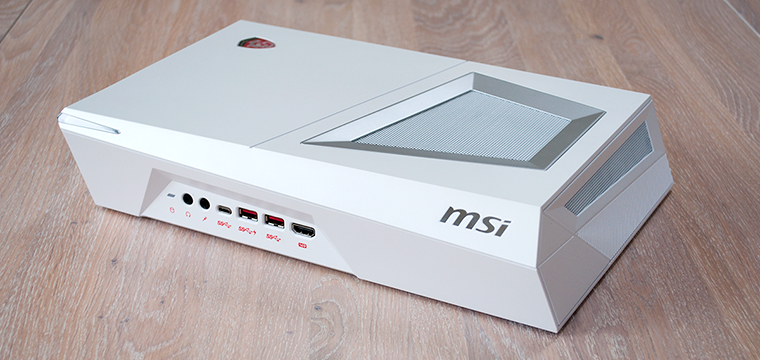 Why limit a PC to such tight confines? Well, while the Trident 3 Arctic can't compete with an Xbox One or PlayStation 4 in terms of price, it offers the full functionality of Windows 10 and the might of desktop-grade components in a form factor that can be placed neatly alongside the living-room TV.
Whether or not you'd choose to have it in full view is a question of taste, as MSI's Asian design influence is clear to see. For a premium bit of kit, the Trident 3 Arctic comes across as plasticky, with an angular gamer aesthetic adorned with the obligatory RGB illumination on one corner. The aesthetics are very much an acquired taste, and that's a shame as the dimensions and layout offer broad appeal.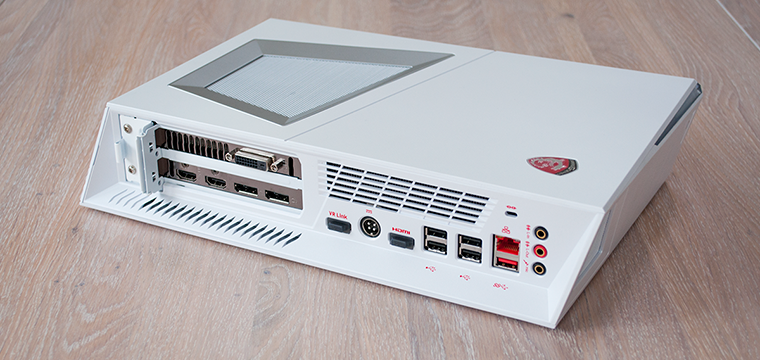 The front of the system provides quick access to a pair of audio jacks, USB 3.1 Type-C, dual USB 3.1 Type-A and HDMI for a hassle-free VR connection. The power button is hidden away neatly on the side, near the RGB light, and the rest of the ports are tucked around back. Here's where you'll find more audio jacks, Gigabit Ethernet, USB 3.1 Type-A, a quartet of USB 2.0, a connector for the external power supply and all the display outputs made available via the graphics card.
Note that in order for the front VR port to function, one of the HDMI outputs on the graphics card needs to be connected to the 'VR Link' passthrough and MSI handily includes a small HDMI cable for this purpose. Elsewhere, good-sized vents are scattered around the machine, and a large mesh section directly above the graphics card should help aid airflow. Curious to see how the hardware is arranged on the inside?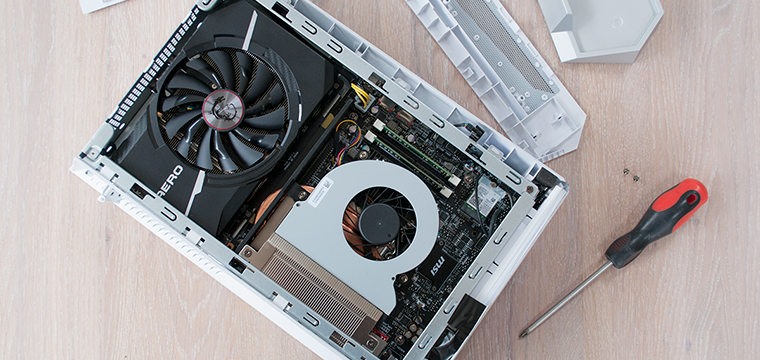 Feel free to look, but think twice before opening your own Trident 3 PC as undoing the few screws required to gain access to the innards will void the two-year warranty. That means upgrades aren't catered for and, like so many small-form-factor machines, what you see is what you get.
Fortunately, you do get a fair amount of capable gear. The Core i7-7700 processor is from Intel's latest-generation Kaby Lake stable and is joined by 16GB (2x8GB) of DDR4-2400 memory. Storage, located on the rear side of the motherboard, is provided by a 256GB Intel 600p Series M.2 SSD as well as a 1TB Hitachi 2.5in hard disk, while Wireless AC connectivity is made available via an Intel adapter. It's in the graphics department that the most meaningful upgrade takes place, with MSI inserting a compact GTX 1070 Aero 8GB card with a boost clock of 1,721MHz.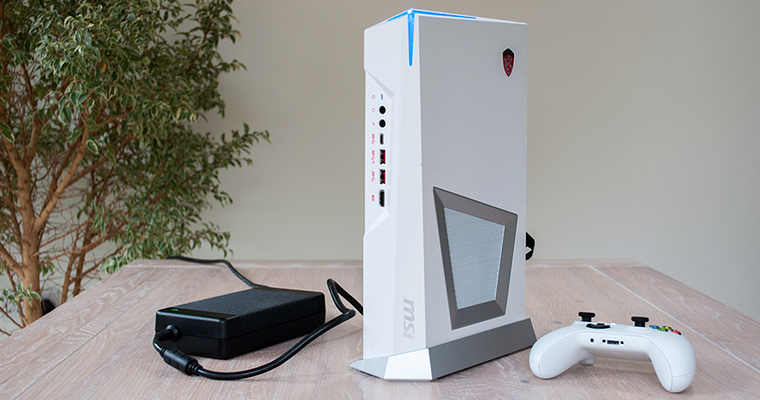 MSI's internal arrangement has merit - both the CPU and GPU fans do a grand job of expelling heat without causing a riot - but there isn't space for everything. There's no optical drive, which may or may not be something you'd want in the living room, and tight interior confines combined with powerful components results in an unsightly exterior 330W power supply.
A Trident 4 with an internal PSU and a sleeker, less-angular chassis would be a significant step forward, but even so, the Trident 3 Arctic has plenty of promise for PC gamers wanting to move out of the den and in with the family. With that in mind, MSI caters for horizontal or vertical orientation using a supplied stand and an Xbox One controller is included as part of the bundle. There's an inevitable premium associated with the form factor, but MSI's flexible design makes it ideally suited as a powerful alternative to a games console. Let's see how it fares in the benchmarks, shall we?