Introduction
Is the PC truly superior to a games console? In many aspects the answer would be a resounding yes, but the games console remains king of the living room for obvious reasons - it's affordable, quiet, sleek and requires practically no maintenance. Manufacturers haven't yet been able to break that stranglehold, and it's not through a lack of trying, as all the key players in PC gaming have tried to establish close ties to the big-screen TV.
Could 2017 be the year in which the PC delivers a true games-console-like experience? Asus reckons so and has high hopes for its latest-generation mini gaming rig, the Republic of Gamers GR8 II.
Priced at £960 and promising "full desktop power" in a "console size" form factor, the GR8 II presents an Intel Kaby Lake processor and Nvidia GeForce GTX 1060 graphics in a streamlined package that could sit alongside a TV. Dimensions of 88mm x 299mm x 281mm make it comparable to a games console, while the 3.7kg weight isn't too difficult to transport, but the styling remains an acquired taste.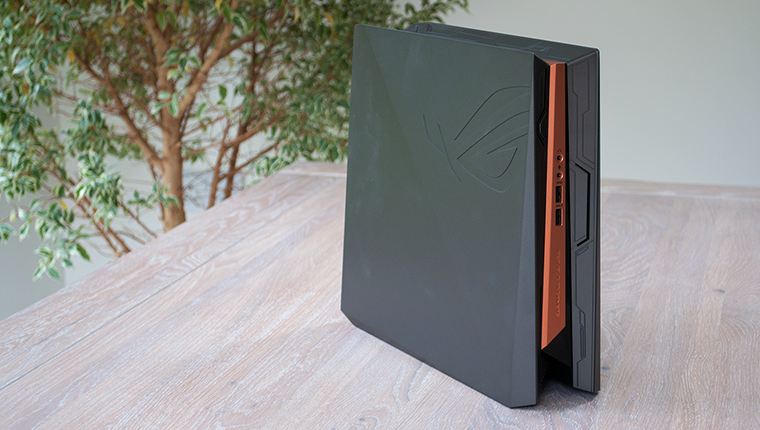 Whereas an Xbox or PlayStation is designed to fit in with your other AV equipment, the GR8 II, for better or for worse, is designed to look like a gaming PC. On the one hand, the matte-grey finish, Mayan-inspired engravings, gold trim and RGB lights all look interesting, plus if you have other Asus Aura hardware, the lights can be synchronised for added effect. A cool addition to a bedroom, perhaps, but in the living room the Asus machine unnecessarily catches the eye - I wouldn't choose to put it by my plasma screen and the fact that there's no option to lay it horizontally means it probably wouldn't fit in any case.
The Power of the PC
If its a sleek gaming machine you're after, the Xbox One S or PlayStation 4 remain the safer bet, but if you do need the performance characteristics of a PC, the GR8 II has plenty on offer. As you'd expect, connectivity isn't lacking, with Asus offering built-in Wireless AC and Bluetooth connectivity to ensure simple integration with your home network and optional peripherals. Should you opt for wired accessories, the chassis's front face is lined with dual USB 3.0 ports and a pair of audio jacks. Around back, you'll find audio out, SPDIF, Gigabit Ethernet, two further USB 3.0 ports as well as USB 3.1 Type-A and USB 3.1 Type-C, while the trio of display outputs include HDMI 2.0 and a pair of DisplayPort 1.4.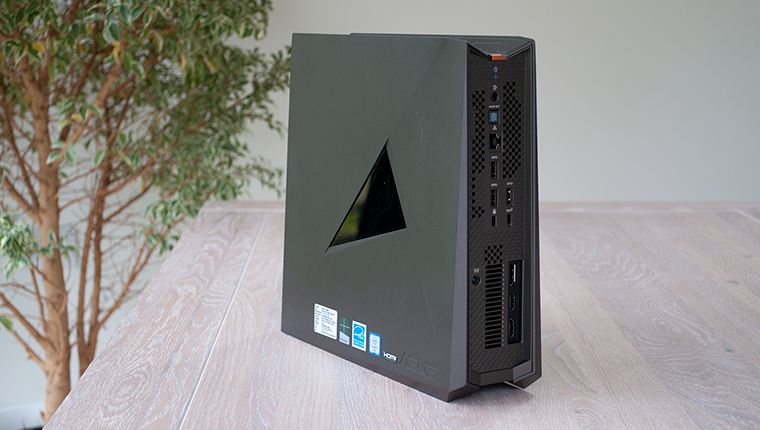 Just about all the ports you're likely to need and the system is reasonably well-stocked on the inside, too. Configurations will vary in different regions, but here in the UK the GR8 II will come with a latest-generation Intel Core i5-7400 processor, 8GB (2x4GB) of DDR4 memory and a GeForce GTX 1060 3GB graphics. A modest mix by PC standards, and Asus has missed a trick on the storage front - UK machines will be outfitted with a 1TB hard disk drive, whereas other regions will include an SSD as standard.
Our review sample, which sadly won't be available in the UK, came configured with a Core i7-7700 chip, 16GB of DDR4 memory and a 256GB Intel SSD. Fitting everything inside such a small enclosure requires precise positioning, a few daughter boards and connecting cables, but it's a neat-and-tidy implementation and we like the fact that Asus has managed to retain a modicum of upgradeability. Undo four screws and the side panel slides off, allowing access to memory and storage. The spare M.2 slot, to the right of the SO-DIMM, looks a handy way of adding an ultra-fast system drive.
Limitations of a Smaller Form Factor
There's no room on the inside for a power supply - you'll have to make do with the 230W external brick - and don't expect the same level of internal flexibility as your traditional mid-tower. Peculiarly, only one of the two SO-DIMM slots is on the accessible side of the motherboard, making memory upgrades somewhat complicated, and the centrifugal CPU cooler on the reverse of the board can't be cleaned without effectively dismantling the whole system. It would be a brave soul who tears down a near £1,000 machine, but if you're thinking of doing so in the future you won't have too long to wait as the GR8 II is backed by only a one-year warranty.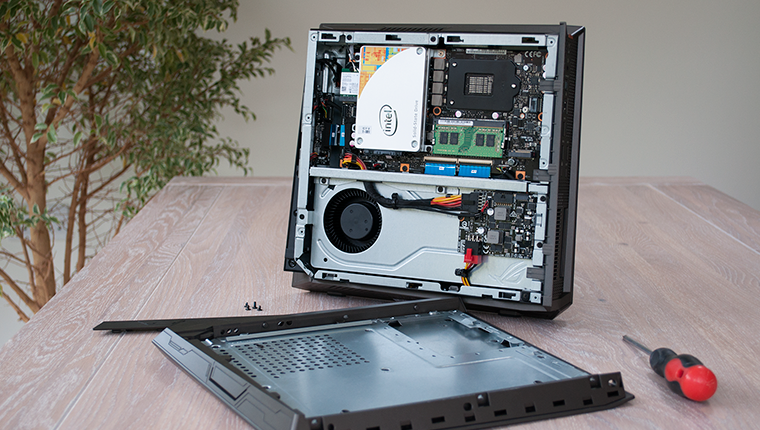 We doubt most users will venture inside the chassis as major upgrades aren't properly catered for, though such a compromise shouldn't come as a surprise on a gaming PC of this size. Goes without saying, you can't swap the custom GTX 1060 for an off-the-shelf graphics card, and with that being the case, it's a shame Asus has chosen the 3GB variant with 1,152 shaders, as opposed to the full-fat 6GB desktop card with 1,280.
What we end up with, then, is a small gaming rig that is neither as versatile as a larger PC nor as sleek as a smaller games console. Yet, given that it runs full Windows 10 and partners an Intel Core processor with GeForce GTX graphics, there should be enough power under the hood to out-perform any console on the market today. Let's run some benchmarks and see what's what.