Introduction
The incremental upgrades shoehorned into Intel's Kaby Lake architecture are trivial enough to suggest that the firm's latest-generation processors could have been codenamed Skylake+. The range-topping Core i7-7700K isn't massively quicker than 2015's Core i7-6700K, and given the familiarity of the refreshed Z270 chipset, we imagine enthusiasts won't be rushing out to upgrade.
We're intrigued to see whether or not AMD's Ryzen can put a cat among Intel's pigeons, but while Kaby Lake may have failed to get our hearts racing, there's no getting around the facts: Core i7-7700K is the fastest quad-core processor available today, making it a prime choice for a new PC in 2017. Furthermore, there's greater overclocking headroom than previous-generation parts, and that plays right into the hands of specialist system integrators seeking to put forth gaming rigs configured at dizzying speeds.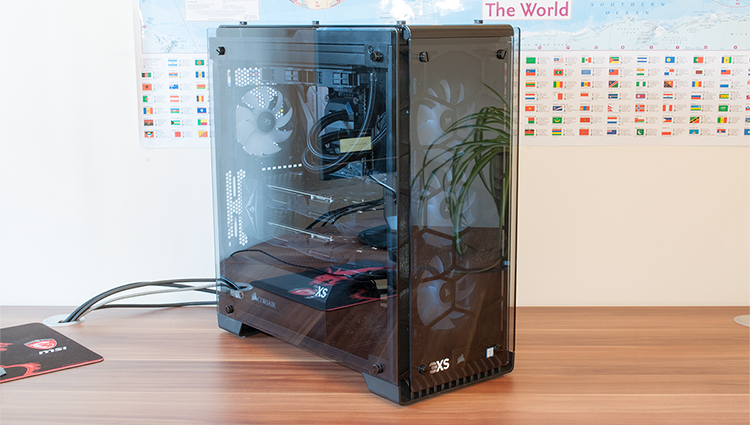 Bolton-based Scan Computers is quick off the mark with the 3XS Z270 Vengeance SLI. Priced at £3,000 and aimed squarely at gaming enthusiasts, this eye-catching machine is designed showcase said overclocking potential by running the liquid-cooled Core i7-7700K at a guaranteed speed of 5GHz across all four cores.
Acknowledging the trends that are likely to extend throughout the remainder of the year, Scan's premium rig champions tempered glass panels and enough RGB lighting to illuminate a small disco. Corsair's stylish Crystal Series 570X RGB chassis is the enclosure of choice, and we suspect the same case will feature in many SI catalogues as the centrepiece of illuminated builds.
Having the components on show opens the door for even more lights and Scan takes full advantage by installing an Asus Strix Z270E Gaming motherboard and not one, but two, Asus Strix GeForce GTX 1080 Advanced graphics cards. There's even an Asus RGB SLI bridge, and all the lights can be customised via the bundled Asus and Corsair software utilities. We're nonplussed by the industry's desire to add lights to every conceivable component, but on the flip side, if you happen to be partial to some RGB-lovin', the Z270 Vengeance SLI will be right up your street.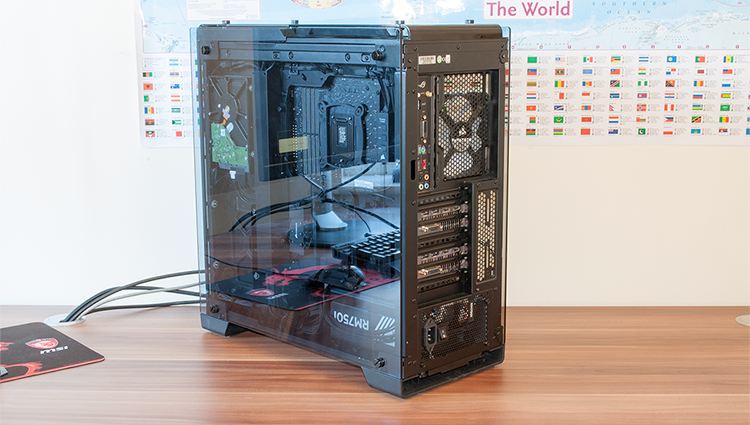 Scan's implementation is, as expected, very neat and tidy, and hats off to the engineer who managed to build into a glass-covered case without leaving a fingerprint in sight. The area behind the 570X motherboard tray can be tricky to keep tidy on account of the fan hub and various cables, but credit where it's due, this PC certainly looks the part.
The caveat, however, is that the Corsair chassis has a tendency to favour form over function. It looks pretty, there's no doubt about that, but the position of the I/O ports along the top-right edge isn't ideal, there's no front-facing USB Type-C, and the floating glass panels do little to help contain noise. This, ultimately, isn't going to be a particularly quiet PC.
What the Z270 Vengeance SLI will deliver, in spades, is performance. The Core i7-7700K's 5GHz overclock is the star attraction and represents a meaningful gain over the 4.6GHz speed that became commonplace on turnkey gaming rigs from the previous generation. Ticking the relevant boxes, Scan pairs the chip to 16GB (2x8GB) of DDR4-3000 memory, a roomy 512GB Samsung SM961 M.2 SSD, a 2TB WD Blue hard disk for secondary storage and a Corsair RM750i power supply with individually sleeved cables.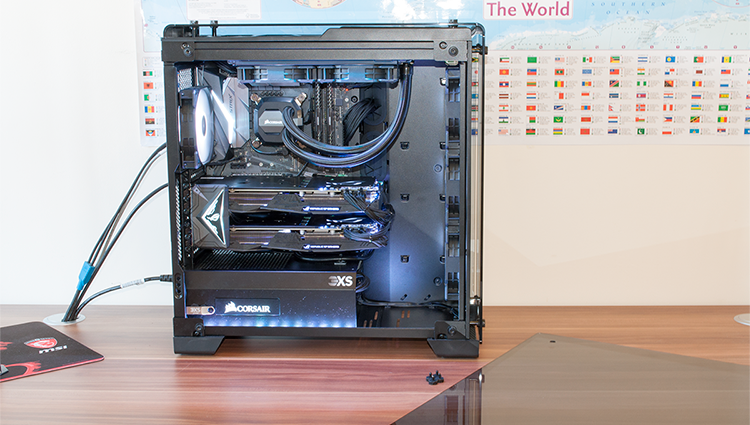 The 5GHz overclock is interesting insofar as it's an early indication as to what tier-one system integrators will be offering to enthusiast customers. Though, there is still a bit of working out left to do. Our review sample wasn't completely stable to begin with and we had to manually bump-up CPU core voltage from 1.29 to 1.32 in order to complete our benchmarks successfully. Given that new Z270 BIOS releases are coming thick and fast, we imagine it will be a couple of weeks before system integrators strike the perfect balance between voltage and multiplier.
Could you build the same machine for less using off-the-shelf components from various suppliers? Sure, but taking the pre-built route offers peace of mind, and Scan's three-year warranty holds weight when a new chip and chipset are being pushed closer to their limits. Going the extra yard, Scan also adds 150MHz to each of the GTX 1080 GPUs, raising boost clock to 1,802MHz. It's a machine crying out for benchmarks, so let's get to it.