Introduction
We've been staunch advocates of solid-state drives. Reasons are simple enough: electric speed, great response times, shockproof construction and, now, usable capacities at reasonable prices. That said, the humble, usurped mechanical disk still holds sway where capacity is key, most notably in NAS devices and external storage.
Laying down £60 is enough budget to secure a 2TB 2.5in external drive connecting to the system via ubiquitous USB 3.0. There's little need for the faster USB 3.1 conduit because mechanical drives aren't able to saturate the real-world 400MB/s available on the older standard.
So why would you pay extra? More capacity is a good reason; these 2.5in drives can be had in up to 4TB packages. Or, if travel weight and absolute form factor are important, a premium can be paid for a slimmer, sexier unit. This is the realm of the Seagate Backup Plus Ultra Slim duo of drives.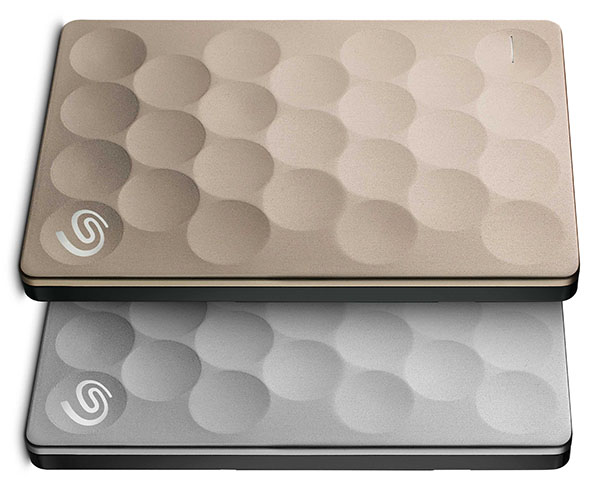 Offered in 1TB (£55) and 2TB (£85) capacities and in either platinum or gold, the golf ball dimple-like finish is decent rather than ultra-premium. Going thin means the aluminium cover is thin enough for the drive's vibrations to be felt even when it's idling. An opaque plastic slither in the top-right corner lights up white when power is fed to the Ultra Slim.
The standout feature is the slimness which rivals premium smartphones. At 9.6mm thick, the Ultra Slim, living up to its name, is typically 50 per cent thinner than most standard external 2.5in drives. Reduced thickness is a precursor for a lighter weight; the 2TB model chips in at 125g, or about half the weight of a normal drive.

Seagate achieves such thinness by shoehorning a 7mm-high drive within the case. Identified as ST2000LM007, the bare mechanical spinner is as expensive as the complete enclosure. The reason this is so is because the drive is popular as an upgrade to space-constrained Ultrabooks or premium slim laptops that can only carry a single 7mm drive. A short, 14cm USB 3.0 cable is provided in the box and connects to the front. It needs to be stretched out for the drive to sit flat, because any kinks cause the Ultra Slim to be ramped up on the connector side.
In common with most Seagate external drives, the Ultra Slim benefits from 200GB of Microsoft OneDrive cloud storage and, as expected, a copy of Seagate's Dashboard software utility. Available for PC or Mac, Dashboard can manage and restore backups, mirror content to the cloud.
Backed by a two-year warranty, you are effectively paying a 40 per cent premium for a smaller, lighter drive that goes unnoticed in a small laptop bag. There is an additional sacrifice to pay for going so slim, and we'll explain exactly what it is on the following page.