Introduction
SK hynix's move into the mainstream solid-state drive (SSD) market has been reinvigorated by the release of the Canvas series of products. Available in regular capacities between 128GB to 512GB and priced attractively when compared to the incumbent competition from the likes of Crucial and OCZ, we're taking the biggest-capacity 512GB model for a spin today.
SK hynix Canvas SC300 SSDs

Nominal Capacity

128GB

256GB

512GB

Controller

SK hynix LM878100AA (HFS256G32MND-3312A)

NAND

16nm hynix MLC

Total Available Capacity

128GB

256GB

512GB

Interface

SATA 6Gb/s, compatible with SATA 3Gb/s and 1.5Gb/s

Sequential Read Speed

up to 530MB/s

up to 530MB/s

up to 530MB/s

Sequential Write Speed

up to 200MB/s

up to 380MB/s

up to 470MB/s

Random IOPs (4KB Reads)

up to 85K IOPs

up to 95K IOPs

up to 95K IOPs

Random IOPs (4KB Writes)

up to 50K IOPs

up to 85K IOPs

up to 85K IOPs

Available Form Factors

2.5in, mSATA, M.2

Active Power Consumption

0.065W Typical

Idle Power Consumption

0.05W Typical

Life Expectancy

1.2 Million Hours MTBF

Endurance

72TBW

Warranty

5 Years (or 72TBW)

Current Retail Price

£45

£68

£130
The continuing drop in SSD prices makes them ever more appealing to users who, for whatever reason, haven't yet transitioned over to these solid-state drives. We'd steer readers towards 512GB models because they have enough capacity to hold an operating system, the usual glut of programs, and a number of space-eating games - and it's for this very reason that we've changed our test-beds to half-terabyte SSDs.
SK hynix keeps everything in house to minimise costs and keep a weather eye on quality and reliability. The LM878100AA 'Pearl' controller produces decent numbers with respect to sequential and random performance. There are faster drives out there, of course, but their speed is greatly diminished in a real-world sense because of the constraints imposed by the SATA interface.
Speaking of which, SK hynix offers the SC300 in regular 2.5in, mSATA and M.2 flavours, and the latter may be particularly useful on the newest generation of Intel motherboards - equipped with dedicated PCIe lanes for storage - that support upcoming Skylake processors. But as much as the M.2 bandwagon is getting ready to exit first gear, 2.5in SATA will remain the dominant form factor for a while yet.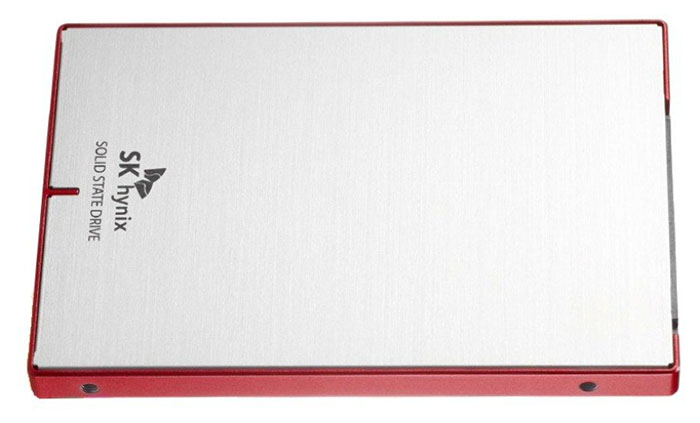 The SK hynix drive uses a basic aluminium enclosure that has a red strip around the perimeter. The drive's reasonably built and, subjectively speaking, looks good. Endurance and warranty are interesting insofar as the cover lasts either five years or 72 terabytes written, whichever comes first. Competitor drives tend to increase the endurance TBW figure as capacity rises but SK hynix refrains from doing so. Don't get too hung up on the 72TBW number; it represents approximately 40GB of writing each day for five years.
SK hynix includes data-migration software via a web-downloadable link but doesn't have a Windows-based utility for monitoring and reporting, such as SSD Toolbox. Firmware updates, meanwhile, are carried out a via a simple and straightforward tool available from the official SK hynix site.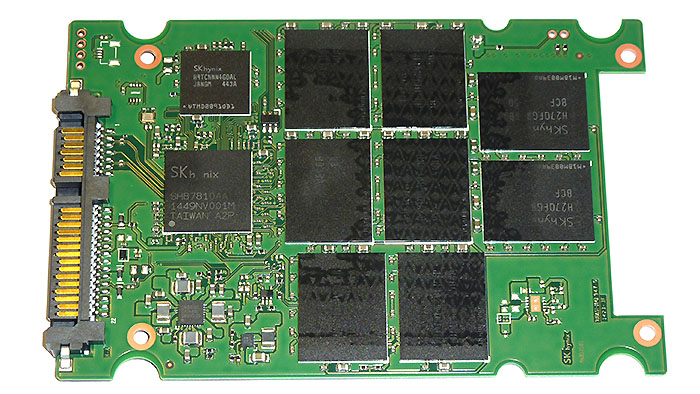 Strip away the casing shows the PCB which has a thermal pad between it and the housing. It's no surprise to see double the number of 16nm NAND chips compared to the 256GB model.