Introduction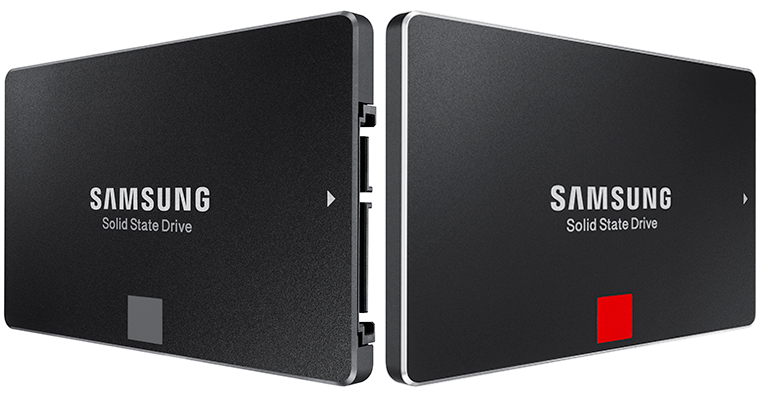 Now in 2TB flavours: Samsung 850 Evo (left) and Samsung 850 Pro (right)
The dropping prices of solid-state drives is a good thing for the consumer. Driven down by the economic benefits of mass-produced NAND, it's now possible to purchase 250GB drives for £60 and a 500GB model for not much more than £100. Still rocking that mechanical drive? It's time to switch to an SSD.
But wait, some might say, citing overall capacity as one good reason not to invest in an SSD as the main drive in your PC or laptop. Samsung is looking to change that thinking with newer models of the extant 850 Evo and 850 Pro SSDs, now available in capacities of up to 2TB.
So how has Samsung increased the capacity to 2TB without sacrificing endurance as a direct result of manufacturing on ever-smaller processes, whose downside is interference caused by cramming more and more cells into a given area? There's no way around the fact that greater capacities need more cells so another method is needed.
Samsung's solution, and a key contributor to today's 2TB models, is 3D V-NAND. Essentially a means of stacking cells in vertical layers, this clever technology allowed Samsung to revert to an easier-to-manage 40nm process node, while simultaneously increasing capacity, boosting performance without affecting that key attribute of endurance.
In particular, Samsung has increased cells and capacity by going back to a tried-and-trusted, mass-produced lithography that's stacked in multiple layers rather than a single planar that exists on the majority of SSDs today. It's akin to increasing floorspace by building a high-rise edifice instead of a single-story structure. There's more to it than mere stacking alone, mind, as we discussed in the enterprise-specific 845DC SSD.
3D V-NAND, in the consumer space, made its debut in 2014 as part of the company's 850 Evo and 850 Pro, and Samsung feels the time is right to augment both models with a new range-topping 2TB capacity. Here's how the new 850 Pros take shape:
Samsung SSD 850 Pro Series

Model Name

MZ-7KE128

MZ-7KE256

MZ-7KE512

MZ-7KE1T0

MZ-7KE2T0

Capacity

128GB

256GB

512GB

1TB (1,024GB)

2TB (2,048GB)

Controller

Samsung MEX

Samsung MHX

NAND

Samsung 3D V-NAND 2bit MLC

Onboard DRAM Cache

256MB DDR2

512MB DDR2

512MB DDR2

1GB DDR2

2GB DDR3

Interface

SATA 6Gb/s, compatible with SATA 3Gb/s and 1.5Gb/s

Sequential Read Speed

550 MB/s

550 MB/s

550 MB/s

550 MB/s

550 MB/s

Sequential Write Speed

470 MB/s

520 MB/s

520 MB/s

520 MB/s

520 MB/s

4KB Random Read (QD32)

100,000 IOPs

100,000 IOPs

100,000 IOPs

100,000 IOPs

100,000 IOPs

4KB Random Write (QD32)

90,000 IOPs

90,000 IOPs

90,000 IOPs

90,000 IOPs

90,000 IOPs

Form Factor

2.5in

Dimensions (LxWxH)

100 x 69.85 x 6.8 (mm)

Weight

Max. 66g

Supporting Features

TRIM (requires OS support), Garbage Collection, S.M.A.R.T

Data Security

AES 256-bit Full Disk Encryption (FDE)
TCG/Opal V2.0, Encrypted Drive (IEEE1667)

Reliability

MTBF (Mean Time Between Failures): 2 million hours

Endurance (Terabytes Written)

150 TBW

150 TBW

300 TBW

300 TBW

300 TBW

Power Consumption

Active Read/Write (Average): Max. 3.3W (2TB) / Max. 3.4W (2TB)
Idle: Max. 60mW (2TB)
Device Sleep: Max. 5mW (2TB)

Temperature

Operating: 0ºC to 70ºC
Non-Operating: -40ºC to 85ºC

Humidity

5% to 95%, Non-Condensing

Vibration

Non-Operating: 20~2,000Hz, 20G

Shock

Non-Operating: 1,500G, duration 0.5m sec, 3 axis

Warranty

10 Years or 300 TBW

MSRP (inc. VAT)

£81.59

£125.59

£224.79

£435.99

£749.99
Samsung's Pro variant continues to use less-cost-effective 3D V-NAND carrying two-bits per cell, but the drive's premium positioning brings with it enhanced longevity. Matching the existing 1TB drive in most departments, the £750 2TB 850 Pro is backed by a reassuring warranty that covers the drive for 10 years or 300 terabytes written, whichever expires first. That's equivalent to writing just over 80GB of data every single day for an entire decade. Samsung's decision to opt for an older, more mature manufacturing process is the key for improving endurance and therefore warranty terms.
Increased capacity by means of stacking NAND is sure to be used by rival manufacturers in the months to come. Samsung's size enables it to be the first to market with the technology, and we take a look at the range-topping 2TB model today.
The company's decision to release such a high-capacity drive in a solitary 2.5in SATA form factor has important ramifications for performance. The interface limits the real-world speed to 550MB/s for both reading and writing, while opting for 2.5in alone reduces the usefulness to, in the main, desktop machines and larger laptops. The latest generation of M.2 are obviously quicker in a straight line, meaning the 850 Pro 2TB is more about capacity than sheer speed.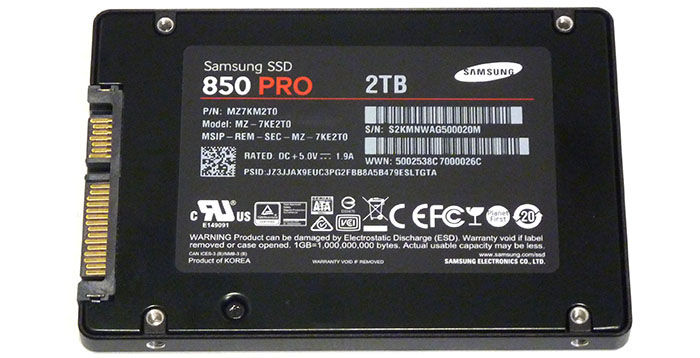 Knowing this, the now-familiar Samsung packaging is in evidence. 6.8mm high and backed with migration software and a robust set of diagnostic and monitoring tools within the Magician software, Samsung is likely targetting this model to the well-heeled enthusiast who doesn't want to worry about solid-state capacity for their uber rig.
Inside, too, the story is familiar. Samsung uses multi-layer 40nm NAND and the MHX controller which in turn is backed up by 2GB of DDR3 memory for buffering operations. The tri-core controller is new for this capacity for both the Pro and Evo SSDs, and Samsung says that it is introduced because the long-standing MEX controller isn't designed for capacities above 1TB.