Introduction
OCZ Storage Solutions is revamping its 2015 line-up with the launch of a new enthusiast-class solid-state drive (SSD) known as the Vector 180, supplanting the Vector 150 which now becomes end of life. Here's how the new drive shapes up against existing OCZ offerings.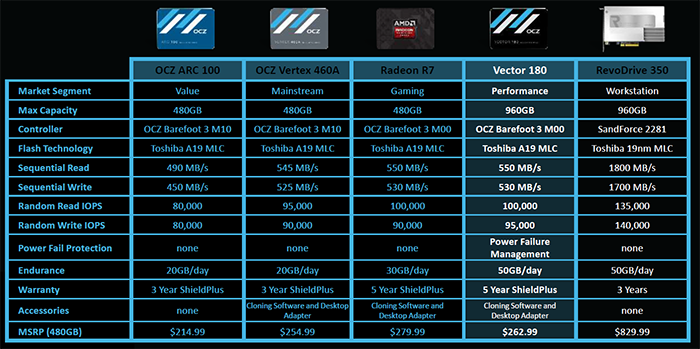 The company has taken the Radeon R7 drive it builds on behalf of AMD - which itself is largely a rebranded, tweaked Vector 150 - as a blueprint for the new model.
Larger capacity and additional protection help differentiate the gaming- and performance-class SSDs. Size is doubled to 960GB, matching what's on offer from the best of the Samsung/SanDisk consumer ranges, while the trickle-down effect of enterprise technology is evidenced by OCZ using what it dubs Power Failure Management Plus (PFM+).
PFM+ works by housing capacitors on the PCB that kick in if there's a temporary loss of power. The drive's firmware creates a snapshot and mapping table that's written out to non-volatile flash and then switches off. Such an approach is useful for safeguarding data resident on the Vector 180 but cannot mitigate losses incurred when data is being processed at that particular moment in time.
And it's high time that OCZ implemented some form of power-fail protection on its premier consumer models; Crucial, for example, has been doing so for at least two generations, so we're pleased to see the Vector 180 follow suit.
The Barefoot 3 M00 and Toshiba A19 MLC combination is a proven, mature platform for modern SSDs. OCZ goes a step further than most by equipping the Vector 180 with excellent endurance/writing figures of 50GB/s per day, which is all the more impressive for small-capacity drives that have inherently less space for wear-levelling algorithms to take effect. The extra endurance is also one reason why OCZ chooses to keep a reasonable amount of NAND spare for over-provisioning, as you can see from the table below.
OCZ Vector 180 SSDs

Model

120GB

240GB

480GB

960GB

Controller

OCZ Barefoot 3 M00

NAND

19nm Toshiba MLC NAND

Total Drive Capacity

128GB

256GB

512GB

1024GB

Interface

SATA 6Gb/s, compatible with SATA 3Gb/s and 1.5Gb/s

Sequential Read Speed

up to 550 MB/s

up to 550 MB/s

up to 550 MB/s

up to 550 MB/s

Sequential Write Speed

up to 450 MB/s

up to 530 MB/s

up to 530 MB/s

up to 530 MB/s

Random IOPs (4KB Reads)

up to 85K IOPs

up to 95K IOPs

up to 100K IOPs

up to 100K IOPs

Random IOPs (4KB Writes)

up to 90K IOPs

up to 90K IOPs

up to 95K IOPs

up to 95K IOPs

Power Loss Protection

Yes

Available Form Factors

2.5in

Active Power Consumption

3.7W Typical

Idle Power Consumption

0.85W Typical

Life Expectancy

2.3 million hours MTBF

Endurance

50GB per day

Warranty

5 Years ShieldPlus

Current Retail Price

£70

£110

£210

£390
Ranging from 120GB through to 960GB and priced at less than 50p per GB for the larger-capacity drives, the Vector 180 is, on paper at least, competitive against the best consumer SSDs available today.
Like Crucial, OCZ includes the handy Acronis True Image cloning software in the bundle that's backed by a 5-year 'ShieldPlus' warranty. What this means in practice is that OCZ issues the cover based on the drive's serial number rather than tie it in with the original purchaser or receipt. The company goes further to say that any defective drive will be replaced by a brand-new model.
Advanced product replacement is also a feature, where a new drive is dispatched before the presumed defective model is sent back to OCZ on a prepaid label. In short, the warranty, like the drive, is impressive, and we feel that the company has to offer competition-beating performance and warranty terms due to a previous history of admittedly sub-standard service.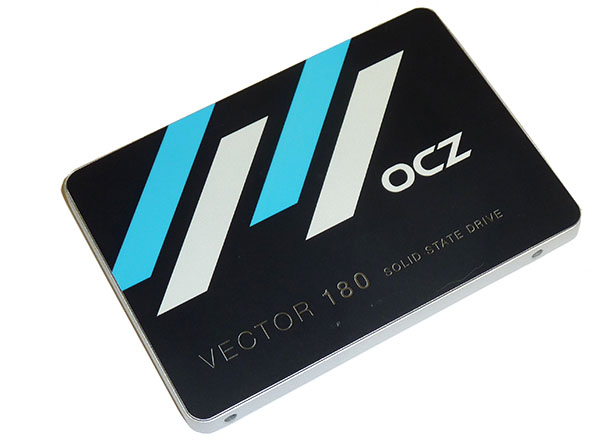 OCZ has a certain flair for presentation that comes through in the design of the 7mm-high chassis. Made out of aluminium, rather than plastic, the 2.5in SATA drive feels bombproof.
Opening the 480GB model shows that the total 512GB of flash memory is constituted by 16 chips spread evenly on both sides. The Indilinx Barefoot M00 controller is brought on over from the now-defunct Vector 150 drive, but what's new is the on-PCB capacitor facilitating power-loss protection.
The Vector 180 can be considered an incremental upgrade over an already-fast drive, yet the competition in this area is intense. Let's see how OCZ's latest enthusiast-class drive stacks up.