Hybrid Storage For The Masses
We've seen some tasty high-capacity SSDs in recent weeks, and we know there aren't many who would say no to 960GB of solid-state goodness. Yet while we're staunch advocates of SSD technology, we mustn't forget an oft-forgotten fact: mainstream users aren't going to be spending hundreds of pounds on their storage solution.
The gulf in price between hard-disk and solid-state drives remains vast, so do you choose the low-cost and capacity of the former, or is the performance of the latter too good to resist? It's a tough decision, so why not have both?
That's precisely what Seagate is promising with the Laptop Thin SSHD. Introduced as a third-generation successor to 2010's Momentus XT, the new 500GB drive touts the capacity of a traditional hard disk combined with some of the speed benefits of a solid-state drive. And the best bit? It costs less than £60. That's under 15p-per-gigabyte, and a whole lot cheaper than even the most affordable SSDs.
"SSD Speed. HDD capacity. A Price that Makes Sense." Seagate's marketing sounds like a dream come true, but is the Laptop Thin SSHD (that's Solid State Hybrid Drive, in case you were wondering) really capable of delivering the best of both worlds?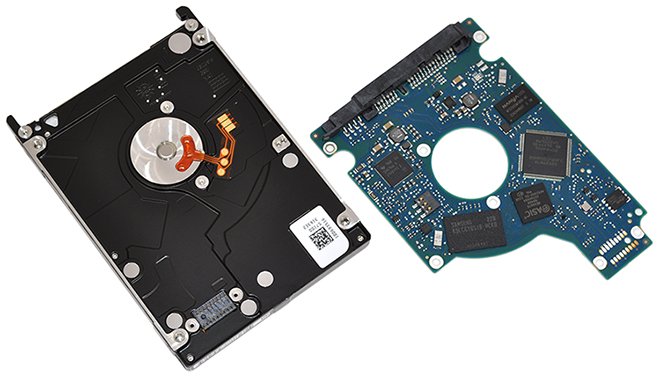 The disassembled drive, pictured above, gives us a closer look at the SSHD's inner workings. Seagate has a 500GB hard-disk platter that operates at a basic 5,400RPM but attempts to overcome speed concerns by attaching an 8GB MLC NAND cache.
Seagate Laptop SSHD Specification

Model Name

Laptop SSHD

Laptop Thin SSHD

Capacity

1TB

500GB

Model Number

ST1000LM014

ST500LM000

Performance
NAND Type/Size

MLC/8GB

MLC/8GB

DRAM Cache (MB)

64

64

SATA Transfer Rates (Gb/s)

6.0/3.0/1.5

6.0/3.0/1.5

Average Throughput (MB/s)

100

100

Average Win 8 Boot (sec)

<10

<10

Seek Average, Read (ms)

<12

<12

Seek Average, Write (ms)

<14

<14

Configuration/Organisation
Heads/Disks

4/2

2/1

Bytes per Sector

4,096

4,096

Power Management
Power (W) Seek, Typical

2.7

2.5

Power (W) Idling, Typical

0.9

0.9

Physical
Height (mm)

9.5

7.0

Width (mm)

69.85

70.1

Depth (mm)

100.35

100.35

Weight (g)

115

95

Cost
Approx. Retail Price

£90

£60

Approx. Cost per GB

£0.09

£0.12
Through the use of complex algorithms, Seagate's SSHD is able to track data usage and identify frequently used data for storage on the high-speed, solid-state cache. The technique, dubbed Adaptive Memory Technology, is designed to prioritise "data elements associated with booting, restarting and hibernating a computer, in addition to other frequently requested data."
All sounds a lot like the previous-generation Momentus XT, but there are a couple of key changes under the hood. Whereas Seagate's earlier SSHDs dedicated the onboard cache exclusively to readable data, the Laptop Thin SSHD is also able to write directly to NAND. It stands to reason that Seagate could have increased the size of the cache with relative ease to help cope with both read- and write-acceleration, however with mainstream users in mind, the priority here is to keep total drive cost down to a minimum.
Furthermore, in an effort to expand the SSHD's appeal to a wider audience, the 500GB drive has been trimmed in thickness to 7mm, making the Laptop Thin SSHD suitable for the majority of ultra-slim laptops on the market today. For users able to accommodate a traditional 9.5mm drive, a 1TB Laptop SSHD (i.e. not Thin) is available and uses a pair of 500GB platters to double drive capacity.
Solid-state caching is nothing new, yet Seagate's ability to cram the technology into a 7mm, self-contained form factor has plenty of merit. Unlike many dual-drive solutions, Seagate's Adaptive Memory Technology is integrated within the drive, allowing the SSHD to function without any additional software or drives.
In keeping with a regular hard disk, the Laptop Thin SSHD is designed to be plug-and-play. The drive will function with your choice of operating system - you needn't worry about compatibility - and although outfitted with a SATA 6Gbps interface, the SSHD is backward compatible and ideally suited to older laptops in need of a speed injection.