Introduction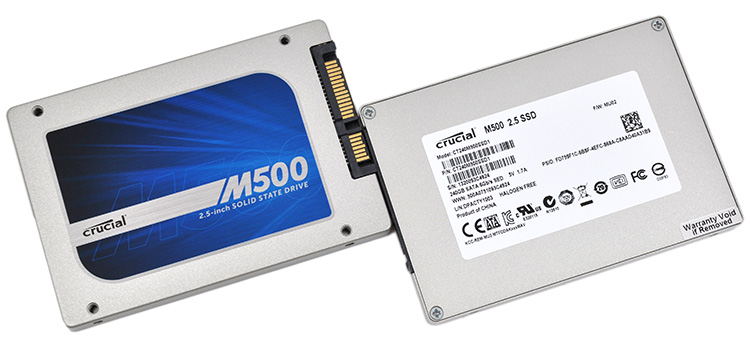 The Crucial M500 SSD is the successor to 2011's award-winning and much-loved M4. Priced from as little as £85, the M500 is designed to stand out as the go-to solution for mainstream consumers looking to source some of that high-speed SSD goodness that we hold in such high regard.
On the face of things, it seems not much has changed. The 2.5in drive continues to utilise a Marvell controller allied to a SATA 6Gbps interface, so whilst we shouldn't expect revolutionary leaps in performance, we can look toward enhancements in other areas with Crucial paying particular attention to price and capacity.

At the time of writing, the M500 SSD is available in 120GB, 240GB (above, left), 480GB and 960GB (above, right) capacities, priced at roughly £85, £130, £280 and £485, respectively. That puts the price-per-gigabyte close to just 50 pence, and thanks to the latest developments in NAND flash technology, we see a healthy array of large capacities.
Crucial's 960GB range-topper is currently one of the highest-capacity 2.5in consumer SSDs available, and it's made possible through the use of IMFT 20nm MLC NAND packages equipped with 128Gb die. This higher-density configuration is more cost effective and allows Crucial to cram a welcome number of gigabytes into a familiar 2.5in design.
The brain of the M500 operation is a dual-core, third-generation Marvell 88SS9187 SATA 6Gbps processor that interfaces with memory via up to eight NAND flash channels, and is able to call upon a DDR3 cache of up to 1GB, allowing for performance-optimized mapping algorithms.

The M500's underlying platform is strong, but as with so many SSDs, the exact NAND configuration will have an impact on performance, resulting in a sizeable discrepancy between capacities. Our two review samples are the perfect example. The 960GB drive has 16 chips in total - eight on the front and eight on the back - and each chip integrates four 128Gb dies. Do the maths and the per-chip capacity is 64GB, or an SSD-wide 1,024MB.
In contrast, while carrying the same number of chips, the 240GB version has just a single die per chip package. As Crucial uses an 8-channel controller where each channel can interface with up to four dies, the optimum performance combination is in having at least 32 dies for the greatest level of parallelism; this is why the 480GB and 960GB drives are faster than the 16-die 240GB and 8-die 120GB.
Factor in a larger onboard cache (1GB vs. 256MB) and it's no surprise to see the 960GB M500 capable of write speeds of up to 400MB/s while the 240GB M500 lags behind at 250MB/s. The cheapest 120GB model, meanwhile, really is the runt of the pack with only eight, single-die NAND packages that combine to create a paltry sequential write speed of just 130MB/s. You really do get what you pay for.
Crucial M500 SSD Series

Model

120GB

240GB

480GB

960GB

NAND

20nm Micron MLC NAND

NAND Packages

8

16

16

16

Die per NAND Package

1

1

2

4

Total Number of Die

8

16

32

64

Total Drive Capacity

128GB

256GB

512GB

1,024GB

Onboard DDR3 Cache

256MB

256MB

512MB

1GB

Interface

SATA 6Gb/s, compatible with SATA 3Gb/s and 1.5Gb/s

Sequential Read Speed

up to 500 MB/s

up to 500 MB/s

up to 500 MB/s

up to 500 MB/s

Sequential Write Speed

up to 130 MB/s

up to 250 MB/s

up to 400 MB/s

up to 400 MB/s

Random IOPs (4KB Reads)

up to 62,000 IOPs

up to 72,000 IOPs

up to 80,000 IOPs

up to 80,000 IOPs

Random IOPs (4KB Writes)

up to 35,000 IOPs

up to 60,000 IOPs

up to 80,000 IOPs

up to 80,000 IOPs

Available Form Factors

2.5in / mSATA / M.2

2.5in / mSATA / M.2

2.5in / mSATA / M.2

2.5in

Active Power Consumption

150mW Typical

Idle Power Consumption

<100mW Typical

Life Expectancy

1.2 million hours Mean Time Between Failures (MTBF)

Endurance

72TB total bytes written (TBW), equal to 40GB per day for 5 years

Warranty

3 Years

Approx. Retail Price

£85

£130

£280

£485
The 128Gbit die is the most obvious enhancement, but the M500 does have a couple of other useful tricks stored up its sleeves. The larger die brings with it an increase in page size from 8KB to 16KB - resulting, theoretically, in better sequential throughput coupled with loosened latency - and full support of the ONFI 3.0 standard, which offers a NAND flash interface speed of up to 400MB/s (compared to 200MB/s on ONFI 2.1).
Proving that a mainstream consumer drive can leverage business features, Crucial includes on-board capacitors that allow the M500 to guard against data loss in the event of a power failure, and in addition to the usual 256-bit AES encryption and RAIN (redundant array of independent NAND) protection, the M500 is also TCG Opal 2.0 and IEEE-1667 compliant. This enables compatibility with Windows 8's Encrypted Hard Drive standard, offering hardware-level encryption that lets consumers utilise BitLocker protection with minimal performance degredation.
All this is served in a typical 2.5in, 7mm-thick form factor with a custom in-house-developed firmware, but Crucial's going for the jugular by offering the M500 in mSATA and M.2 variations as well. The latter, pictured below, makes up to 480GB of M500 goodness available to Ultrabooks and other ultra-thin computing devices.

Priced to compete with the similarly-affordable Samsung 840 Series, Crucial's M500 is destined to become one of the most popular SSDs of the year. 960GB of solid-state goodness sound tasty? Let's see what the M500 can do.