Slim... fast
External storage for computers is now able to replicate what's inside the PC in both speed and capacity. Got a 2TB, 3.5in hard drive in the system? It doesn't cost a whole heap more to purchase an external drive, pre-packaged in a tidy chassis, which connects via USB 3.0. But faster is better, and HEXUS has been a staunch advocate of using solid-state drives (SSDs) in a system. To this end, slowly but surely, super-fast portable-storage solutions, built with SSDs, are beginning to surface.
Other than price, we can't think of any major downsides of having pocketable external storage that's powered by an SSD. Transcend is of the same thinking and has launched an itty-bitty drive called the ESD200. Available in 128GB and 256GB capacities and connecting to the system via now-ubiquitous USB 3.0, let's take a look at the range-topper.
Design and appearance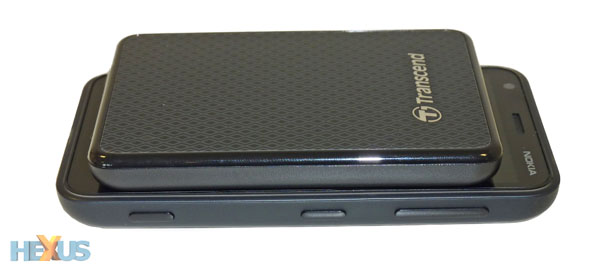 Manufacturers often stretch the term 'pocketable' when describing their external drives. Transcend's ESD200 very much fits the description, measuring just 92mm long, 62mm high and 10.5mm thick. The compact dimensions are allied to a 55g weight, and it feels so light and small that, on first handling, you wonder if there's anything inside.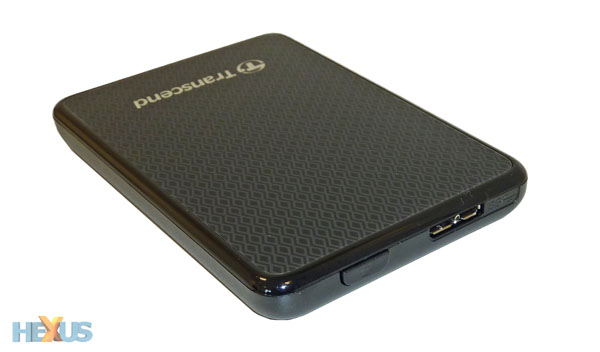 While absolutely fine for the intended purpose of enclosing NAND memory, the plastic casing is very utilitarian. The £200 drive doesn't have the soft-touch feel present on many mobile phones or premium external storage devices. There's an unobtrusive LED in the bottom-right section that glows green when the ESD200 is connected to the system via USB 2.0 and blue when through USB 3.0. The plastic casing is only punctured by a mini-USB 3.0 port and a backup button on the left - more on that later.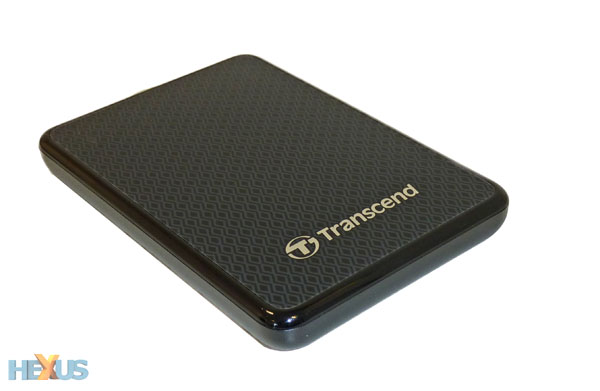 Inside, Transcend says it uses a multi-level cell (MLC) SSD that, via USB 3.0, is capable of 260MB/s peak reads and 225MB/s writes. Given the speeds, it is safe to assume that it's a generic SATA2 1.8in SSD bridged onto the USB 3.0 connector. Transcend backs the ESD200 range with a three-year warranty and provides a nice travel pouch and necessary SuperSpeed cable in the package.
In use and backup
Very much plug-and-play, simply attach the USB 3.0 cable and the ESD200 works straight away. No moving parts mean it's silent in use. Bear in mind that the internal SSD is pre-formatted with the FAT32 filing system, which has major file-size limitations, so you'll probably reformat to NTFS (Windows) or HFS+ (Apple) immediately. Thinking about it in a wider context, the capacity and speed make it an ideal candidate for Windows To Go, where Windows 8 is installed and booted from the drive.
Transcend makes mention of backup and recovery applications on the box but there's no software contained on the drive or in the package; you need to manually download it from Transcend's website. The Elite and RecoveRx software suites are free to download and can be used on other Transcend products, notably the StoreJet and JetFlash drives.
The Elite backup software feels cumbersome for non-tech-savvy folk, as you need to go through multiple screens before a backup can be performed.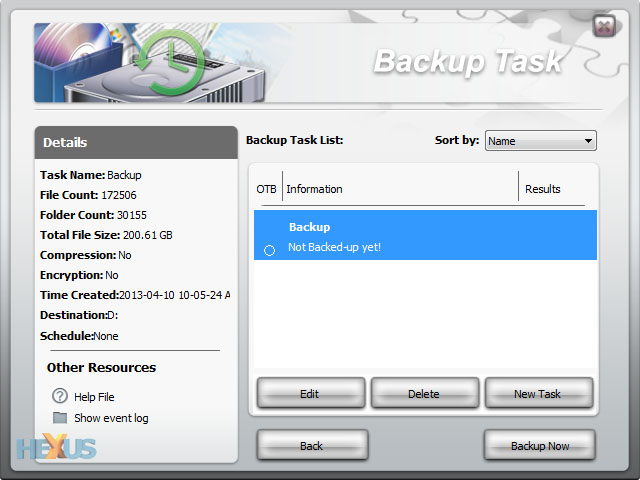 Here we've tasked the software to backup the contents of our host SSD in the PC, amounting to some 200GB. You can also use compression, encryption and, once done, incrementally backup any further content. Referring to that backup button on the drive itself, it works when, and only when, the radio checkbox is ticked. And do remember to change the filing system from FAT32 to NTFS if dealing in large files; otherwise you'll be met with this warning message.
USB 3.0's speed benefits are in evidence when large backups are initiated. The drive took around 25 minutes to move the contents over. Do be aware that the backup software doesn't create a bootable image that can be used to transfer data over to fresh drives; it's purely a backup that can restore the current operating system to an earlier state.