Pint-sized power
Industry analysts iSuppli confirmed what many HEXUS readers already knew; the sales of SSDs are on course to grow, massively, over the next five years. Projected to ship a total of 239m units in 2016 and raise over $20bn of revenue, SSDs are set to go mainstream as they will likely be equipped in mid-range notebooks and most desktop systems.
HEXUS has repeatedly demonstrated the fantastic benefits of switching mechanical drives to SSDs, especially as the price-per-GB metric becomes increasingly attractive, but the truth is that a fast SSD from one company is much like a fast SSD from another. Understanding that these modern drives are formed by using NAND chips allied to a controller, making them intrinsically small in size, there's really no reason why SSDs should always be presented in a 2.5in form factor.
Manufacturers have realised this fact and broadened their storage catalogues to include otherwise-identical SSDs in mSATA and, on the horizon, NGFF (Next Generation Form Factor) flavours. These SSDs-on-a-stick make a lot of sense with thin-and-light Ultrabook laptops and genuinely small-form-factor systems.
The folks at Plextor recently impressed us with the high-end M5 Pro SSD that ships in a regular 2.5in form factor. Now, though, the company is dipping its toe into the mSATA waters with a trio of high-performance drives that are marketed under the M5M umbrella. Here's how they line up:
Plextor M5M Specifications

Model

PX-64M5M

PX-128M5M

PX-256M5M

Capacity

64GB

128GB

256GB

Controller

Marvell 88SS9187

DRAM Cache

128MB DDR3

256MB DDR3

512MB DDR3

Sequential Read Speed
(SATA 6Gb/s)

Up to 540 MB/s

Up to 540 MB/s

Up to 540 MB/s

Sequential Write Speed
(SATA 6Gb/s)

Up to 160 MB/s

Up to 320 MB/s

Up to 430 MB/s

Random Read Speed 
(IOPS 4KB)

Up to 73,000

Up to 80,000

Up to 79,000

Random Write Speed 
(IOPS 4KB)

Up to 42,000

Up to 76,000

Up to 78,000

Power Consumption

0.2W

0.2W

0.2W

Warranty

3 Years

Approx. UK Retail Price

NA

£90

NA
The three drives share the same controller found on the premium M5 Pro - the dual-core Marvell 88SS9187. DRAM cache varies with capacity, as does performance. The quoted speeds and feeds are a little shy of those for the 2.5in version but are pretty solid nonetheless.
Keeping the comparison going, warranty drops to three years, instead of five, and, for what it's worth, power consumption falls from 0.25W to 0.2W when in use. Perhaps most importantly of all, the pricing of the 128GB version, at £90, is competitive against 2.5in drives.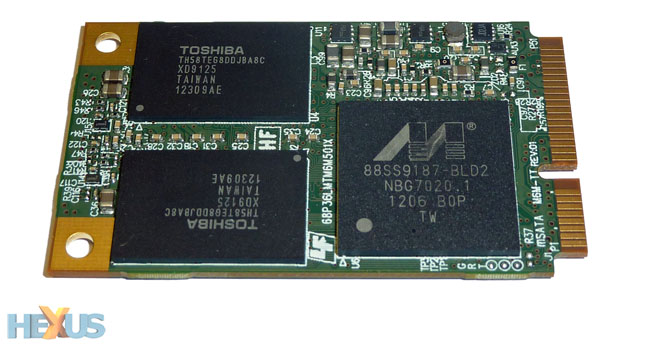 But changing a drive's appearance from 2.5in SATA to mSATA doesn't take much work, truth be told. Plextor mounts the controller and two of the four Toshiba 19nm Toggle Mode MLC NAND chips on the topside. Don't be fooled by the large picture, above, as the actual drive measures just 50.8mm x 29.8mm x 3.6mm (WxDxH) and weighs 9g.
The drive also supports the SATA DEVSLP standard, whereby it idles down to using 1mW and returns to a 200mW full-power state in just 100ms, according to Plextor. This bodes well for overall laptop battery life.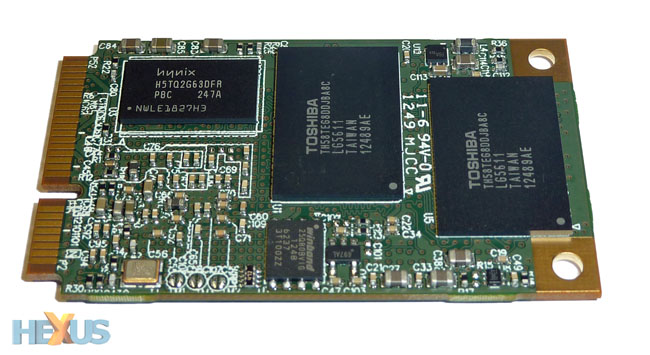 On the flipside there are two further chips and a 256MB DDR3 DRAM cache from Hynix. The entire 128GB capacity is available to the user - there's no over-provisioning here - and the SATA interface enables the M5M to reach peak speeds without encumbrance. Bear in mind that most, if not all, mSATA-supporting laptops and motherboards are limited to SATA 3Gbps - they tend to share the mSATA slot with a SATA '2' port - nullifying the premium speed, so be sure to check the specs before considering the M5M.
The main aim for an mSATA SSD is to add responsiveness to a system. We see the primary usage scenario in laptops more than desktops, as there's very little reason not to choose a slightly cheaper 2.5in drive for the latter. But just for good measure we'll put the M5M to the test in both environments in the upcoming performance results.