Introduction
We've seen our fair share of SSDs based around the SandForce SF-2281 processor, and it's no secret that the SanDisk Extreme is one of our most favourite. Strong performance, competitive pricing and a tried-and-trusted brand are all part of the appeal, but like so many SSD manufacturers, SanDisk is eager to expand its range in an effort to provide greater choice to its retail and OEM customers.
Enter the Ultra Plus, a new breed of SanDisk SSD built around a couple of key ingredients; a Marvell SS889175 processor and SanDisk's own 19nm NAND memory.
SanDisk's background in NAND manufacturing gives the company an obvious advantage over certain competitors. Most of the Ultra Plus components are developed and built in-house, including the pre-loaded firmware. The key component - the Marvel SS889175 processor - is of course outsourced, and it's a chip we've not come across before.
Unlike the SS889174 that featured in both the Intel 510 Series and the Crucial m4, the SS889175 is said to be a streamlined part that utilises four NAND channels instead of eight, making it more power efficient and cheaper to implement.
The processor's positioning suggests that the Ultra Plus is all about offering good SSD performance at a great price, and one look inside SanDisk's plastic chassis reaffirms that opinion: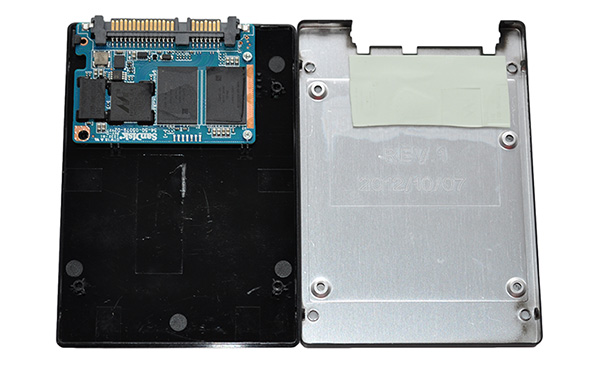 There's very little going on in here, but that's not necessarily a bad thing. The tiny PCB used in the Ultra Plus makes the drive feels extremely light - even by SSD standards - and though this first consumer model is a 2.5in drive measuring 7mm thick, it's clear that SanDisk has the option to explore smaller form factors if it feels the need.
We've been sent a top-of-the-line 256GB model to play, and this particular configuration carries half-a-dozen core components; four 19nm SanDisk NAND modules weighing in at 64GB apiece (two on either side of the board), the Marvell SS889175 processor, and a 128MB Samsung DDR2 DRAM chip acting as a volatile onboard cache.
We're trying to ascertain whether or not the two smaller capacities - 64GB and 128GB - will have a smaller DRAM cache, but regardless, performance will be directly linked to capacity, as the less spacious models have fewer memory chips interfacing with the processor at any one time. What's interesting, however, is that SanDisk has opted to re-introduce another performance- and longevity-enhancing repository dubbed nCache.
For the nCache to work, a small amount of the 19nm NAND is configured as an SLC cache, allowing the Marvell processor to aggregate small random writes (the bugbear of any SSD) and send them over to the nonvolatile cache before flushing them permanently, in bulk, to the MLC NAND. The nonvolatile nCache has the advantage of being able to store data for longer periods until an idle flush opportunity becomes available, and in addition to improving random write performance, it should also reduce write amplification, which in turn bodes well for drive longevity.
SanDisk Ultra Plus SSD Specification

Model

SDSSDHP-064G

SDSSDHP-128G

SDSSDHP-256G

Capacity

64GB

128GB

256GB

Processor

Marvell SS889175

NAND

SanDisk 19nm eX2 ABL MLC

Interface

SATA 6Gbps

SATA 6Gbps

SATA 6Gbps

Sequential Read Speed

Up to 520 MB/s

Up to 530 MB/s

Up to 530 MB/s

Sequential Write Speed

Up to 155 MB/s

Up to 290 MB/s

Up to 445 MB/s

Random Read Speed 
(IOPS 4KB)

Up to 76,000

Up to 80,000

Up to 82,000

Random Write Speed 
(IOPS 4KB)

Up to 29,000

Up to 33,000

Up to 39,000

Active Power Consumption

0.12W

0.12W

0.12W

Warranty

3 Years
Our 256GB review sample has the maximum amount of NAND interfacing with the processor and can hit sequential read and write speeds of up to 530MB/s and 445MB/s, respectively. The figures dip to 530MB/s and 290MB/s for the second-rung 128GB drive, while the baby of the bunch, the 64GB model, slots in at 520MB/s and 155MB/s.
SanDisk's Ultra Plus isn't going to be the quickest SATA 6Gbps SSD on the market, so pricing needs to be particularly keen. We've yet to see any UK listings, but SanDisk's suggested retail price across the pond for the initial 64GB, 128GB and 256GB models is $74.99, $109.99 and $219.99, respectively. Do a simple conversion, add the tax, and you land at roughly £55 for the 64GB drive, £82 for the 128GB drive and £163 for reviewed 256GB drive.
Is that going to be low enough when a 250GB Samsung 840 Series can be had for just £130? Let's find out.