Introduction

Shuttle is best known for developing pint-sized mini PCs, but the company is always prepared to dabble in other areas and, for its latest venture, is stepping into the world of network-attached storage.
There's no shortage of competition in this arena - particularly from Taiwanese manufacturers - but Shuttle knows how to make compact machines and is hoping that small-form-factor know-how will help it produce NAS solutions that are small and well-equipped.
NAS units come in all shapes and sizes - and we expect Shuttle to expand the range in the coming months - but to get the party started, it's rolling out the two-bay Omninas KD20, priced at £120. Measuring just 170mm x 90mm x 225mm in size, this compact unit is made to look easy on the eye thanks to a 2.5mm-thick aluminium chassis that's adorned with white plastic on three sides. As far as NAS boxes go, it's an attractive design and one that home users won't mind having on show.
On this inside, Shuttle has attempted to keep costs down by employing a PLX NAS 7821 processor that features two ARM 11 cores clocked at 750MHz. The CPU is paired with just 256MB of DDR2 memory yet Shuttle claims competent read and write speeds of up to 75MB/s and 55MB/s, respectively. The numbers are far from the fastest we've seen, but considering the specification, Shuttle appears to be getting a fair amount out of the lean underlying processor.
There's little to disturb the KD20's clean-flowing lines, with Shuttle tucking the I/O selection neatly along the front and back edges. Up front, the KD20 provides an easy-to-reach USB 3.0 port and an SD card slot (both of which offer auto-copy functionality) as well as a couple of small status LEDs. Around back, there's a connector for the bundled 65W power brick, Gigabit Ethernet, two USB 2.0 ports for hooking-up external devices such as flash drives or printers, and a customary Kensington lock.
Shuttle has the basics well-covered, and it's nice to see USB 3.0 featured as standard, but it's a shame the PSU hasn't been bundled into the chassis; we'd happily take a larger unit if it meant doing away with the external power brick. And, though the Kensington lock can't do any harm, it appears to be a bit of an afterthought as the two internal drive bays aren't lockable. Locking the NAS to your desk won't be of much help if a passer-by can just open the door and remove the hard disks.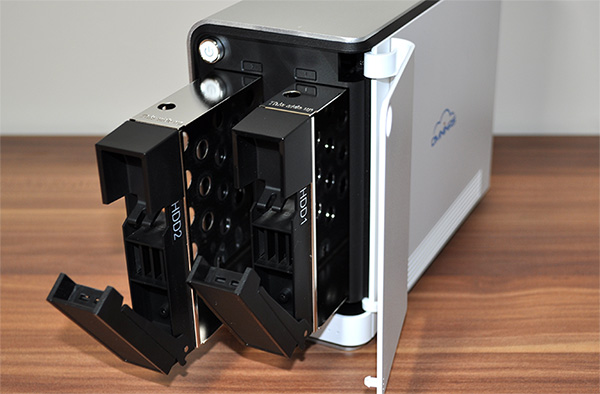 Then again, maximum security isn't the idea. The KD20 is a modestly-priced unit that aims to offer ease-of-use and centralised storage for home consumers. Pop open the plastic front door and two hot-swappable SATA 3Gbps drive trays allow up to 8TB of storage (provided you use two 4TB disks, of course) and support for RAID 0, RAID 1 and JBOD configurations.
On paper, the Omninas KD20's specification and feature set is bordering on basic, but while power users will need to look elsewhere, Shuttle's hoping to attract the everyday consumer through keen pricing and ease of use.