500MB/s speed and mSATA connector
Plummeting prices and a super-slick user experience have brought solid-state drives (SSDs) into sharper focus than ever before. As we have repeated ad nauseam over recent weeks, it is now possible to purchase a high-quality 120GB SSD for some £70 or so, and such an investment provides an honest-to-goodness performance boost for any SATA-equipped PC released in the last five years: go try an SSD and you'll never look back.
How small, how cute
LSI SandForce and Marvell are the two major producers for SSD controllers, and they are tied together with varying capacities of super-fast NAND to make up an SSD that's usually presented in a 2.5in form factor. However, the recent trend of laptop manufacturers to produce ultra-thin laptops - Ultrabooks, for example - and inclusion of an mSATA connector on the latest raft of Intel desktop motherboards, together with the tiny space requirements for SSD chips, all combine nicely enable a new breed of tiny SSDs.
We have an ADATA SX300 mSATA 128GB SSD in for review today. Put simply, this is a regular LSI SandForce SF2281-powered SSD that's presented in an mSATA form factor rather than the conventional 2.5in SATA. Measuring just 51mm x 30mm x 4mm (LxWxH) and also available in 64GB and 256GB capacities, this mid-capacity drive has all the goodies one expects on a cutting-edge SandForce offering, including sequential read/write speeds of 550MB/s/505MB/s, respectively, 4K random-writes maxing out at 85,000 IOPS, a 6Gbps interface, and 25nm MLC NAND.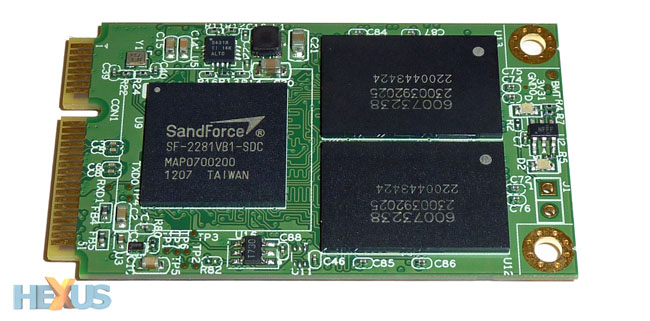 Zoom in and you can see the SandForce controller chip on the left and two 256Gbit NAND devices on the right, replicated on the back to make up the 128GB capacity. Unlike some of the competition, ADATA doesn't allocate any capacity towards over-provisioning, meaning the entire 128GB is at your disposal. The drive's backed up by a standard three-year warranty, too.
Usage conundrum
Priced at £140, or roughly double that of a comparable 2.5in SATA-interfacing SSD, the primary question we have rests with the benefits of mSATA over regular SATA. Most desktop motherboards have at least six regular SATA ports while only a handful feature an mSATA connector. Our test Gigabyte Z77X-UD5H sports such a connector but, like most, it shares the interface with a SATA2 port. This means that while the ADATA mSATA SSD can produce sky-high numbers from its SATA 6Gbps interface and super-fast NAND, real-world performance, on a desktop motherboard, is limited by SATA 3Gbps bandwidth.
On an Intel Z77 platform mSATA drives can also be used to function as a fast cache for the system drive when run in conjunction with Intel's Smart Response Technology. This makes sense if the system drive is a traditional spindle-based model, and we have previously demonstrated the benefits of SSD caching, albeit by using a SATA-connected SSD as the front-end. Trouble is, Intel's SRT has a maximum caching size of 64GB - which makes sense as the cache should be as cheap as possible - but this particular ADATA drive is, well, 128GB. ADATA has since confirmed that the SX300 is a standalone performance mSATA SSD; the caching-optimised version is the cheaper SP300.
Really, in a desktop environment we're struggling to think of compelling reasons to purchase an mSATA SSD over a cheap-as-chips regular SATA SSD: you lose out on interface speed, and the smaller form-factor drive costs twice as much. And while Lenovo is a champion of mSATA SSDs for laptops, most other manufacturers tend to shy away from the form factor. Intel-powered Ultrabooks, meanwhile, often use proprietary connectors for SSD storage.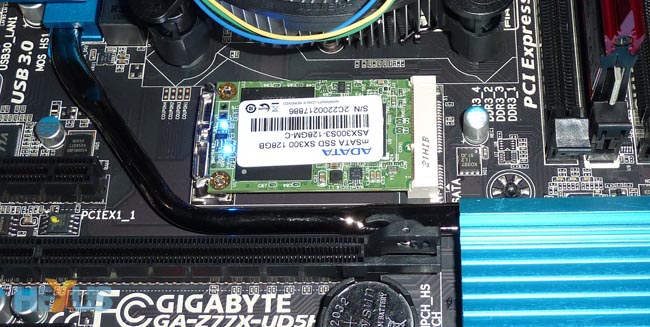 With all that in mind, we're testing the ADATA SX300 128GB by plugging it into the mSATA port of said Gigabyte motherboard. There's little point in testing it as an SRT-caching drive due to its 128GB capacity and lack of caching software such as NVELO, found on smaller-capacity drives designed for this explicit purpose.