Introduction
QNAP's TS-469 Pro is one of the latest high-end network-attached storage (NAS) solutions to hit the market and you shouldn't be fooled by its familiar appearance.
It's been a while since we last took a closer look at a QNAP NAS and though the TS-469 Pro doesn't appear to be particularly new on the outside, it's on the inside that the refresh has taken place.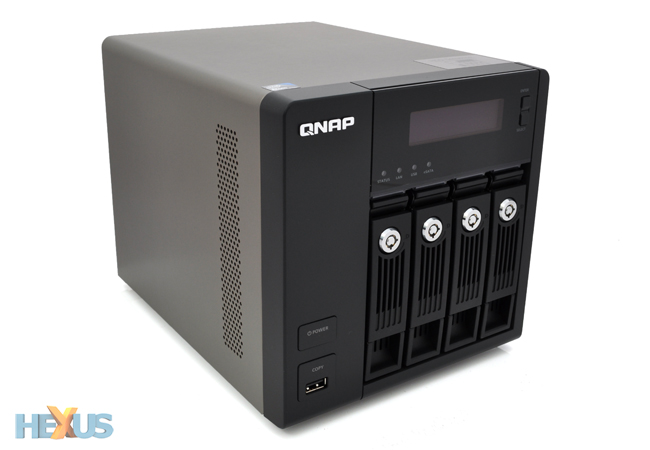 The business-class unit, expected to launch in the coming weeks priced at £660 inc. VAT, is armed with a dual-core 2.13GHz Intel Atom D2700 processor, 1GB of DDR3 memory (expandable to 3GB), four hot-swappable SATA 6Gbps drive bays, USB 3.0 connectivity and dual Gigabit Ethernet.
QNAP's configuration is geared toward strong performance and the manufacturer claims read and write speeds of 221.8MB/s and 220.8 MB/s, respectively, with port trunking enabled. Performance for multiple clients shouldn't be a problem, then, but QNAP's hoping to meet all the requirements of small-and-medium businesses by touting a range of business-ready features, high reliability and very-low power consumption.
Two, five, six, and eight bay models will also be released, but each option is shipped without any pre-installed storage devices as standard, making the four-bay unit appear pricey at first glance. Given the current cost of hard drives, equipping the TS-469 Pro with a quartet of 1TB hard disks would take the total price to almost £950 for a 4TB configuration. Increasing the capacity, or opting for solid-state storage, would of course add further cost.
Home users seeking business-class performance on a budget should look elsewhere, as it's in the workplace that the TS-469 Pro will prove its worth. Centralised storage that's protected and shared throughout office environments is the big attraction, but QNAP's latest Turbo NAS firmware - version 3.6 - offers a wealth of additional functionality.
To begin with, SMB/CIFS, NFS, and AFP protocols are all supported to enable file sharing across Windows, Mac and Linux environments (with built-in anti-virus), and a comprehensive range of backup solutions are included as standard - including real-time remote replication, backup to the cloud (via Amazon S3, ElephantDrive or Symform) and Apple Time Machine.
Dipping a few toes into more demanding business environments, the TS-469 Pro supports multiple LUN and iSCSI targets, and can also be configured to provide storage for virtualised and clustered server environments. Factor in support for Windows Active Directory, ISO mounting, secure FTP, private VPN server support with 256-bit encryption, as well as out-the-office access through QNAP's MyCloudNAS service, and you're left with a truly exhaustive feature set.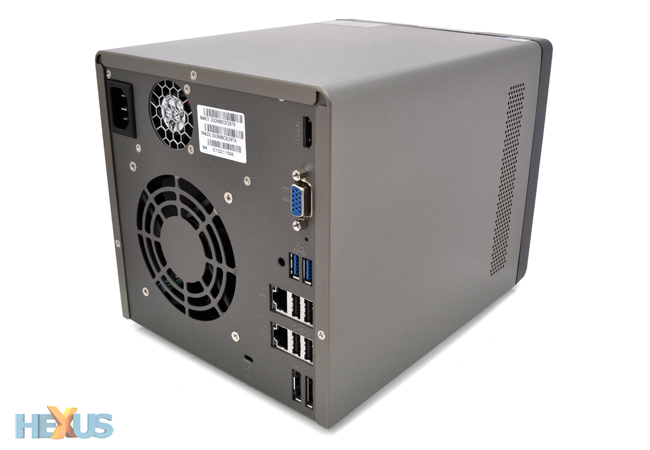 Yet, despite the various services on offer, the TS-469 Pro is suitably compact at 177mm x 180mm x 235mm in size and presented in a neat and tidy package. The front of the unit is equipped with an informative mono-LCD display, nine LED indicators (status, LAN, USB and eSATA, Power, HDD1, HDD2, HDD3, HDD4), and a single front-facing USB 2.0 port with one-touch copy.
All four front-facing drive bays offers metal trays and are pre-drilled to support both 2.5in and 3.5in disks, and each is hot-swappable and lockable via a bundled key. As expected, various RAID modes are available - including RAID 0, 1, 5, 10, 5+Spare and 6 - and both online RAID expansion and RAID level migration are supported.
Around back, we find a further four USB 2.0 ports, a pair of SuperSpeed USB 3.0 ports (it's a shame one of these wasn't routed to the front) and two Gigabit Ethernet ports. There's also a HDMI output, which, as far as we can tell, currently serves no immediate end-user purpose.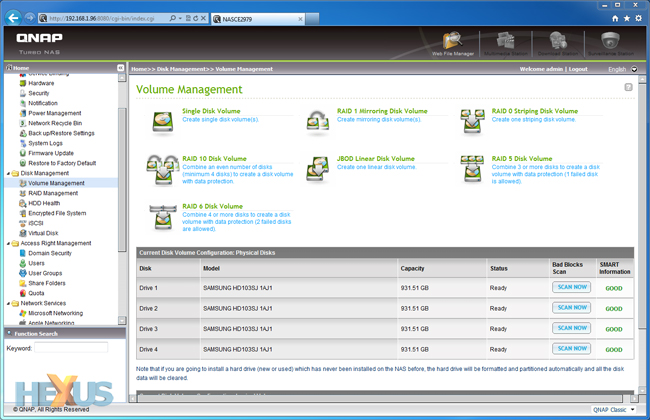 There isn't much the TS-469 Pro won't do, but don't let the full-blown feature set put you off. Each and every function is controlled through a unified web-based interface that QNAP reckons can be used "without IT expertise."
The software arguably isn't as forward-looking as rival solutions, but QNAP's two-pane interface - menus on the left, controls on the right - feels familiar and consequently easy to navigate. Integrated help menus and tool tips do a good job of explaining some of the more involved functions, but generally speaking, the software is easy to get around and the basic settings - RAID configuration, user accounts and shared folder creation - are well handled. And you don't need to take our word for it, as QNAP has a free online demo that lets you try before you buy.
As far as four-bay turnkey NAS solutions are concerned, it's hard to imagine getting much better than the TS-469 Pro. The number of functions is mind boggling (we'd be here all week if we attempted to cover each and every usage scenario), the hardware is well built, the software has been fine-tuned but remains simple in use, and with SATA 6Gbps and USB 3.0, performance should be top-notch.