Introduction
It only takes a glance at the virtual shelves of various online retailers to realise how successful the LSI SandForce SF-2281 processor has been.
The processor acts as the beating heart of many high-end SSDs and some of the industry's biggest names have lined up to take advantage of the performance on offer. The likes of Intel and Kingston have recently expanded their product lines to include top-tier SandForce-powered solutions, and SanDisk is next in line with the introduction of a drive titled, quite simply, the Extreme SSD.
Launched initially in 120GB and 240GB capacities priced at £120 and £260, respectively, the 2.5in Extreme SSD slots in close to the £1-per-GB sweet spot and is designed to be competitive with what's already on the market.
The drive touts sequential read speeds of up to 550MB/s via a SATA 6Gbps interface, while write performance is rated at up to 520MB/s. The numbers are in line with what you'd expect from a drive armed with an SF-2281 processor, but SanDisk does bring something new to the table in the form of its own 24nm Toggle Mode NAND.
We wouldn't recommend trying this at home as opening up the drive will void SanDisk's three-year warranty, but by venturing inside, we get a closer look at the ubiquitous SandForce SF-2281 processor and SanDisk's accompanying Toggle Mode NAND memory chips.
Our 120GB review sample has just the four 24nm chips (identified as SanDisk 05091 032G), while the 240GB model ships with four pieces of 32GB NAND on each side of the PCB. There's still room to squeeze in a further eight memory chips, and with good reason, as SanDisk plans to introduce a range-topping 480GB model later in the year. Rounding off the SanDisk-exclusive combination is a custom firmware described internally as version R112.
We know that an SF-2281 processor combined with Toggle Mode NAND delivers excellent results - we've seen such a configuration in Patriot's Wildfire - but SanDisk's using higher-density 24nm chips, which in turn means that there are less NAND devices communicating with the processor in parallel.
We'll see how that impacts performance over the course of the review, but on paper, the combination of the SandForce processor and high-speed Toggle Mode NAND is mighty attractive at this price point. Though, SanDisk's bundle might have been better - it includes no 3.5in mounting adaptor and no disk migration software. All you get is the disk and a small manual detailing the three-year warranty.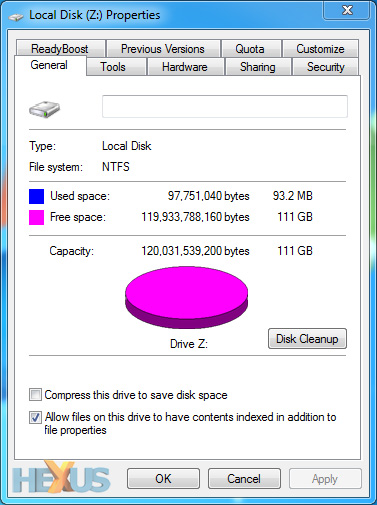 We've got the 120GB model plugged into our Intel Sandy Bridge test bed, so let's get on and run some numbers.