Introduction
Buffalo's LinkStation Quad has been kicking about for a fair few years, and outwardly, you'd be hard pushed to distinguish between a 2008 model and the one that's available on store shelves today.
The chassis is practically identical, but while the exterior hasn't changed, the inner-components of this network-attached-storage (NAS) server have been revised to deliver greater performance and higher capacities.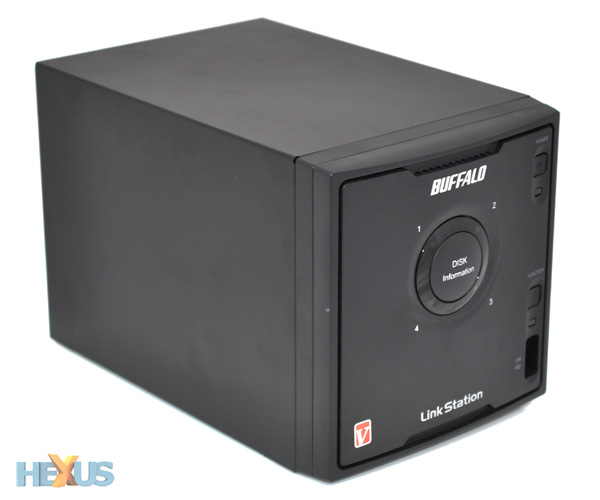 Buffalo's naming scheme makes it difficult to tell the new from the old, but what you're looking for is the "V" on the front of the unit or in the model number (in this case LS-QV4.0TL/R5-EU).
That small, but all-important differentiator, tells us that this 2011 revision features an upgraded 1.6GHz Marvell processor, quicker DDR3 memory and, most importantly, higher capacities.
Available in 4TB, 8TB and 12TB flavours, the four-bay solution has the capacity to fulfil most home or small-office requirements, and it touts fast data transfer speeds of up to 72MB/s. Pricing, at around £400, £600 and £800, respectively, is keen when you consider that the hard-disks are part of the fee, and Buffalo's server isn't exactly lacking in features.
In terms of backup, the server's bountiful capacity is put to good use with a choice of RAID 1 or RAID 5 redundancy modes, and each unit is bundled with a five-license pack of NovaBACKUP Professional. Useful if your aim is to create a central backup location for a couple of PCs, and Mac users needn't worry as the LinkStation offers built-in support for Time Machine with multiple clients.
Should you wish to add another layer of security, there's also an option to schedule backups from one LinkStation to another, or to an external hard-disk using one of the LinkStation's two integrated USB 2.0 ports.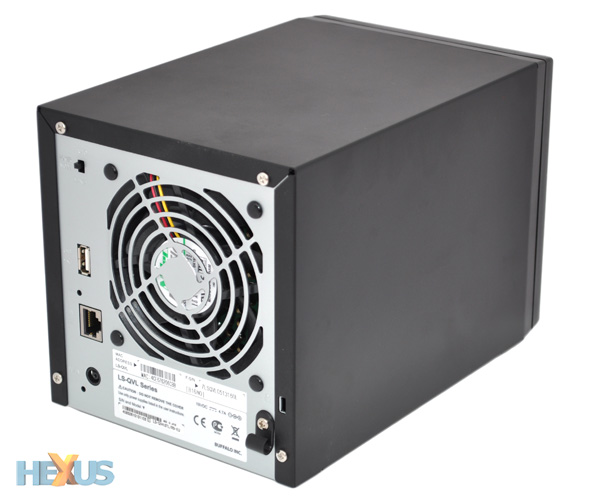 The USB ports - one up front, one round back - can also be used to share USB devices on a network, and the front port is equipped with Direct Copy functionality - allowing the user to copy the contents of attached media to a pre-defined folder at the touch of a button.
It's all neatly presented in a relatively-compact 149mm x 233mm x 154m frame, and aside from the occasional churn of hard disks, the box is suitably quiet in use.
Around the back, the USB port is joined by only a Gigabit Ethernet jack and a power port for the bundled AC adaptor. Getting up and running is as simple as connecting the server to your network and running Buffalo's NAS Navigator utility on any attached PC - it automatically detects the LinkStation and points the user toward the web-based admin panel.
Networking and ease of use don't tend to go hand in hand, but Buffalo's box of tricks shouldn't be daunting for inexperienced users. Networking-know-it-alls, however, might be put off by the unit's lack of top-end functionality. This LinkStation doesn't offer dual gigabit Ethernet ports for port trunking, there's no hot-swap functionality, no SCSI support, and no SuperSpeed USB 3.0 ports - those are all features reserved for Buffalo's business-class range of TeraStation servers.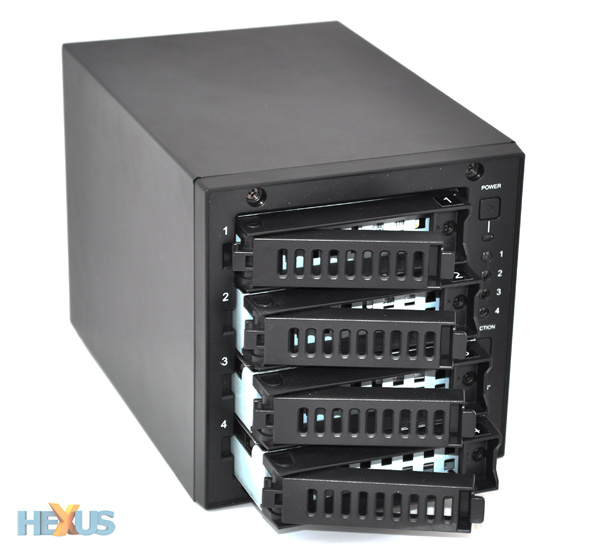 Most home or small office users won't be put off by the lack of such high-end features, but there are a few omissions that may perturb the everyday user. Neither of the LinkStation's four drive bays are lockable, and, unlike the high-end TeraStation, there's no LCD display to keep you apprised of system status.
Business users may find that the step up to TeraStation is worth the extra £200 or so, but home users should find more than enough functionality packed into the LinkStation. In addition to its backup services, the NAS offers a built-in DLNA/UPnP media server, Logitech Squeezebox support, a built-in BitTorrent client, an iTunes server, an FTP server and remote access via a web browser. For smartphone/tablet users, there's also a WebAccess app that'll allow you to tap into your media from an iOS or Android device.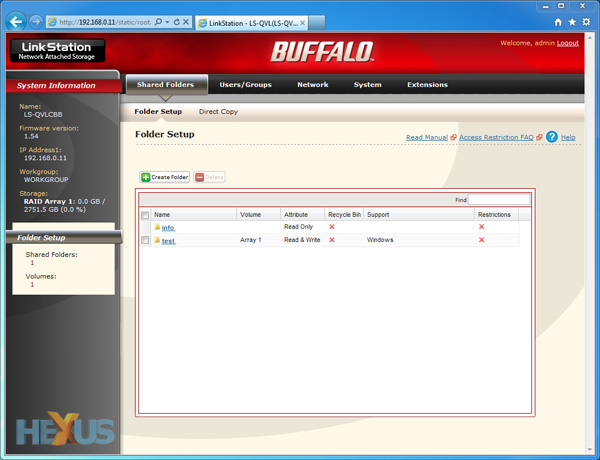 There's a wealth of functionality to explore, and all of the LinkStation's features are easily found through the web-based interface.
We had a good look at Buffalo's software earlier in the year, and little has changed since then. While the navigation is clear and concise, the interface on the whole feels a little tired and outdated compared to what's on offer from the competition.
It's best described as utilitarian, and that's no bad thing in a competitively-priced four-bay NAS that's packed full of multimedia features. But how does the unit perform? To find out, we're taking a look at a 4TB model equipped with a quartet of 7,200RPM Seagate hard disks. Let's see if it's able to keep up with pricier alternatives from the likes of QNAP, Thecus and Synology.