SandForce x 2
Reader: Dear HEXUS, my PC feels slow and I want to speed it up without spending significant money. What should I do?
HEXUS: Dear reader, generally speaking, the best upgrade for any relatively modern PC is a solid-state drive; it will give your machine a lusty boost in real-world usability. Applications will open quickety-quick and the PC will be born a-new.
Reader: So which SSD should I buy?
HEXUS: Ah, dear reader, that is an excellent question.
Yup, SSDs provide wholesome performance increases for nearly all PCs. Put one in as a boot-drive and if you don't notice the velvety-smooth, slick feel, you've probably forgotten to press the power button.
But not all SSDs are created equal. Cheaper models sacrifice all-round speed in favour of a better bang-for-buck, with 120GB models nearing the magical 1GB-per-pound metric. Spend more on a given capacity and performance increases, though, as usual, gains diminish as budget increases.
Working through a troubled birth are drives based on the SandForce SF-2281-series controller. Boasting incredible sequential read and write speeds - 500MB/s is common - they back it up with solid performance in all other tests.
Originally mooted to arrive in volume a couple of months ago, drives using this controller have been delayed while manufacturing partners and SandForce work through minor problems.
We're now seeing SF-2281 drives from all and sundry, and the latest to throw its drive in the ring is ADATA. Keeping up with the Joneses the S511-class SSD is available in regular 120GB and 240GB capacities. ADATA goes further by releasing 60GB and 480GB models, too.
Capacity
60GB
120GB
240GB
480GB
Memory type
MLC
MLC
MLC
MLC
Read speed
550MB/s
550MB/s
550MB/s
540MB/s
Write speed
500MB/s
510MB/s
520MB/s
460MB/s
Random 4K write
60K
60K
60K
40K
There's not a great disparity in specifications between the quartet of SF-2281-powered ADATA drives. It's good to see the smaller-capacity drives offering excellent on-paper performance.
Presented in the now-familiar 2.5in form factor, we managed to snag the 60GB model that's currently retailing for a tasty £105. The capacity is large enough to serve as a store for the operating system and frequently-used programs, with, ideally, a TB-plus mechanical hard-drive holding other programs and files.
Sporting sequential speeds in excess of 500MB/s, the S511 is equipped with a SATA 6Gbps interface. Inside, the SandForce SF-2281 controller takes pride of place. It offers built-in support for Windows 7's TRIM command and 256-bit AES encryption, as well as DuraWrite technology - an on-the-fly compression algorithm that reduces the size of the data written to the drive. In short, it's fast.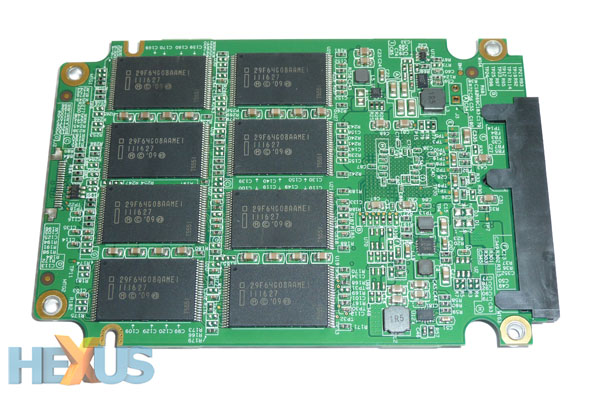 Manufacturers have a couple of choices when pairing up NAND with the controller. ADATA opts for some synchronous, 25nm IMFT-manufactured chips, represented here by eight memory devices each with 8GB capacity. The small capacity means that there's no spare space for overprovisioning or setting it aside for a technique called RAISE, which guards against data corruption by having files spread across the drive in a RAID-like fashion.
Having the PCB populated with just eight chips may also reduce performance when compared to SSDs that use, say, 16, and this is down to the way in which the controller leverages NAND parallelism.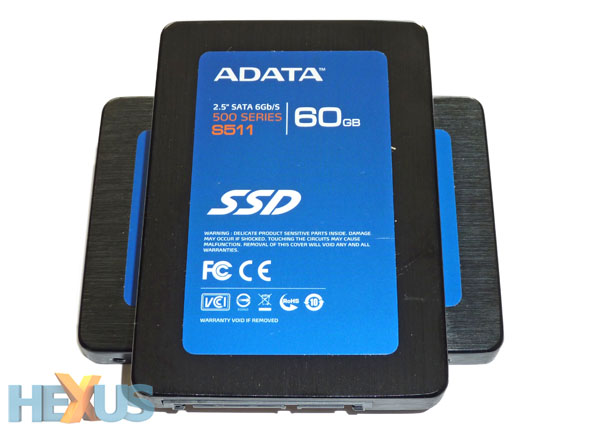 We know a single drive will be fast. Given the small capacity, pairing two in RAID0 makes sense. You'll pay around £210 for the privilege, while losing performance-stabilising TRIM functionality, but the benchmark numbers should be stellar. Bear in mind that a single 120GB SandForce 2 drive is available for around £170.
Like most other manufacturers, ADATA bundles in a 2.5-to-3.5in adapter - used to mount the SSD inside a regular hard-drive space in your chassis - along with a rather convoluted method of obtaining free disk-migration software. Instead of bundling in a (mini) CD or USB stick, ADATA forces you to download it from the web and use an included 16-digit key. Migration should be as easy as possible, we feel, and this approach leaves a little to be desired.
Backed by a three-year warranty, is it worth paying a £40 premium for 120GB of RAID0 performance, or does it make more sense to splash it on to a single drive? Let's find out.