Introduction
Intel's X25-M will live long in our memories as the drive that championed the growth of solid-state storage in consumer PCs, but the best-selling SSD is now beginning to show its age.
In recent weeks, expectations of what an SSD can achieve have ascended to new heights following the release of various high-end models equipped with a high-speed SATA 6Gbps interface - these include Intel's own 510 Series, Crucial's C400 and OCZ's benchmark-busting Vertex 3.
Speeds have soared beyond the 500MB/s mark and certain drives have come close to saturating the bandwidth available to the SATA 6Gbps standard.
The increase in performance has been nothing short of astonishing, but as we've stated in recent reviews, most consumers will find it difficult to discern between a fast SSD and a very-fast SSD during everyday use. And, while manufacturers continue to take giant strides in performance, the criteria that arguably matter more to consumers - price and capacity - haven't shown major signs of improvement.
What we need is a mid-range drive that offers strong all-round performance with proven reliability at a lower per-GB price. Asking a lot? Perhaps, but Intel's hoping to deliver with a new third-generation successor to its mainstream X25-M.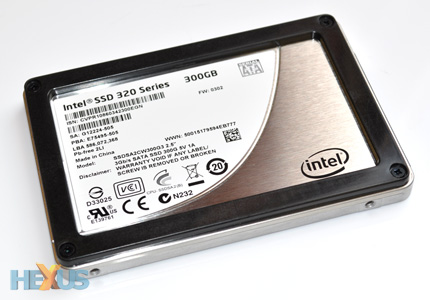 Dubbed the Intel SSD 320 Series, this third-generation drive claims to maintain the high read throughput of the second-generation X25-M while more than doubling sequential write speeds, improving reliability, increasing capacity and lowering cost by as much as 30 per cent.
That's a tempting formula, but can Intel really deliver on all four fronts - performance, reliability, capacity and cost?
Inside the SSD 320 Series
What's surprising about the SSD 320 Series is that it isn't an entirely new design. The drive's branding may have changed to fit in with Intel's new 3xx (SATA 3Gbps) and 5xx (SATA 6Gbps) naming scheme, but the 320 is effectively a second-generation X25-M armed with a handful of under-the-hood improvements.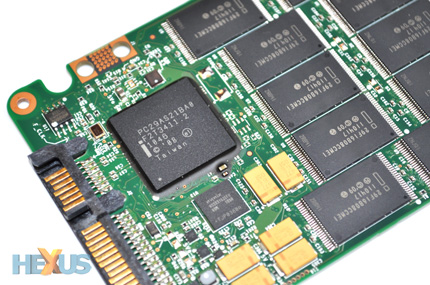 Proving that point, you'll find a familiar-looking Intel PC29AS21BA0 controller seated at the heart of the drive. That's the same controller used in the second-gen X25-M, and yes, that means the third-gen 320 Series is constrained to a SATA 3Gbps interface.
This is a drive that won't shatter benchmarks, but there are a number of noteworthy improvements in and around the Intel controller, including a larger 64MB Hynix cache and the implementation of cheaper-to-produce 25nm NAND flash memory.
Built by Intel itself, the 20 multi-level cell 16GB memory chips (10 on each side of the PCB) are hooked up to 10 NAND flash channels and provide our review sample with a total capacity of 320GB. A portion of that is set aside for over-provisioning, leaving us with a formatted capacity of 297GiB.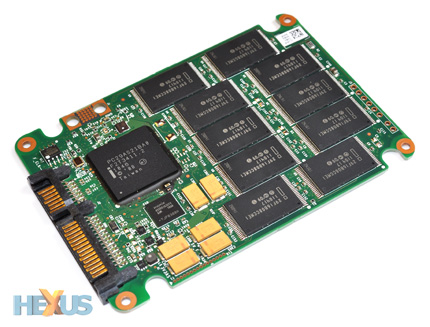 Plenty of room to play with, and the introduction of high-density 25nm memory has allowed Intel to introduce larger-sized models. In addition to the standard 40GB (£80), 80GB (£145), 120GB (£185) and 160GB (£250) capacities, the 320 Series SSD is available in 300GB (£440) and 600GB (£925) versions - the latter of which represents new territory for 2.5in SSDs.
Capacity is on the up, and performance nudges forward, too. A combination of factors - including a new firmware and an increase in memory page size from 4KB to 8KB - has bumped read and write performance up to 270MB/s and 220MB/s, respectively.
That's comfortably higher than the 250MB/s and 100MB/s maximums available to its predecessor, the X25-M, but Intel's write performance remains closely tied to drive capacity. Buyers beware; the 220MB/s sequential write performance is applicable only to the range-topping 600GB model, and write throughput drops down to as little as 45MB/s on the entry-level 40GB drive.
Added peace of mind
Intel prides itself on SSD reliability, and the 320 Series product range attempts to enhance that reputation.
In addition to Intel's existing validation process - which we're told includes over 5,000 unique tests - the 320 Series SSD introduces 128-bit AES encryption to help prevent data loss in the event that a PC is lost or stolen, and enough over-provisioned NAND flash memory to protect the user's data against the failure of a whole NAND die.
Preparing for a variety of scenarios, the drive also features Intel's "power-loss protection scheme", through which half-a-dozen capacitors provide enough energy for the SSD to write cached data to the NAND in the event of system power loss.
Such features are traditionally exclusive to enterprise-specific models, but by outfitting the 320 Series with all of the aforementioned, Intel's able to target the same drive at both consumer and enterprise markets.
And let's not forget, like all previous Intel SSDs, the 320 Series is bundled with two free software utilities; the Intel Data Migration tool and the Intel SSD Toolbox - both of which are excellent.
A comprehensive set of upgrades make this an interesting SSD, but does this third-generation drive have what it takes to compete against the new breed of SATA 6Gbps competitors?