Introduction
OCZ's Vertex 2 was arguably our pick of the bunch when it came to high-performance SATA 3Gbps SSDs, so we'll be first to admit that we've been expecting great things from its SATA 6Gbps successor - the Vertex 3.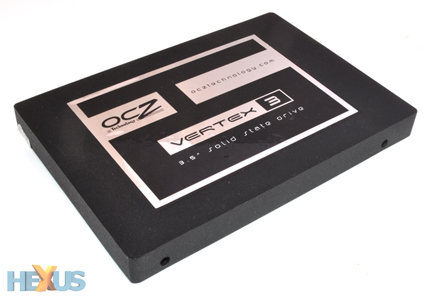 First unveiled at the Consumer Electronics Show back in January, the Vertex 3 SSD makes use of a second-generation SandForce controller that hopes to fully utilise - if not saturate - the bandwidth available to the SATA 6Gbps interface.
OCZ's officially quoting mind-boggling sequential read and write speeds of up to 550MB/s and 525MB/s, respectively, while 4K random write performance is rated at 60,000 IOPs. Putting those numbers into perspective, a last-generation Vertex 2 was capable of read speeds of up to 285MB/s, write speeds of up 275MB/s and 4KB random writes at up to 50,000 IOPs.
In terms of pure sequential speed, the jump from Vertex 2 to Vertex 3 sees a performance increase of over 90 per cent. Such is the speed of the new-generation drive that the 600MB/s peak throughput of a SATA 6Gbps interface starts to feel a whole lot less future proof than it did just a few months ago.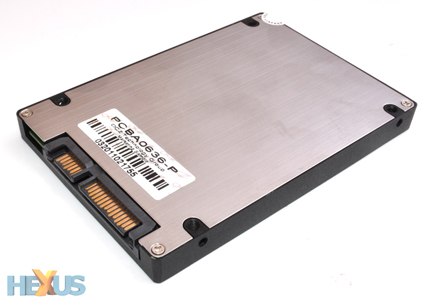 So how has OCZ managed to eke out an almost twofold increase in performance? Outwardly, very little has changed. Our £430, 240GB pre-production review sample looks a lot like any other 2.5in SSD - it's small, lightweight, costly and armed with two connectors; a SATA power connector and a SATA 6Gbps interface that's backward compatible with SATA 3Gbps.
The SATA 6Gbps interface is one piece of the puzzle, but most of the magic is found under the hood...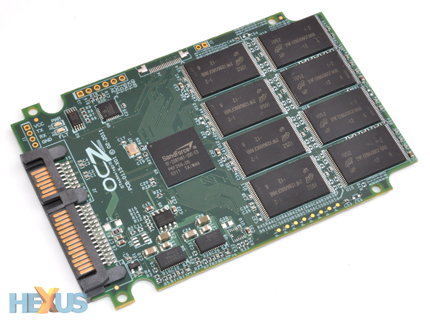 With the aluminium enclosure removed, we get a look at the chip that enthusiasts the world over have been lusting over - the SandForce SF-2281.
Located at the heart of OCZ's Vertex 3 PCB, the controller touts a bevy of enhancements (more on those shortly) and comes accompanied by 16 Micron 16GB 25nm MLC NAND flash memory devices (eight on the front, eight on the back) in an eight-channel configuration.
That provides the 240GB model of the Vertex 3 with 256GB of physical memory, so where'd the additional capacity go? Like most other SSDs, a portion of the NAND flash is set aside to preserve long-term performance and longevity. In the case of the 240GB Vertex 3, 16GB (just over six per cent) is reserved for over-provisioning and when the remaining space is translated to a usable formatted capacity in Windows, you're left with 223GiB.
A closer look at SF-2281
OCZ and SandForce have historically enjoyed a special relationship, but it's worth noting that the SF-2281 controller isn't exclusive to OCZ and the Vertex 3 won't be the only drive to use it. Although OCZ's interpretation is expected to be first to market, it'll be followed by a horde of SandForce-driven competitors in the coming weeks, so let's take a closer look at what the new-generation SandForce controllers have to offer.
SF-1222
SF-2141
SF-2181
SF-2281
SF-2282
SF-1565
SF-2582
SF-2682
Target Market
Client
Client
Client
Client
Client
Enterprise
Enterprise
Enterprise
SATA Interface
3Gbps
3Gbps/s
3Gbps
6Gbps
6Gbps
3Gbps
6Gbps
6Gbps
Sequential Read* (MB/s)
250
250
250
500
500
250
500
500
Sequential Write* (MB/s)
250
250
250
500
500
250
500
500
IOPS* (Sustained 4 KB Reads)
30K
60K
60K
60K
60K
30K
60K
60K
IOPS* (Burst/Sust 4 KB Writes)
10K
60K/10K
60K/20K
60K/20K
60K/20K
30K
60K/60K
60K/60K
SMART Attributes
Basic
Basic
Basic
Basic
Basic
Extended
Extended
Extended
Flash Channels/Byte Lanes
8ch/16bl
4ch/4bl
8ch/8bl
8ch/8bl
8ch/16bl
8ch/16bl
8ch/16bl
8ch/16bl
Flash Interface
A
A / S
A / S
A / S
A / S
A
A / S
A / S
Package Type
BGA-361
BGA-256
BGA-256
BGA-256
BGA-400
BGA-361
BGA-400
BGA-400
Package Size (mm)
13x13
14x14
14x14
14x14
14x14
13x13
14x14
14x14
Max Capacity (GB)
512
64
256/512
256/512
512
512
512
512
ECC (max bits/512B sector)
24 (RS)
55 (BCH)
55 (BCH)
55 (BCH)
55 (BCH)
24 (RS)
55 (BCH)
55 (BCH)
AES Encryption (bits)
128
256 & 128
256 & 128
256 & 128
256 & 128
128
256 & 128
256 & 128
Military Erase
No
No
No
No
No
Yes
Yes
Yes
iTemp Option
Yes
No
No
No
No
Yes
Yes
Yes
non-512 Byte Sectors
No
No
No
No
No
No
No
Yes
Power Fail Circuit Support
No
No
No
No
No
Yes
Yes
Yes
Minimum Over Provisioning
7%
0%
0%
0%
0%
28%
28%
28%
* Up to...
** A = Asynchronous, S = Synchronous
As illustrated by the above table, SandForce has a range of SF-2000 controllers making their way to the market, including enterprise-specific variations tailored toward optimum data protection and superior 4KB random/write performance.
OCZ will employ the SF-2582 in its own enterprise-orientated drive - the Vertex 3 Pro - but we're more interested in the comparison between the controllers used in OCZ's high-end consumer drives; namely the SF-1222 used in the Vertex 2 and the SF-2281 in the follow-up Vertex 3.
Starting with reliability, SF-2281 brings a couple of noteworthy upgrades to the table including TCG OPAL security with 256-bit AES encryption (up from 128-bit) and an improved ECC engine capable of correcting up to 55 bits per 512-byte sector.
Furthermore, all SandForce SF-2000-series controllers continue to utilise the company's patented DuraWrite technology - an on-the-fly compression algorithm that reduces the size of the data written to the drive. With a typical write amplification of 0.5x, 20GB of data can require as little as 10GB of flash writing. Couple that with the controller's intelligent block management and wear leveling, you're left with a drive that requires fewer write cycles during regular use.
This is becoming increasingly important as NAND flash memory can withstand a finite number of program-erase cycles before the wear begins to deteriorate the integrity of the storage. That number tends to decrease with each die shrink, and with 25nm NAND flash offering on average less than 5,000 program-erase cycles, technologies such as DuraWrite are essential to endurance and reliability.

And the controller's data-protection capabilities don't stop there. SF-2281 continues to offer support for RAISE (Redundant Array of Independent Silicon Elements), a RAID-like protection mechanism that can utilise a single NAND die to protect against flash block failures. OCZ's Vertex 3 is over-provisioned to support the technology, but what's interesting is that SandForce is now allowing manufacturers to disable RAISE completely and reclaim the additional capacity - an option OCZ doesn't yet appear to be exploring.
There's a lot going on inside this tiny controller, but what'll matter most to many enthusiasts are the improved performance numbers. Armed with a SATA 6Gbps interface, SF-2281 is capable of churning out sequential speeds of up to 500MB/s and sustained 4KB writes at 20,000 IOPs. The official numbers are quick, but they don't quite match up to the specification of the Vertex 3, so what's going on?
OCZ's special sauce?
Cast your memory back to Vertex 2, and you might remember that OCZ employed a custom firmware that boosted the performance of its SF-1222 drive beyond that of its competitors. Will we see a repeat of that process with the SF-2281? To find out, we asked OCZ if the Vertex 3 would utilise an exclusive firmware and were told that "perfected would be a better description".
Not the most cryptic of answers, and the performance optimisations are clear to see; the standard SandForce firmware should limit the SF-2281 to a sustained 4K write performance of 20,000 IOPs, but OCZ's drive touts figures of up to 60,000 IOPs. Whether or not these performance gains will be available to other SandForce partners remains to be seen, but for now let's see what the Vertex 3 is really capable of.