Introduction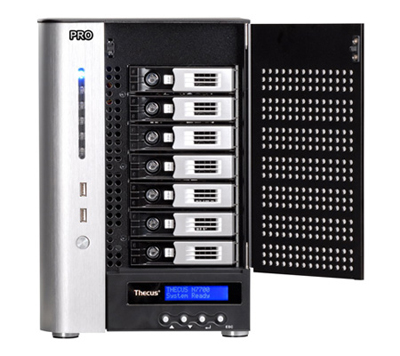 There's no abating the industry's desire to deliver faster, higher-capacity network-attached storage solutions, but as far as Taiwanese manufacturer Thecus is concerned, Enterprise users need look no further than the N7700PRO.
The high-end NAS, pictured above, is a step up from the original 2008 N7700 and differentiates itself through a handful of key hardware upgrades.
Despite making use of the same 320mm x 210mm x 270mm chassis, the upgraded PRO model swaps out the older 1.86GHz Intel Celeron processor and 1GB of memory in favour of a far more potent combination; a 1.66GHz Intel Core 2 Duo processor and 4GB of DDR2 memory.
Elsewhere, in an effort to outpace its rivals, the N7700PRO pushes the boat out with an integrated PCIe x8 slot that introduces support for a 10GbE network interface card (NIC). A compatible NIC - which isn't included as standard - can fetch between £500 and £900 at retail, on top of the £850 asking price of the NAS box itself.
Getting the most out of the unit certainly won't be cheap, but Thecus's expansive specification sheet has blistering performance written all over it, and there's no shortage of Enterprise-specific functionality, too.
Seven drive bays - supporting both 2.5in and 3.5in disks - provide a current maximum capacity of 14TB and the usual assortment of RAID modes; 0, 1, 5, 6, 10 and JBOD.
Online RAID migration and expansion are of course supported, as are multiple volumes in a choice of EXT3, XFS and ZFS file systems. The N7700PRO supports iSCSI targets and initiators, and, if the standalone 14TB storage capacity doesn't live up to your needs, the unit can be stacked with up to five additional N7700PROs, all of which are then managed via a designated master system.
In terms of security, the NAS adopts Thecus's familiar dual-DOM (disk on module) design, ensuring the unit stores duplicate copies of the operating system, with one module acting as an automatic backup for the other.
There's no shortage of features - and we'll list the entire specification later in the review - but let's start by taking a closer look at the box.