Introduction
Seagate may be best known as a hard-disk manufacturer, but the future is solid-state storage, and having seen rivals such as WD find success in solid-state waters, the time has come to step up its efforts and deliver competitive solutions across the board.
There are a couple of ways of achieving that feat. Seagate could follow WD's lead and develop an in-house controller that scales across entry-level and high-end models, but that frankly sounds like a lot of hard work. The alternative is to take a tried-and-trusted controller and place it in drives carrying recognisable Seagate branding. With next-generation PCIe 4.0 looming large, the second option seems the safer bet and has led to the release of four new M.2 drives.
Seagate M.2 NVMe SSDs

Series

BarraCuda 510

FireCuda 510

Capacity

256GB

512GB

1TB

2TB

Controller

Phison PS5012-E12

NAND

Toshiba 64-layer BiCS 3D TLC

Interface

PCIe Gen 3 x4

DRAM

512MB

512MB

1GB

2GB

Dynamic SLC Cache

Up to 24GB

Up to 28GB

Sequential Read Speed

3,100MB/s

3,400MB/s

3,450MB/s

3,450MB/s

Sequential Write Speed

1,050MB/s

2,180MB/s

3,200MB/s

3,200MB/s

Random IOPs (4KB Reads)

180K IOPs

350K IOPs

620K IOPs

485K IOPs

Random IOPs (4KB Writes)

260K IOPs

530K IOPs

600K IOPs

600K IOPs

Active Power

3.0W

4.2W

5.3W

6.0W

Idle Power (PS3)

16mW

16mW

20mW

26mW

Low Power (L1.2)

2mW

2mW

2mW

2mW

Endurance

160 TBW

320 TBW

1,300 TBW

2,600 TBW

Life Expectancy

1.8m Hours

1.8m Hours

1.8m Hours

1.8m Hours

Warranty

5 Years

5 Years

5 Years

5 Years

Current Retail Price

£82

£120

£230

£385
The combination of Phison E12 controller and Toshiba TLC NAND is becoming a popular choice, and on paper makes Seagate's new drives practically identical to the likes of the Corsair Force Series MP510. That's no bad thing, mind, as this particular duo of controller and memory has proven to be a potent choice, and Seagate has been clever in the way it markets the four models available at launch.
At the lower end of the scale, the 256GB and 512GB are marketed under the BarraCuda 510 umbrella and aimed at casual users seeking a simple SSD upgrade. Supplementing the two entry-level drives are the FireCuda 510, available in 1TB and 2TB capacities. All four drives feature the same controller, NAND and PCIe Gen 3 x4 interface, but with more memory interfacing with the controller at any one time, the higher-capacity FireCuda naturally offers high-end performance figures.

Our 1TB review sample, currently available for £230, touts sequential read and write speeds of 3,450MB/s and 3,200MB/s, respectively, with random 4K performance hitting over 600,000 IOPs on both fronts. Impressive numbers that make this a genuine challenger in the high-end space, and endurance, while not best-in-class, is more than decent at 1,300 TBW. That equates to writing roughly 70 per cent of the drive every day for the duration of the five-year warranty period, which is in line with expectations and plenty sufficient for the target gaming audience.
Elsewhere, there's a 1GB DDR4 DRAM cache for buffering duties, and as is the case with many modern SSDs, a portion of the drive is reserved as an SLC cache. Seagate tells us the size of the super-fast SLC buffer is dynamic, but "up to 28GB" may be used when working with larger data samples.

On paper, the FireCuda 510 is shaping up to be a serious competitor. What's missing is a keen price tag. As things stand, the 1TB drive costs £30 more than WD's bespoke SN750, and a whopping £100 more than a 960GB Corsair MP510 outfitted with the same controller and NAND. Corsair's drive did launch at a similar price to the Seagate, so we can only hope that a FireCuda price cut is in the offing, as no amount of firmware or cache tweaking is going to account for such a discrepancy.
Enthusiasts who notice every small detail may also take a disliking to the blue PCB - Corsair's black MP510 is smarter in appearance - yet with most motherboards now including an M.2 heatsink as standard, chances are you'll never see the drive once it's up and running.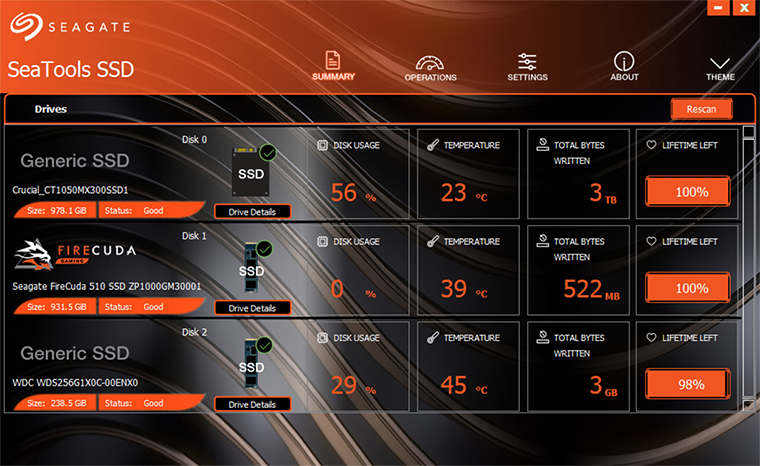 The more likely point of interaction is the free-to-download SeaTools SSD utility. The lightweight package has a choice of green (BarraCuda) or red (FireCuda) themes and serves as a useful tool for checking drive health and carrying out firmware upgrades. The latest firmware version at the time of writing is STES1020 but do note that some functions within SeaTools aren't applicable to the BarraCuda or FireCuda drivers. Tunable Capacity, for example, will show as not supported and is only applicable to Seagate's NAS-specific IronWolf series.
We suspect that current pricing will make the 1TB drive hard to recommend irrespective of benchmark performance, but let's run those numbers before passing judgement.