Introduction
Picking a network-attached storage (NAS) device is easy, is it not? Critics and end-users alike seem to agree that those in the market for a turnkey solution should buy a Qnap or Synology and consider it job done. The two industry leaders have led the way for powerful, user-friendly NAS devices, but there is inevitably a price premium attached to such popular devices, so is there value to be found by shopping elsewhere?
To explore what else is out there, we're taking a closer look at a dual-bay unit from TerraMaster dubbed the F2-221. TerraMaster may not be a household name, but the Chinese company has been in business since 2002 and claims to provide storage solutions in more than 40 countries around the globe. It appears to have plenty of experience, as well as an established distribution network, and though the company logo might look familiar, TerraMaster is of no relation to Cooler Master as far as we can tell.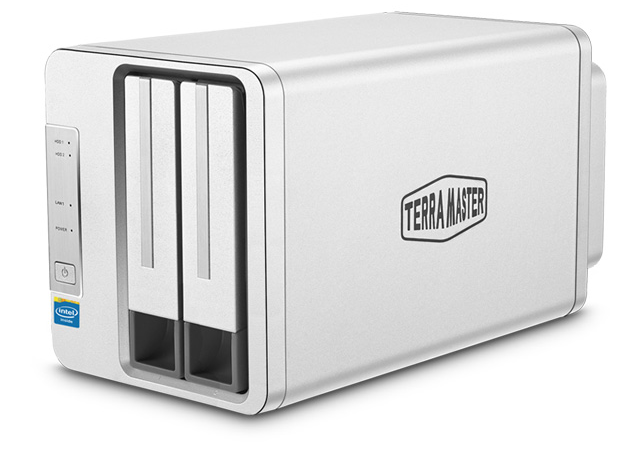 Let's get the important point of distinction out of the way first. At the time of writing, the diskless F2-221 is available to purchase from Amazon at a cost of £230. Hardly pocket change, but an equivalent Qnap TS-251B with the same CPU and memory fetches £287, while the rival Synology DS218+ will set you back £294. A saving of up to 22 per cent makes the TerraMaster worthy of consideration, and first impressions are positive.
Presentation is tidy - TerraMaster even includes a little screwdriver in the bundle to help ease drive installation - and the NAS itself is sleek in appearance thanks to a silver aluminium chassis that feels rock solid. The F2-221 certainly doesn't feel like an inferior choice, and the two hot-swappable drive bays come away with ease for installation of either 2.5in or 3.5in disks. It's a shame TerraMaster doesn't line the mounting holes with rubber standoffs to help absorb drive vibration and noise, and it's worth noting that the bays aren't lockable; an important consideration for home users whose children can't help but touch.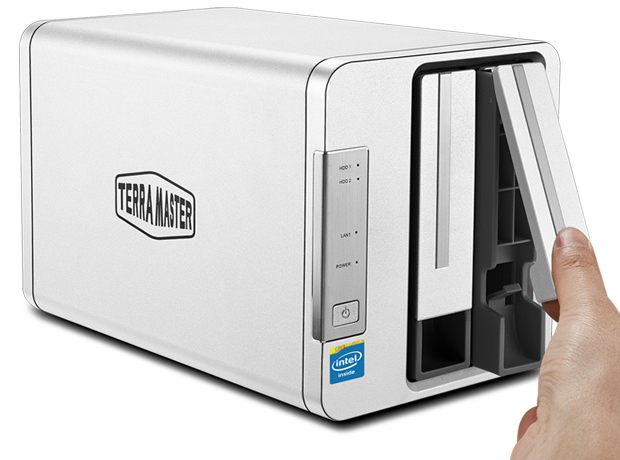 Under the hood, TerraMaster is able to claim support for both AES hardware encryption and 4K HD video transcoding courtesy of a dual-core Celeron J3355 processor capable of a 2.5GHz burst frequency. Intel's low-power 10W chip is joined by 2GB of soldered DDR4 memory, and there is a spare DIMM slot for users wanting to upgrade. The secondary slot supports up to an 8GB module, but its location on the back of the internal PCB is such that access entails disassembling most of the unit.
Intel Celeron J3355 plus 2GB of memory is a common combination for a mid-range, dual-bay NAS, and we like the fact that TerraMaster keeps the F2-221 reasonably well stocked in terms of I/O. Around the back of the unit, alongside a reasonably quiet 80mm cooling fan, there's a connector for the 40W external power supply, two Gigabit Ethernet ports, two USB 3.0 ports and HDMI output. The absence of a front USB port could be viewed as an unfortunate omission, however at this price point the ability to aggregate a couple of LAN ports as well as output video directly is a pleasant surprise.
Putting together this level of hardware shouldn't be difficult, but we know what you're probably thinking; TerraMaster's supporting software must be relatively primitive, right? Well, that isn't necessarily so. We did have some trouble running the firm's finder utility - Windows 10 was inclined to flag it as unsafe - but when completing setup via the browser-based wizard, everything ran smoothly and with minimal fuss. The configuration process isn't as elegant as some of its premium competitors, but when dropped into the TOS operating system, we were impressed at how modern the interface appears.
Granted, the layout and core operations are pulled straight from the Synology playbook, but that's no bad thing. The fourth-generation, Linux-based OS is responsive enough, a windowed desktop makes light work of multi-tasking, and the feature set is satisfying. BTRFS is the file system of choice, allowing for snapshot support, all the NAS essentials such as user groups, FTP, RAID, iSCSI and UPnP are present and accounted for, and the default backup options include Rsync, Time Machine and USB.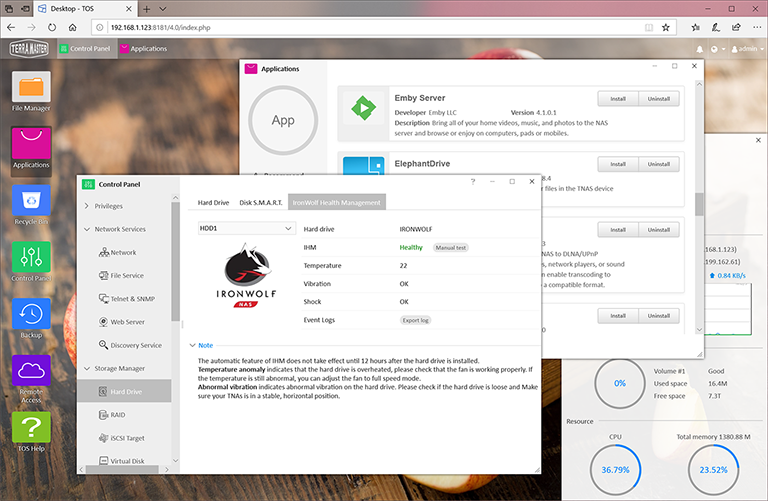 There's even baked-in support for Seagate IronWolf disk management, and the app repository is home to most of the usual suspects, including Plex, Emby and native servers for multimedia and iTunes. Good news for the home-streaming crowd, and you'll also find a Transmission download client for managing torrents. Plenty to go by, but while TOS 4.0 is a decent imitation of rival solutions, it isn't quite as powerful. The interface doesn't feel quite as polished, some of the configuration options are limited - the power schedule, for example, can't be configured to different hours each day - and some simple features such as the ability to connect a USB printer are conspicuous in their absence.
Another potential caveat is that TerraMaster's support material is relatively basic. The list of compatible hard disks doesn't appear to have been updated in some time - nothing over 4TB is officially approved - and there's got to be a better way of presenting support resources than an exhaustive list of FAQs. But here's the thing, how many home users actually explore the thousands of functions available to a Qnap or Synology? We're willing to bet it's not many, and if your use case doesn't extend much beyond a central storage repository or media server, the F2-221 is perfectly capable. TerraMaster also helpfully makes available a live demo of TOS 4.0 for those wanting to try before they buy, so feel free to have a play before continuing to the benchmarks.