Introduction
WD has been trying to crack the premium SSD market for some time. Spurred on by the acquisition of SanDisk, paving the way for in-house NAND production, and concurrent investment for controller technology, the storage giant is finally ready to go toe-to-toe with the likes of Samsung and Intel across the product stack.
Appealing to the enthusiast and workstation user in one fell swoop, WD's Black NVMe SSDs are now out in the wild. Hold on, you might say, as the WD Black is a known quantity, but as always, the devil is in the details.
WD Black NVMe SSD (2nd Gen)

Nominal Capacity

250GB

500GB

1TB

Controller

In-house

NAND

64-layer 3D TLC

Interface

PCIe Gen 3 x4 (8Gbps)

Sequential Read Speed

3,000MB/s

3,400MB/s

3,400MB/s

Sequential Write Speed

1,600MB/s

2,500MB/s

2,800MB/s

Random IOPs (4KB Reads)

220K IOPS

410K IOPS

500K IOPS

Random IOPs (4KB Writes)

170K IOPS

330K IOPS

400K IOPS

Available Form Factors

M.2 2280

Endurance

200TBW

300TBW

600TBW

Life Expectancy

1.75m hours

Warranty

5 Years

Current Retail Price

$120 (£110)

$215 (£200)

$450 (£375)
In-house everything
The new range of performance SSDs is known as WD Black NVMe, rather than just WD Black PCIe, and the naming change is important as it signifies higher performance made possible by the move to an in-house controller and latest-generation 3D TLC NAND.
Previously, WD had to partner up with Marvell whose controller left plenty of speed on the table. Available in 256GB and 512GB capacities, that NVMe PCIe-based drive wasn't bad, able to hit 2,000MB/s reads, 800MB/s writes, and up to 170K IOPS.
WD Black NVMe, however, is in a different ball park, with a trio of drives that hit much higher speeds on every count. How? It's mostly to do with the controller.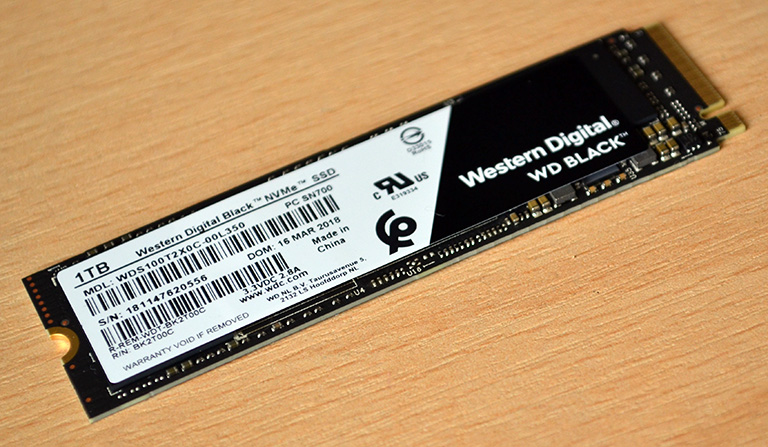 Standard M.2 2280 form factor. The rear is bare.
Rather than rely on others, WD has spent resource on developing a controller that can match the best in the business. The totally in-house design is likely to be used as a base for generations to come, meaning it's a big deal. From what we can gather, the controller is built on a 28nm process and uses a three-core design based on an ARM architecture.
A number of high-speed SSD controllers have encountered thermal issues when running flat out, causing a reduction in peak speed through necessary thermal throttling. Recent motherboard have helped in this regard as many are equipped with a rudimentary heatsink, but WD has taken the issue of long-term performance seriously.
According to supporting documents, the controller has an 'automated data path for fast data streaming.' What this means in practise is that it allows for data to flow through the SOC without having explicit processing from the controller's CPU. It follows that removing clock cycles keeps the controller cool(er) and able to work at peak speeds for longer. That said, it would have been preferable to see a small heatsink or some thermal tape/sticker on the chips and controller, rather than just a paper covering.
WD uses 64-layer BiCS '3D' TLC NAND that has been co-developed with Toshiba. No surprises there, but the drive assigns a fixed amount of NAND for single-level cell (SLC) mode for superior performance - a method we see in widespread implementation across various leading SSD companies.
Speedy Gonzales
The sum of these improvements result in true enthusiast-class speeds across the trio of drives. Performance increases in line with capacity, as expected, but even the 250GB can hardly be called shabby. Top-line numbers include over 3GB/s reads and almost the same speed for writes, which is more impressive. Upping the ante from the last generation, IOPS, long considered to be the gold standard by which to judge performance SSDs against, matches the best the prosumer market has to offer.
Though impressive with respect to performance, the WD Black NVMe is not an enterprise drive. Use of TLC NAND and consumer-class endurance - we would like to see over 1,000TBW on the review 1TB model - ought to preclude it being used in a professional environment. The five-year warranty, meanwhile, is good.
Simple interface that doesn't provide much extra value
WD's SSD Dashboard software is perfunctory. There's basic reporting information but, at the time of writing, one couldn't secure-erase the drive from within a Windows environment. If the software looks familiar, it most likely is to users of SanDisk's drive. This Black NVMe's hardware is replicated for the SanDisk Extreme Pro range, too, though its minimum capacity is 500GB. For those migrating from another drive, WD bundles in Acronis True Image software. 
Pricing is in line with top-performing competitors such as the Samsung 960 Pro M.2 NVMe, as well, so expect to pay around £375 for 1TB model in for review today. That's certainly not cheap, of course, and nearly twice the price as a SATA-based SSD of the same capacity. Performance ought to be miles better, so let's jump right on to that.