Product Editions
Windows 8 set sail the world over on October 26, 2012 - precisely 1,100 days after its predecessor - and did so in four unique editions. This is a marked change over Windows 7 and Windows Vista, both of which were served up in half-a-dozen variants.
This time around, Microsoft claims that "all editions of Windows 8 offer a no-compromise experience" and has consequently done away with the Starter, Home Basic and Ultimate editions, leaving the average consumer two primary choices; Windows 8 or Windows 8 Pro. Keeping things simple, Windows 8 is described as "the right choice" for many consumers, while Windows 8 Pro, which includes all of the Windows 8 features plus support for additional features such as domain connectivity, virtualisation and encryption, is aimed at enthusiasts and professionals.
Windows RT

Windows 8

Windows 8 Pro

Windows 8 Enterprise

Availability

OEM only

Retail and OEM

Retail and OEM

Volume License Customers

Works On

ARM devices

x86 devices
(32-bit or 64-bit)

x86 devices
(32-bit or 64-bit)

x86 devices
(32-bit or 64-bit)

New File Explorer

Yes

Yes

Yes

Yes

Enhanced Task Manager

Yes

Yes

Yes

Yes

Built-In Anti Virus

Yes

Yes

Yes

Yes

Better Multiple Monitor Support

Yes

Yes

Yes

Yes

Desktop Experience

Limited

Full

Full

Full

App Support

Windows Store

Windows Store

Windows Store

Windows Store

x86 Software Support

No

Yes

Yes

Yes

Windows Media Player

No

Yes

Yes

Yes

Microsoft Office Bundle

Yes

No

No

No

Internet Explorer 10

Yes

Yes

Yes

Yes

Storage Spaces

No

Yes

Yes

Yes

Encryption

Device Encryption

No

BitLocker and EFS

BitLocker and EFS

Windows Domain Support

No

No

Yes

Yes

Group Policy

No

No

Yes

Yes

DirectAcces

No

No

No

Yes

Windows To Go

No

No

No

Yes
Putting just a few of Windows 8's key features into a table is a better way to differentiate between editions, and we can see that the two retail products - Windows 8 and Windows 8 Pro - are separated only by the latter's extra business features. Microsoft is heading in the right direction with a streamlined product range, but it could have gone further - Windows 8 and Windows 8 Pro could have been brought together as the one-and-only retail edition to eliminate any possibility of confusion.
Early retail indications suggest that we're not alone in this line of thought, as Windows 8 Pro appears to be the edition that's widely available, costing £49.99 for a physical disc or £24.99 as a downloadable upgrade.
In addition to the two retail products, Microsoft will continue to offer an Enterprise edition for volume license customers, but the elephant in the room is a version of Windows 8 that doesn't have an 8 in its product name. It's called Windows RT and for the average consumer, it's very confusing.
What is Windows RT?
Think back to the goal for Windows 8. This release isn't aimed exclusively at desktop or laptop users, no sir, Microsoft is broadening horizons and has set sights on tablets and touchscreen devices. Herein lies another problem; as a rule, desktops and laptops are based around Intel's powerful x86 architecture, while tablets, which prioritise battery life and slim design, are generally based upon the ARM architecture.
Microsoft has historically enjoyed success by backing Intel's x86, which remains the driving force behind today's PCs. But ARM-based devices have soared in popularity, spearheaded by smartphones and tablets such as the Apple iPad. Microsoft needs to play in that particular arena so it's doing something it has never done before; releasing a version of Windows for ARM devices.
It's called Windows RT, and its arrival makes Windows 8 the most radical release in Microsoft's history. Built exclusively for low-power ARM devices, Windows RT takes its name from the Windows Runtime cross-platform application programming interface and, though it shares a significant amount of code with other Windows 8 editions, it introduces specific nonconformities.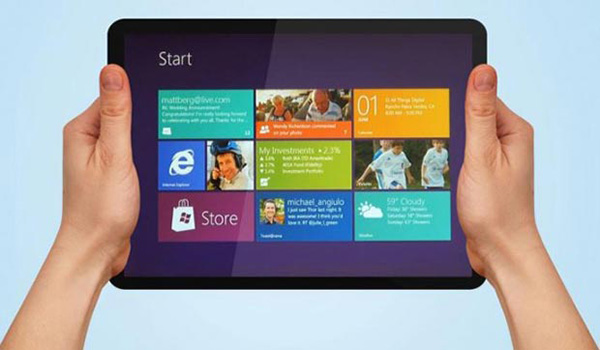 Windows RT will only be available to device manufacturers - consumers won't see it in stores as a standalone product - and though it is designed to look and feel like Windows 8, it carries one significant change; Windows RT is unable to run existing (or indeed future) software designed for x86 platforms. Regular user of Office 2010? Do all your image editing in Photoshop CS6? Like to use Google Chrome to browse the web? You're out of luck, none of these so-called legacy programs will run on a Windows RT device.
To get around this issue, Microsoft has introduced a Windows Store that stocks and serves a library of apps written using the Windows Runtime. Only software purchased through this store will run on Windows RT devices, and Microsoft gives consumers a head start by bundling the operating system with a range of pre-installed apps. These include Mail, Calendar, Xbox Music, Video, Internet Explorer, as well as a touch-optimised Office suite that includes Word, Excel, PowerPoint and OneNote.
Windows RT's inability to run x86 desktop programs serves as a point of confusion for the average consumer, and the independent product name doesn't help; a self-explanatory title such as Windows Lite would have made more sense. Instead, Microsoft is attempting to clear up any confusion by doing something else it rarely tends to do; launching new hardware.